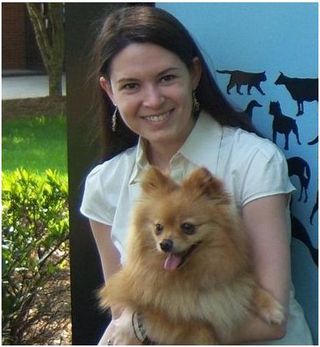 by: Carol Bryant
As part of the "Facebook Tips and Tricks" session at BlogPaws 2012, Donna DeClemente will be co-presenting with Jane Harrell of Petfinder.com and Anne Hogan of HSUS (Humane Society of the United States). We wanted to give you the scoop on what to expect and a little "behind the scenes" in our BlogPaws Speaker Series.
Here's what Anne had to say and why attendees should come to their Facebook session…
BlogPaws: Hey Anne, welcome. How many times have you been to BlogPaws?
Anne Hogan: This will be my second time.
BlogPaws: Excellent! What might people learn by attending your Facebok session?
Anne: I hope people will leave my session feeling empowered and inspired to take their Facebook page to the next level by using tried and true tactics.
BlogPaws: Sounds good. Facebook is always evolving. What do you like most about coming to BlogPaws?
Anne: My favorite part is hanging out in the expo hall and chatting with other attendees!  I love hearing about what everyone does and what brings them to BlogPaws.  Plus, it's a great place to get some doggie kisses.
BlogPaws: We love those, too! What pets share your life?
Anne:  I have a three year-old rescued Pomeranian, Teddy, who will be with me at BlogPaws.  He had a lot of fun last year and can't wait to go again!
BlogPaws: My dog, Dexter, and all the other cats, ferrets, and non-humans will be sure to have a blast meeting Teddy! Where can folks learn more about you.
Anne: http://www.humanesociety.org, http://www.facebook.com/humanesociety, http://twitter.com/humanesociety, http://www.facebook.com/annehogan, http://twitter.com/anne_hogan
Fun fact about Anne: "I think people would be surprised to know that my undergrad is in finance.  As the Community Manager for The Humane Society of the United States, my job couldn't be more different from those days spent analyzing stock options, but I couldn't be happier!"
Come to Salt Lake City, meet Jamie, and join in the fabulous 3-day event:  BlogPaws 2012
Catch up on our BlogPaws Speaker Series in the BlogPaws Community.