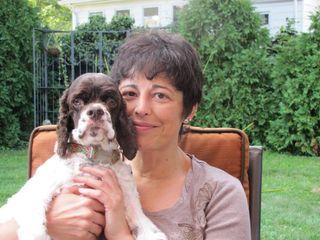 Meet
Anita
Fabian and her pooch, Ally. Anita says, "My blog is a mixed bag of musings
on my dogs as well as my own poetry and prose.  It's called The Twisted Typist on WordPress. I've
only been blogging for a month and have yet to build any type of following."
Well Anita, the BlogPaws Community welcomes you. We are a fun, helpful, and
growing community, so welcome aboard! (and your little dogs, too)! Follow Anita
on the community, too: You'll not be the NKOTB (new kid on the block) for long, Anita!

So
with the calendar saying "it's Wednesday" that means time for the BlogPaws
Wordless Wednesday blog hop! As we countdown to BlogPaws 2013 Conference (which
is about ohhhh 56 – gulp – days away) – we encourage you to make new
connections, find followers, join in the blog hop, and grow your blog.
Visit and leave comments on other blogs to make some new buddies and maybe some new followers.
You can add the BlogPaws Blog Hop button to your post and/or to your blog sidebar, either by cutting and pasting the image or using the HTML code below.
Need help? Here it is: How to Join a Blog Hop – BlogPaws Tutorial