by: Carol Bryant
I love blogging for and about pets and I love the ripple effect one blog post can have. Perhaps as a pet blogger and/or microblogger you've experienced this ripple effect yourself. I cast out one blog post on BlogPaws.com this week and then brought the topic up on BlogPaws' Facebook page.
From there, a great debate without arguement and with utmost respect for one another ensued. This reinforced to me that people can really have a good debate of sorts without making it or taking it personal.
My BlogPaws post on January 10 asked, "Should Pet Bloggers Be Considered Expert Resources?" The topic was explored, the logic of asking that question was noted, and the resource of HARO (Help a Reporter Out) was shared. We even had a HARO staff member stop by. If you don't know what HARO is or want to find a terrific resource of expert finding and establishing yourself as one, read the BlogPaws Pet Bloggers as Experts post from Thursday. I've hyperlinked it.
Then on Friday, January 11, I posed the topic on BlogPaws' Facebook page: "Should Pet Bloggers Be Considered Expert Resources" and therein a great discusion began. Here's an excerpt, but I encourage you to pop over and read the discussion.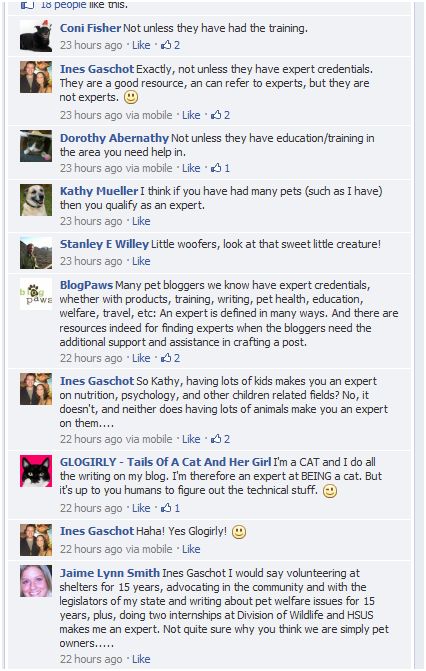 This topic begs of the perfect BlogPaws weekend question, so BlogPaws asks, "Do you consider yourself an expert in anything? If you aren't the expert, do you do some fact checking and/or link showcasing so others know where you are getting your information?
Share with us in the comments below. We're listening.