After all the keynotes, break out sessions, networking, eating, dancing, ear scrunches and general merry making that make up a BlogPaws conference, our favorite tradition is announcing the recipients of our charity donations in the form of, you've got it, giant checks!
BlogPaws 2012 was proud to donate $12,120 to the following animal organizations:
Larimer County Humane Society, on behalf of Keynote Speaker Lena West: $2120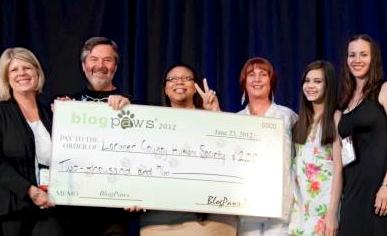 Petfinder Foundation, on behalf of Keynote Speaker, Betsy Saul: $2000
The Humane Society of NY, on behalf of Nose-to-Nose Awards Emcee, Wendy Diamond: $2000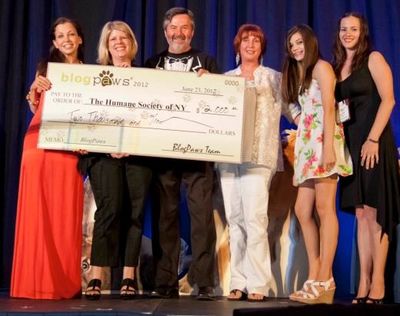 In a random draw of attendees, Jim Nelson of the great community Tripawds was chosen to award a $2000 BlogPaws donation to the animal charity of his choice. His choice was Morris Animal Foundation on behalf of their Canine Cancer Fund. Our check book ran out of big checks – 🙁  but we do have pictures:
And, the Nose-to-Nose award winners voted to donate to World Vets. The $1200 was rounded up to include $800 on behalf of the outstanding #BlogPawty staff, bringing the total of the donation to $2000. The Nose-to-Nose winners also got to choose a shelter|rescue of choice (each of them) to receive a donation of 5000 meals EACH from Halo, Purely for Pets and Free Kibble.com .  (Nose-to-Nose nominees, winners and individual orgs they chose can be found here)
And, as our local shelter, which we do every year, Friends of Animals Utah was chosen to receive both our donation check and tons of leftover swag! Each year, BlogPaws has a room full of great toys, food, and other stuff brought by attendees and brands and they always elect to donate the leftovers to our local shelter. Can you say WOW! And, thank you!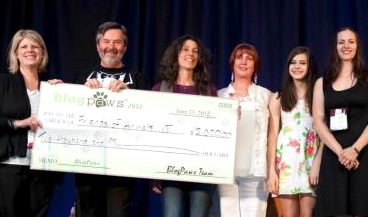 Once again, we send a big shout out to our sponsors, our attendees, our keynote speakers and all the experts who contributed to the many, many social media marketing sessions. We couldn't do any of this without all of you! Thank you so much!