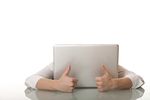 We have our winners in the PetSmart® and BlogPaws® Build a Business Blog contest! 
This contest has far reaching potential, not just for our winners, but for everyone who participated, and for all the BlogPaws 2012 attendees. Over the next weeks, leading up to BlogPaws, the winners will work with PetSmart to "build a business blog" out of the blog they have. Then, we will have a session at the conference led by PetSmart,  revealing the Build a Business Blog case study. 
It was tough going for those of us who had to judge the entries. Each entry was deserving, but in the end, we had to narrow it down to the 10 Finalists. And, from there, the process of judging was even harder – each finalist worked hard creating a video to bring their vision of building a business blog to life. BlogPaws will showcase all of the videos in the coming days…
Today, we congratulate all of the finalists (as listed on this BlogPaws page), and send a big round of applause to our two winners:
Colby Morita of Puppy in Training


Annette Vivian of Snoopys Dog Blog

Let's hear it for our WINNERS!