by: Carol Bryant
BlogPaws celebrates senior pets in August and we uncovered this story we are certain will touch the hearts of our community members and anyone who reads it.

Mac is a senior dog who lived the first portion of his life
being abused. The story sounds so typical, sadly, with the numbers of pets who
face a life of abuse at the hands of heartless people.
Thankfully, an animal group from New York rescued the Great
Pyrenees dog, who eventually found what seemed to be his forever home. RuthAnn
Meyers of Colts Neck, New Jersey, drove to New York to adopt Mac.  Still, all was not right in the world.
The Issues Continue
Mac experienced separation anxiety of a severe nature. After
working with him and boarding him at the Purr'n Pooch Pet Resorts where he
bonded with animal behaviorist and trainer Dick Palazzo, Mac began to blossom
and was able to trust people.
Life threw a curve ball: RuthAnn, Mac's dog mom,  developed an aggressive
form of terminal cancer.  She needed the help of
Dick Palazzo to help find Mac a new home due to her illness. Dick agreed to
take Mac, as he knew all of the issues this helpless pooch experienced.
Three years and three failed foster homes later, Mac
found a home at the age of ten in an unexpected place. Grieving from the loss
of their beloved dog, Bear Orsa, the Deraska Malinowski Family of Colts Neck, New
Jersey drove to nearby Long Branch for a walk on the seaside boardwalk. Diane
immediately agreed to foster Mac. After a week with the dog, the family
formally adopted him. During the first few months in his new home, Mac suffered
severe separation anxiety as expected by Dick, but he soon got into the rhythm
of activities with the family and today is always by their side to enjoy life
with them.
"The angel of the original owner was looking down on us
because there is absolutely no reason this dog should be alive at this point,"
Palazzo says. "To do the hurdles that he did—not only to stay alive but to go
through so many phases of his life and now to a hero, is amazing."
You see, Mac is severely arthritic and has a spinal
condition that prevents him from climbing stairs. This past February, Diane and
her kids were sleeping upstairs. At around 3 am, Mac appeared at the foot of
Diane's bed, barking loudly. He proceeded to the kids' bedroom and stood firm.
With husband, Richard, away on business, Diane got out of bed and immediately
realized Mac made it upstairs.
More importantly, she went downstairs and found her home
engulfed in smoke. Once gathering the kids and pets, Mac and the family exited
to safety. 
It was later revealed that a home heating system caused the
fire and the fire alarm did not work on this particular evening. Mac's astute
senses, however, did.
"To this day, no one understands how Mac could have possibly
made it up the stairs in his physical condition," says Palazzo. "His actions
were truly heroic and saved the lives of his family."
"Our pets deserve good, enriched lives for however long they
live. Senior pets like Mac especially play important roles in our lives. So
many pets in shelters have a life's mission," said Diane Deraska Malinowski.
"At the moment that Mac saved our family from the fire, Mac's life mission was
fulfilled and we thank Dick for allowing us to bring him into our lives."
Mac
was honored at the Sweet Summer
Night Dessert Party celebrating Mac's heroic actions and to help raise funds
for unsung heroes in animal welfare and rescue.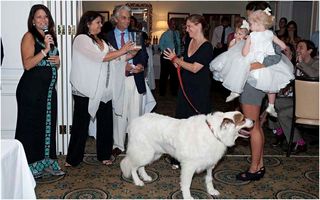 Throughout
the month of August, all money donated to the Purr'n Pooch Foundation for
Animals will be donated to animal rescue groups working to help senior pets in
need of love and rescue. 
BlogPaws salutes Mac and the Purr'n Pooch
Foundation for Animals. We celebrate Senior Pets in the month of August and
year round with the Be the Change for Pets: BlogPaws movement.