When disaster strikes, those who love animals, jump into help in whatever way they can. Whether they donate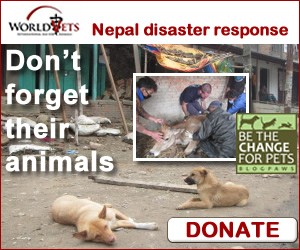 money or time or offer to foster, pet lovers make certain the animals that are either lost or injured as a result of a disaster are cared for.
The latest disaster that has impacted animals is the earthquake in Nepal.  Dr. Jessica Vogelsang shared a post on petMD on the World Vets Response, what she is doing personally to help and how other pet lovers across the globe can become involved.
She wrote, in part: "Last week, an enormous 7.8 magnitude earthquake struck Nepal, killing over 4,000 people at last report with the number expected to climb in the days ahead. With a struggling government and minimal infrastructure in place, the initial response has been practically nonexistent; people digging through rubble with their hands to try to free their family members, thousands of injured people turned away by hospitals struggling to save the most badly injured."
Read about the rest of the article and the World Vets response, share the information to help raise funds to care for these animals.
Another way to help
If you'd like to put a badge on your blog like this one, just copy the embed code below and paste it into a text widget in your sidebar:

Embed code: