Guest Post by Lorie Huston, DVM
In September, Animal Café dished up plenty of main courses. The first offering was served up by our travel correspondent Edie Jarolim in her interview with Diane Silver, mom of Havanese dog Cosmo. The topic: pet travel overseas with plenty of advice for preparation and lots of stories about Diane and Cosmo's experiences in Italy. After all, it's fun to dream even if overseas travel isn't on your to-do list.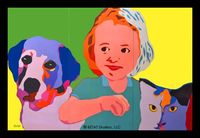 The second menu item comes from our newest team member, Kelly Gorman Dunbar. Kelly talks with fellow dog trainer Grisha Stewart about BAT (behavioral adjustment training) for fear, frustration and aggression. Has your dog ever embarrassed you in public? Do you find yourself avoiding walking your dog in public because of his behavior? If so, then take a listen to this podcast.
Next up is Animal Café's monthly pet product review segment with our own Mary Haight and FIDOFriendly magazine's Carol Bryant. Featured this month is the Doodie Pack backpack for dogs along with seven other not-to-be-missed products for your pet.

Mary returns as Animal Café's animal welfare expert to serve up our next offering, the EU Elephant Parade, a charity art auction event involving prestigious artists and royalty. Sona Mirzaei, the only American Artist invited to take part, talks about how this project uses artwork to create awareness of the plight of the Asian elephant. Believe me; the artwork is breath-taking. This is a unique and creative way to deliver a much-needed message about the dwindling numbers of these beautiful creatures.
Next is a brand new menu item for Animal Café. We welcome Hilary Lane as our first contributing podcaster. Hilary's first interview is with Dr. Stephen Kress about the Audubon Puffin Project. For those of you unfamiliar with puffins, they're funny little penguin-like birds. The Audubon Puffin Project literally brought these birds back from the point of extinction. Hilary's interview with Dr. Kress is entertaining as well as educational. And her account of how her dogs found Project Puffin is amusing as well.
The link between pet abuse and other forms of violence is well-established but not widely recognized. Similar to the Elephant Parade, Okey's Promise provides new hope for victims of pet abuse and domestic violence through the use of art. Animal Café resident veterinarian Lorie Huston talks with Okey's Promise founder and artist Vicki Boatright (aka BZTat of BZTat Studios), talented young dancer and social media activist Miah Rae Thornton, and Miah's mother and choreographer Chloe DiVita about the Okey's Promise project in Animal Café's final menu offering for this month.
We hope you'll take a few moments to browse through the posts and listen to our podcasts. And don't forget to join us each week in October for more great interviews and important animal resources.
Lorie Huston is a veterinarian with over 20 years of experience working with both dogs and cats. She is also a successful free-lance writer/blogger. She writes regularly for About.com, Suite101.com, Examiner.com and UntrainedHousewife.com as well as being regularly featured in various publications both online and in print. She blogs at the Pet Health Care Gazette (http://www.pet-health-care-gazette.com/) and is also part of the Animal Cafe (http://www.animalcafe.co/) team.