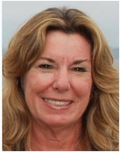 by: Carol Bryant
Facebook: One word says it all. With all of the changes, updates, timeline changes, and things that are happening on Facebook, how can someone possibly keep up? Donna DeClemente knows.
Donna loves BlogPaws so much, she's making her fourth appearance at the yearly conference, being held in June in Salt Lake City, Utah. Donna's got the inside track on Facebook and what users can do to make life easier. With her tips and tricks, beginners can maximize their experience while long-time users can take it to the next level. Here's what Donna has in store…

BlogPaws: Hey Donna, thanks for joining us. What is your session called?
Donna DeClemente: Facebook Tips and Tricks.
BlogPaws: What can attendees of your session hope to gain?
Donna: I will be reviewing some of the new Facebook Timeline changes, introducing the attendees to the Shortstack app, which we used to launch this year's BlogPaws or Bust Sweepstakes, and reviewing how they can use the app to run similar promotions. Here's the blog post I wrote about it: Donna DeClemente Blog Post.
BlogPaws: We will be there for sure. Everyone can use this sort of knowledge indeed. What do you like most about coming to BlogPaws?
Donna:  I look forward to learning a few tips to help my blog and also the networking opportunities and seeing some familiar faces and meeting people physically who I've known virtually.
BlogPaws: Do you have any pets?
Donna: Oh yes. wo dogs, Shadow a Golden Retriever who's around 7 years old and Izzie a King Charles Spaniel who is close to 5 years old, along with two cats, Jack and Rose, who are from the same liter and just turned 12 years old.
BlogPaws: We always like to ask our speakers for a fun fact. Dish one for us.
Donna: I've been in the promotional marketing field for about 30 years now. So I try to keep a young attitude at the same time stay up to date with all the new technologies!
Learn more and connect with Donna at: Donna's Promo Talk, www.donnaspromotalk.com – Twitter: @ddeclemente, Facebook: donna.declemente
Come to Salt Lake City, meet Donna, and join in the fabulous 3-day event:  BlogPaws 2012
Catch up on our BlogPaws Speaker Series in the BlogPaws Community.