Every pet blogger wants more readers, but how can they to find a new audience?
Try Facebook advertising.
Facebook has around two billion active monthly users. Think it's too expensive for you? Think again! Ads can run as cheaply as $1 per day. Because Facebook wants you to spend money with them, basic ads are very simple to make.
The easiest way to create a Facebook ad is simply to Boost a post you've already shared to your Page.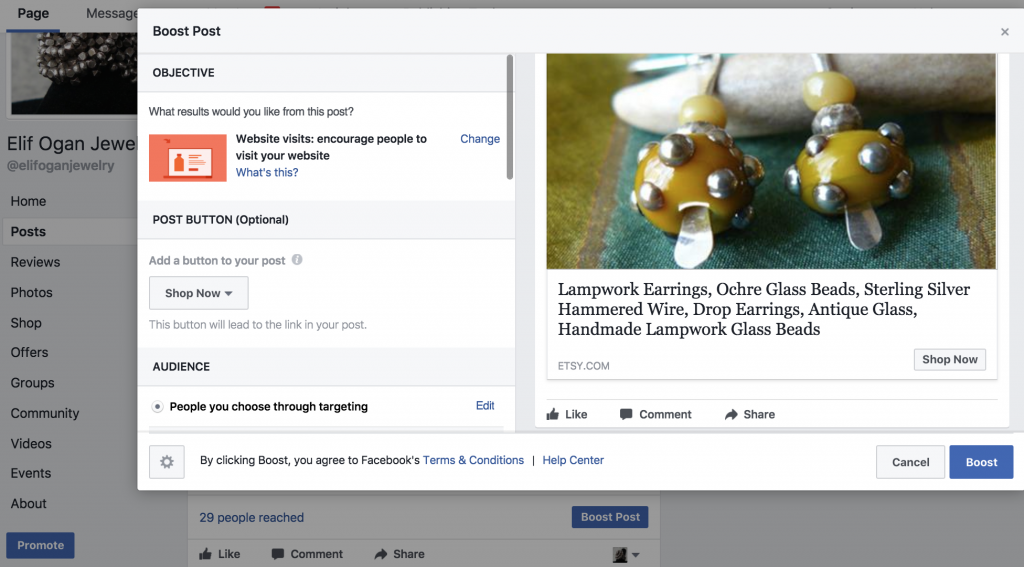 Facebook does most of the work for you. In fact, it won't stop asking you if you want to boost a post.
The greatest reason to use Facebook advertising is that you can dial in your audience to impressive specificity. In addition to age, gender, and location, you can choose an audience for your boosted post based on their interests and shopping behaviors. What Facebook knows about people can be a little scary at first, but it's why Facebook advertising is so effective. Facebook knows whether or not you donate to charity or political causes and what kinds of charities and political causes. It knows your income and net worth. Facebook can target ads to people with bachelor's degrees who are veterinary technicians who own homes, are interested in soccer, and are parents with children in elementary school. That's how narrow Facebook advertising can get. Most importantly, Facebook can target people based on whether or not they are dog or cat owners and whether they buy pet products.
To access these options, click on the Browse options under "INCLUDE people who match at least ONE of the following," then click on "behaviors", then "purchase behaviors," and "pet products."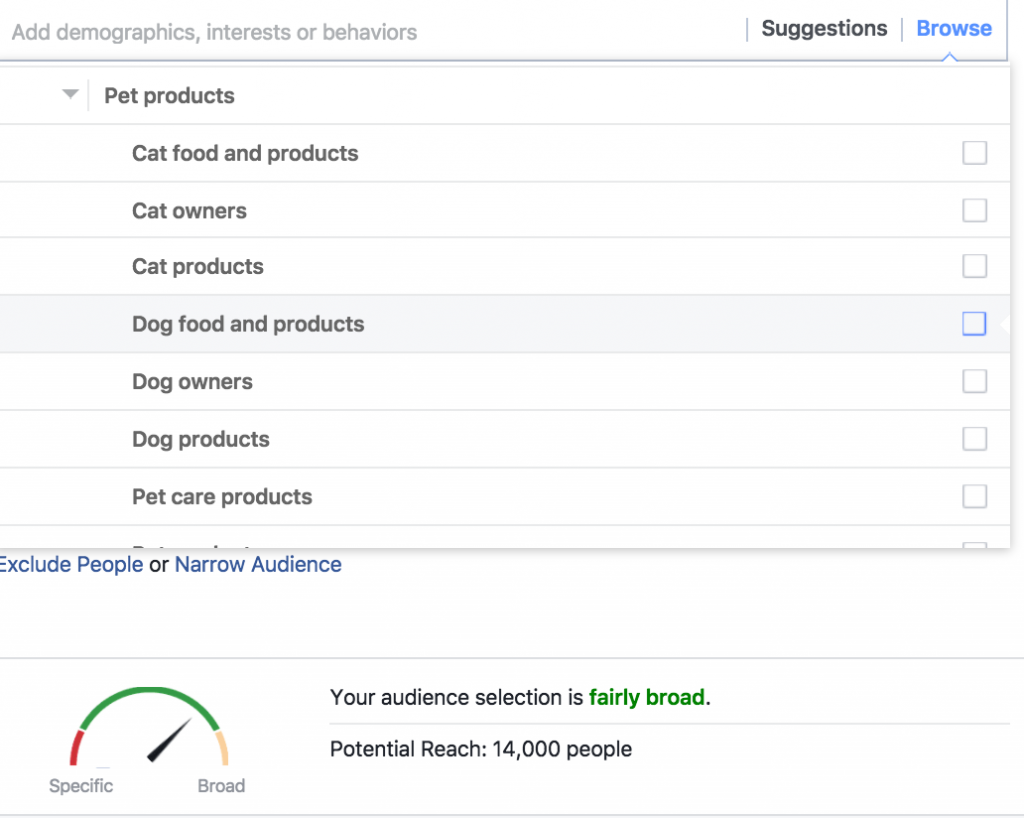 Other targeting options include people who like your Page or the friends of people who like your Page. You've probably noticed that when you post to your Page, not everyone gets to see it in their newsfeed. That's because Facebook wants you to advertise in order to reach the full audience you've gained. People who like your Page already want to interact with your content and so make good advertising targets. When someone who likes your Page interacts with your posts, their friends are more likely to see that post, which make the friends of people who like your page good advertising targets, too.
If you're ready for more complicated advertising than boosting a post, you can target people who visit your website (or exclude them), using a snippet of code that becomes an invisible pixel on your website. You can also upload the email addresses and phone numbers of people on your contact list to either include or exclude from your advertising. (If you wanted to reach only new people, you would exclude website visitors and people on your contact list.)
Which posts should you boost? Successful ads will have compelling images. Smiling children and happy cute animals are internet gold. Try a post with an image of smiling children hugging cute animals. Still uncertain? Start small. Try just a $5 experiment and see what happens.
Want to learn more? Here's everything you need to know to boost a Facebook post.
Do you have experience boosting or advertising on Facebook? What questions do you have about either practice that we can answer in the comments? 
Lauren Hudgins is a digital strategist with an MA in Publishing and her MFA in Creative Nonfiction from Portland State University in 2014. She lives in Portland, Oregon. Keep up with her work on Twitter @lehudgins or her website.
Images: sirtravelalot/Shutterstock.com and screenshots courtesy of the author