Does the thought of digging into your Google Analytics make you shudder?
Do you glance at those graphs, percentages, secondary dimensions, conversions and think, "Wait, what?"
I'll admit: That dashboard looks daunting. There's a lot going on, and every time you click something, it all changes. But, a couple years ago, I set out to teach myself how to use Google Analytics–and how to understand the data–and if I can learn it (I'm a decidedly non-numbers person) anyone can.
Today, I've compiled my favorite resources to teach yourself Google Analytics. Dig in and see what you can learn!
Analytics Academy
From the horse's mouth! Google's own creation, Analytics Academy is a free training with learning modules that deliver the content in video, written, and quiz formats. There's also an assessment at the end to earn a course certification. It's self-paced, meaning you can dip in and out, or spend more time on sections that are confusing. While this is arguably the best place to start your training, they do assume some basic level of behind-the-scenes experience, so if you're completely unfamiliar with digital analytics, brush up on some of the terminology beforehand with a beginner's guide such as…
The Absolute Beginner's Guide to Google Analytics
The first sentence sums it up: "If you don't know what Google Analytics is, haven't installed it on your website, or have installed it but never look at your data, then this post is for you." The Absolute Beginner's Guide to Google Analytics, produced by SEO giant Moz, is the perfect place to start to, well, start! It's a long blog post accompanied with screenshots, so be sure to polish off your reading glasses and allow plenty of time to scroll through all the details. By the time you get to the end, though, you'll be up and running!
Google Analytics Essential Training
This course is offered by Lynda.com, which is now part of LinkedIn. I haven't taken it yet, but it's been recommended to me many times over. The reason I haven't dug in? It requires a free 10-day trial (unless you go all-in and sign up for the paid subscription), and I never seem to find time to sign up! That said, I've heard great things. It's designed for marketers, so if you're trying to get a crystal-clear understanding of your audience, this might be the course for you!
On the BlogPaws Blog
For resources from BlogPaws, check out the Google Analytics webinar replay (embedded in this How to Make a Blogger Media Kit post) and Google Analytics for Bloggers.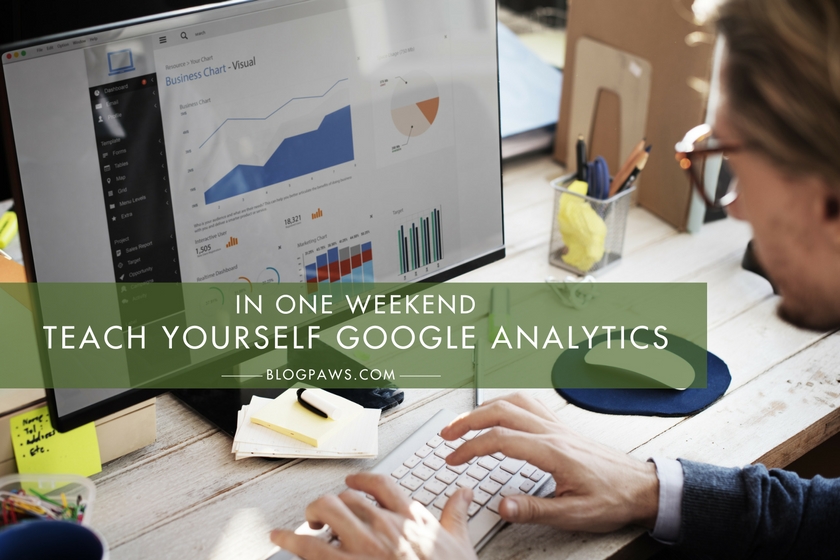 One final tip: If you have access to a second monitor, I recommend having your dashboard pulled up on one and the lessons on another. That way, you can approach it from a hands-on place and walk through it step by step, without having to do a bunch of toggling.
What do you think? Ready to take on your Google Analytics this weekend? How do you approach your data?
Maggie Marton serves as the BlogPaws senior editor. When not hiking with her two pit mixes, Emmett and Cooper, or playing with Newt the Cat, Maggie writes about them (and the pet industry) at ohmydogblog.com and maggiemarton.com. 
Images: Rawpixel.com/Shutterstock.com