Have you thought about whether you should start a Facebook group? Maybe you've been toying with the idea of creating a Facebook group to go with your blog or business? They can definitely be a great way to increase your brand awareness and engagement. However, if not utilized properly, they can be a huge waste of time and effort.
Before determining if you should create a Facebook group, let's make sure we understand the difference between a Facebook GROUP and a Facebook PAGE. Though easily confusable, they are not the same thing.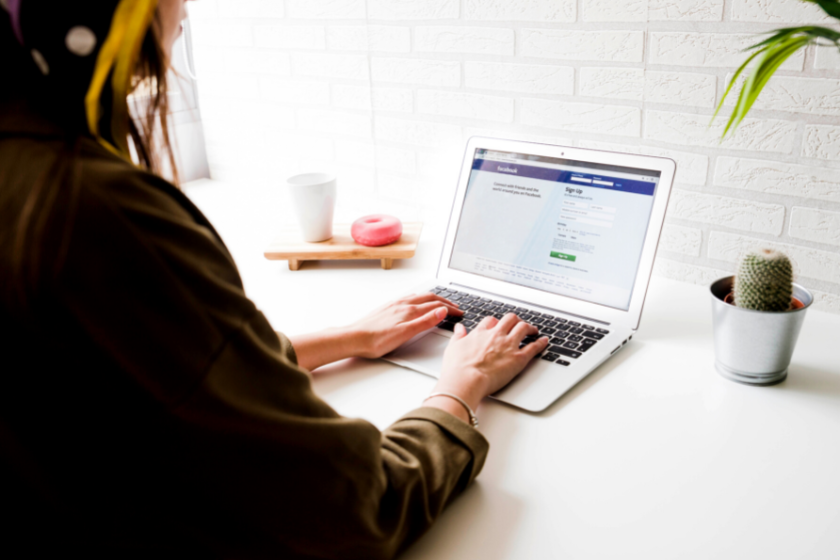 Facebook Group vs Facebook Page
Facebook Groups are a place to communicate about shared interests with a group of people. It is community-based and allows people with a shared interest to have discussions with each other, share their experiences, and express their opinions. Think of it like a community center for your brand where everyone is mixing and mingling, chatting, and learning together.
You have the option of making your Facebook Group private, so that people have to request to join and only group members can see posts within the group.
A Facebook Page is a public profile that allows brands to share information about what they do, who they are, and so on. As a blogger or business, you can share links to recent blog posts, links to product pages, updates about your pets, company announcements, etc. People can like and/or follow a Facebook Page to receive those updates in their News Feed. Facebook Pages are visible to everyone on the internet.
Though you can definitely have good discussions within a post on your Facebook Page, Facebook Groups are much more conducive to discussion and community.
The Benefits of a Facebook Group
As mentioned already, Facebook Groups are a great way to build community around your brand. There are many other benefits to a Facebook Group as well:
You can get to know your followers on a more personal level and vice versa.
Engagement is usually higher within an active Facebook Group than on a Facebook Page.
You'll likely have a higher reach on your group posts (we all know how difficult it is to get your posts seen on a Facebook Page!)
Facebook prioritizes group content in the News Feed over Facebook Page content.
You have your target audience all in one easily reachable place for FREE!
Things to Consider Before Starting Your Group
That all sounds great, right?! Before you go rushing over to Facebook to create a group though, there are a couple things to take into consideration.
1. What is your purpose in creating a Facebook Group?
You should definitely have a clear goal and purpose in mind. If you think a Group is a shortcut to better engagement and plan on just sharing all the same content you share on your Facebook Page, you'll be wasting your time. While you definitely can share your blog posts and/or business updates within your Facebook Group, you should have a more defined goal than that.
Let's take a look at our BlogPaws Community Facebook Group, for example. The purpose of that group is to facilitate discussion and provide educational content for pet industry professionals about topics relating to business, social media, video, email marketing, branding, etc. We have dedicated discussions within the group and even host Facebook Live sessions on various topics for our group members. Members have a clear benefit and reason for joining our group over just liking our Facebook Page. They will find exclusive content in the group that isn't available to just anyone on Facebook.
2. Do you have time to run a Facebook Group?
The benefits of a well-run, active Facebook Group are undeniable. However, don't expect to start reaping all those benefits overnight. To truly get the most out of a group, you will need to put in a good bit of time and effort. Between Facebook, Instagram, Twitter, Pinterest, Tik-Tok, Clubhouse (there are SO MANY places!), it can be overwhelming to keep up with everything. Will you have the time to add another channel to your plate?
As a Facebook Group admin, not only are you responsible for facilitating discussion and providing quality content, you are also responsible for approving group posts (if you have post-approval turned on), approving member requests (if your group is private), monitoring the posts in the group, and enforcing the group rules. As your group grows, all those tasks become more and more time-consuming. This is why you may notice that many of the large Facebook Groups have more than one Admin. For example, our Facebook Group has three!
Don't necessarily let the time commitment discourage you from starting a group. Groups are oftentimes well worth the time investment. But be realistic. There's no sense in adding something else to your plate if you don't think you will be able to keep up with it.
How to Get the Ball Rolling
Okay, so you've decided to start a Facebook Group. Congratulations! But now what?
The first step is to get group members! Announce your new Facebook Group on your Facebook Page, share about it on Instagram and your other social media platforms, and email your newsletter subscribers.
Do you sell products? Add your Facebook Group link to your order confirmation emails to let your customers know about it.
Do you have a blog? Mention your group in a blog post or maybe even dedicate an entire blog post to announcing the group.
Now that you have some group members, you should have a content strategy in place. As your group grows and engagement increases, your group members will likely provide a lot of discussion and content on their own, but in the beginning you will need to get the ball rolling.
Here some content ideas you can use to jump start discussion:
Have themed days. For example, in our BlogPaws Community Group, we post a Share & Support thread on Mondays, a social media topic discussion thread on Tuesdays, another business topic discussion on Thursdays, and every other Friday is Follow Friday. Choose themes that are relevant to your niche and group goals, and devise a content theme strategy and schedule.
Get to know your group members better by creating group polls. Polls allow you to ask your members a question, and all they have to do is click a button to give you an answer. It's a quick and easy form of engagement. You can even prompt for further discussion in the comments of the poll if you'd like.
Welcome your new group members. When new people join your group, you'll see a message on the right side of the main group page that says, "You have X new members this week. Write a post to welcome them." Click the "Write Post" button, and Facebook will auto-populate a new post for you with all of the new members tagged. You can edit the post to ask your new members to introduce themselves, share a photo of their pet, share their goals for joining the group, etc. Welcome posts generally get good engagement, and your members will feel more comfortable sharing in the group later.
Ask questions. The best way to generate discussion is to pose a question to your members. Don't ask closed questions that will only elicit a "yes" or "no" answer. Ask them meaningful questions that will prompt them to give you detailed and thoughtful answers.
To keep the engagement rate up, always be sure to respond to your group members' comments and questions. This will make them feel validated and more likely to remain active in the group going forward. If your group grows to the point that you aren't able to engage with all the activity anymore, then it may be time to consider recruiting another Admin/Moderator or two.
Other Types of Facebook Groups
The tips we've shared so far have mostly been for a Facebook group whose main purpose is to build a community around your niche and brand – to create a group of super fans! There are other types of Facebook Groups that might be a good fit for your brand though too.
Online Course Support Group – Do you sell online courses through your business? Having a designated support group may be a good idea. It would allow your students to ask questions and get additional help from you and from each other. It could also be a great way to provide motivation and accountability for your course members as well.
Challenge Group – Do you run any sort of challenge? Maybe a blogging challenge, photo challenge, pet training challenge, or fitness challenge of some sort? A Facebook Group could be a fun way for your participants to post about their accomplishments and encourage each other.
Paid Membership Group – Our PetBiz Collaborative Group is a great example of a paid membership group. While we have moved our group from Facebook to an outside platform, it did start here. We provide education, discussion, and support on various business-related topics, along with monthly sessions with experts in their respective fields (email marketing, Instagram, video creation, etc). If you have a service or content you provide that people pay for, perhaps you should consider hosting your group on Facebook.
There is a lot to consider in regard to creating a Facebook Group. If utilized properly, they can bring great engagement, more readers, more customers, and more growth for you.
We welcome pet-focused professionals interested in learning and networking for their business to our free BlogPaws Community Facebook Group. This includes pet bloggers and influencers, pet small businesses, veterinarians, and pet focused nonprofits. Is that you? Come join us!
And, tell us… will you be starting a Facebook Group for your business? Or do you already have one?
About the Author: Emily is the Director of Marketing and Community here at BlogPaws. She is also an online content creator and writer for her own site, KittyCatGO, as well as for Cat School. Emily is "mom" to 7 cats, 1 dog, and 2 sugar gliders. When she isn't writing, playing music, or crocheting, Emily and her husband enjoy hiking, road-tripping, camping, and canoeing together with their 3 cat adventurers.