One of the most important aspects of Search Engine Optimization for your website is making sure it's formatted in a way that's easy for search engine bots and visitors to understand. This post will be a recap of a website audit DragonSearch performed for About Pet Rats – a website that gnaws at covering adopting pet rats, providing correct health care, creating fun and friendly environments, and spreading love for ratties in the pet community!

We've analyzed About Pet Rats and conducted a 10-point website audit covering content, SEO best practices, and technical tips to help optimize website performance.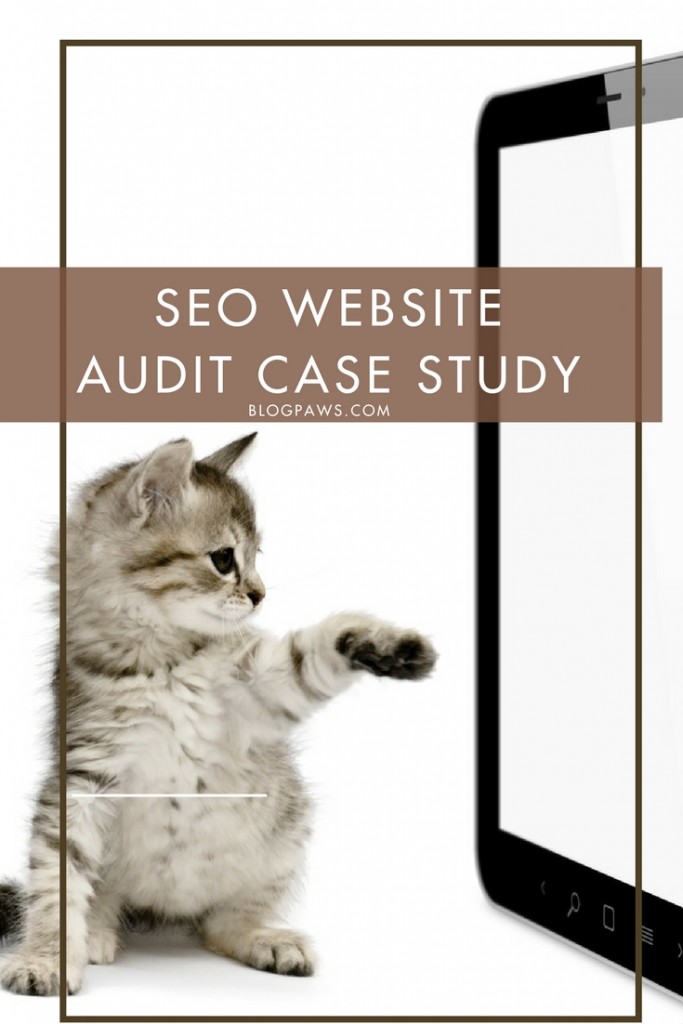 What is a Website Audit?
First off, you might be wondering – what is an audit? A website audit is a comprehensive evaluation of your website for factors such as: usability, search engine optimization, content, design, cro, and more. Think of an audit as a website checkup. It is an opportunity to sit back and evaluate your website, gain insight, and create a roadmap towards where you want your site to go in the future.
We recommend conducting an audit annually. It will take some focus so block off a few hours of time, grab a cup of coffee, snuggle up with your pet, and get ready to look at your site in a whole new way.
In this audit, we are going to cover 10 different topics. Ready? Let's spin the wheel on their SEO evaluation!
Google Analytics Code
The Google Analytics Code is a snippet of Javascript text that tracks and sends website data to Google Analytics. By adding your web property ID onto your site, you can use this code to monitor site performance. Google Analytics allows you to track the following:
Visitor demographics
Popular searches on your site
The best and worst performing pages
Monitor where website traffic is coming from
About Pet Rats placed their Google Analytics code in three different spots using both the new analytics code (analytics.js) and the outdated version (ga.js). Because Google bots read websites from top to bottom, the code could be read more than once – skewing data and damaging user behavior metrics. The most updated GA code should be listed only once to continue monitoring behavior patterns.
Recommendation: Remove extraneous analytics code and leave the analytics.js tracking code in the header of each page of the website.
Image Optimization
If there's one thing all pet lovers have in common, it's sharing adorable images of their furry friends. Pictures are worth a thousand words, which is especially true for image optimization.

About Pet Rats enhances page content with images, but optimization is needed. Even though images are compressed into a designated space on-site, they are much larger than needed behind the scenes. When users click on an image, a new tab opens that contains a large version of the image, as in this example. This disruptive click prolongs loading time – especially for mobile users – and likens the chance of visitors leaving the site.
Recommendation: Before uploading images onto your website, resize your images to an appropriate size.
Broken Links
A broken link is one that sends website visitors to a page that no longer exists. This most often occurs when an embedded URL was incorrectly entered by the page's webmaster, or if the user has software or firewall protection against the destination website.
About Pet Rats has a clean site with very few broken links (404 errors), but has 149 redirects (301 messages).
404 – Page not found
301 – Permanent URL redirection
By fixing redirected links, site speed will increase and gain the most SEO strength from links on a site and the pages they redirect to.
Recommendation: Set up Google Search Console and monitor 404 errors in the Crawl Report and fix errors as they pop up. For 301 redirects, use a tool like Screaming Frog to find out where their redirects are happening. Update internal links so redirects are no longer relied on.
XML Sitemap and HTML Site Map
About Pet Rats has an XML sitemap, but lacks a HTML site map.
An XML sitemap provides a full list of a site's URLs and information for each – how often the URL changes, when it was last updated, and it's role on the site. This data helps search engine bots crawl a sitemap in an efficient way. An XML sitemap can then be submitted in Google Search Console for crawling.
HTML site maps are bulleted outlines of text that make it easy for website visitors to navigate through pages. Plugins can help create easy-to-build HTML site maps and update themselves automatically.
Recommendation: Create an XML and HTML sitemap for the site. Submit the XML sitemap to Google Search Console. Place a link to the HTML sitemap in an easy to find place. Typically, the HTML sitemap link can be found in the website footer.
Title Tags and Meta Descriptions
Every search result contains metadata- the title and the description. Many of About Pet Rats' page titles and meta descriptions do not meet SEO best practices.
The example below showcases About Pet Rat's meta description. This should include a short, yet descriptive summary of what the website is about. In the example below, the description does tell you what the website is about. However, it's not very conversational and could be improved. This will encourage more people to click to the website.

Page titles should fall between 40-56 characters. Meta descriptions for blog posts should be 110-142, and 120-156 for non-blogging sites. Here's an example of a properly written title tag and meta description:

Recommendation: Create unique and enticing title tags and meta descriptions for all (or at least all important) pages of the website.
Social Sharing
When readers come across a relatable blog post they'd like to share, it's better to keep your social media sharing buttons at the top and bottom of the post. About Pet Rats includes buttons only at the bottom of posts – which may never be seen if visitors don't finish reading a page.
We recommend adding your social profile buttons in your About/Contact page, so if someone is looking for you, they can find you! Include links to your Facebook, Twitter, Instagram, Google+, Pinterest, and LinkedIn page.
Recommendations: Add social sharing buttons to the top and bottom of each blog post. In addition, add sharing icons to other key pages such as the about or contact page, too.
Calls to Action
Calls to action are very important when writing content for blogs, web page, and even social media posts. They encourage visitors to read more share what you have to say.

About Pet Rats does a good job of including calls to action. Here are our recommendations:
Improve your About/Contact page with specific callouts to advertisers, guest bloggers, and collaborators to get in touch.
When including a mention of affiliated links, be sure that each link opens in a new tab. About Pet Rats' "affiliate links" is clickable, but brings visitors to a white-background image of a blog award logo. Use this space as an opportunity to explain affiliate links and your site's advertising policies.
We recommend installing an RSS feed, which presents regularly changing content. This could include recent blog posts or announcements. Check out this helpful plugin!
Recommendation: Take a step back and decide what you want your calls to action to be. Do you want reader to send you an email? Follow your social accounts? Leave a comment? Figure out your calls to action and make sure they are spelled out on your website.
Forms
Creating forms on your website makes it easy for people to get in contact with you, subscribe to newsletters, or submit a question or comment. About Pet Rats has a form and it is easy to use on both mobile and desktop!
Recommendation: Ensure your phone is easy to use on both desktop and mobile devices. Every once in a while submit a test form on your website to ensure that form fills are reaching your inbox.
Responsive Design
We tested About Pet Rats' site with Google's Mobile Friendly Test – and it looks great! In addition to utilizing tools to check your site, try Google Search Console. This free service has a tab that lets you know about every page that isn't mobile friendly, which makes it easy to find pages needing improvement.

Recommendation: If you haven't noticed, we are big fans of Google Search Console! If you haven't already, sign up for an account and being monitoring the Mobile Usability tab for errors.
Tags and Categories
When it comes to creating a post about Snickers' newest adventure out of his cage, remember to use basic tags and categories to improve the usability of your website. Tags and categories give topic-based direction when navigating through posts.
Categories – help to group posts based on topic
Tags – describe specific details of posts
We recommend checking Google Analytics to see if tagged pages are bringing traffic.
Most of the tags have only one blog post. This thin categorization of content is not helpful to visitors and these pages can generate a low-quality content penalty from Google.
Recommendation: Evaluate your use of categories and tags. If necessary, condense categories that don't have a lot of content and visibility. Or, if you realize you're missing a key category, start working on a content calendar that covers the topic.
Recap
Your website functions as a spinning wheel that relies on search engine bots for power. When Snickers the rat is given the best diet to enhance energy and productivity, he'll run faster in his wheel. The same can be said for websites and the Internet. If you build your website in a way that gives crawl bots everything they need to examine and understand your website, the overall functionality, performance, and traffic will increase… All because of what you put into it!
About the Author: Tyler Brown is a Digital Marketer at DragonSearch. She loves all things content and spends her days researching, constructing, and sharing custom content across a number of different verticals (pets being one of her favorites!). When Tyler isn't hiking with her golden retriever or exploring trails with her horse, you'll find her busy in the kitchen baking favorite recipes. Find her on Twitter @_tylerbrown. DragonSearch is a digital marketing agency in New York, which provides a range of services including SEO, PPC, content marketing and social media advertising. Follow DS Fido on Twitter for all the latest pet news and info. 
Image: Rawpixel.com/Shutterstock.com
robert_s/Shutterstock.com