This week's Wordless Wednesday blog hop is dedicated to all those pets who have touched our lives and have passed on. If you parent a pet, at some point you'll be feeling the angst of their passing, and you are in the company of those who experience it and understand it here (the it being that all-encompassing grief).
As we are in the throes of holiday cheer and sentiment, let us not forget those who have lost their pets. We grieve for and with you and send a very special BlogPaws hug to you this holiday season and always. If you are dealing with grief over pet loss, here are some pet loss resources to keep handy. Remember, there is no amount of time on grief: It comes in waves and we are not measured by how much we grieve, but rather by how much we loved. Our pets are forever loved, all creatures great and small.
Surviving the Holiday Season After Pet Loss
Remembering Passed Pets This Holiday
Grieving Pets During the Holidays
Honor Your Beloved Pet
There are many ways to include the memory and love of a pet no longer with us on Earth. Consider:
An ornament on your tree with a lock of the pet's hair and/or a photo;
Donating to a favorite pet rescue;
Blogging about the pet and your grief to help others;
Planting something in their memory;
Whatever you do, know that you are not alone.
BlogPaws offers year-round interaction, activity, community and more to learn, earn, and connect. Plus we have the weekly tradition of the Wordless Wednesday BlogPaws Blog Hop! Visit and leave comments on other blogs to make some new buddies and maybe some new followers. You can add the BlogPaws Blog Hop button to your post and/or to your blog sidebar, either by cutting and pasting the image or using the HTML code below. Need help? Here it is:
How to Join a Blog Hop – BlogPaws Tutorial Video: Step by step help to get you started:
.
You can add the BlogPaws Blog Hop button to your post and/or to your blog sidebar, by cutting and pasting the image below. Need more help? Here it is: How to Join a Blog Hop – BlogPaws Tutorial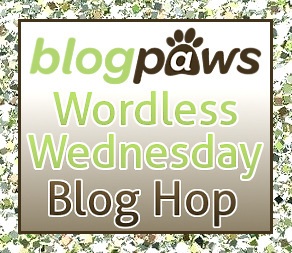 Image: cpreiser000/Shutterstock.com