This edition of Wordless Wednesday blog hop is dedicated to pet shelters everywhere. No matter where you reside, if you have arrived on this blog post, you know of an animal shelter in your area, whether online or IRL (in real life).
I recall learning about Craft for Your Shelter Day several years ago from the Sew Doggy Style blog. Basically, folks are encouraged to help their animal shelter by making something. Not everyone can devote their monies to a shelter, but most of us have things stuffed away in boxes that we can make into something for pets in need.
Think about making a pet bed, bananas, harnessing old towels into something warm for a kennel, and so on. Even those of us who lack in the culinary department (note: me, Carol Bryant), I can sew or at least piece things together in some organized fashion to create or craft.
Here is an excerpt from a Sew Doggy Style post, which we encourage you to read in its entirety for hints, tips, and what to do if you work at a shelter.
How can you join the force?
We've come up with a list of things to think about to help everyone interested

1.  Decide on a shelter to donate to – contact them and make sure they want to receive your donation.

2.  If you are not sure what to make, ask your shelter of choice what it is they could use the most – besides money and food of course.

3.  Decide what materials you are going to need.  Utilize what you know you are great at and make sure your "game plan" is realistic.  Do you need a pattern? How long does it take to make one of your items?  Etc.  If you decide on "adopt me" items like vests or bandanas, make them bright and eye-catching.

4.  Set a date to craft and also think about organizing a craft night with your crafty friends just for this project.  How fun would that be?!

5.  Don't forget the cats and other animals in shelters.  Cats could use bandanas for adoptable pictures and to help attract attention.
Have you ever crafted for a pet in need? Let us know, but in the meantime…..
Join the BlogPaws Blog Hop for "Wordless Wednesday." BlogPaws offers year-round interaction, activity, community and more to learn, earn, and connect. Plus we have the weekly tradition of the Wordless Wednesday BlogPaws Blog Hop! Visit and leave comments on other blogs to make some new buddies and maybe some new followers. You can add the BlogPaws Blog Hop button to your post and/or to your blog sidebar, either by cutting and pasting the image or using the HTML code below. Need help? Here it is:
How to Join a Blog Hop – BlogPaws Tutorial Video: Step by step help to get you started:
.
You can add the BlogPaws Blog Hop button to your post and/or to your blog sidebar, by cutting and pasting the image below. Need more help? Here it is: How to Join a Blog Hop – BlogPaws Tutorial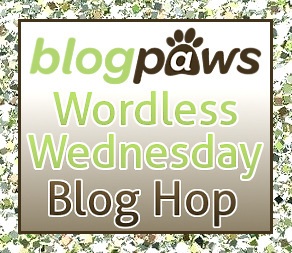 Image: Koldunov Alexey/Shutterstock.com
Save
Save
Save