In the wake of the recent weather disasters affecting parts of
Oklahoma, BlogPaws and World Vets reached out to The Blogger Disaster
Response Network to help raise much needed funds for the victims of this
disaster. Combined with support from Pet360 and the American Animal
Hospital Association the goal was to add cash funds to the many other
support programs being implemented by the pet community nationwide.
The BlogPaws Community, in conjunction with our extraordinary sponsors
and many brands we work with throughout the year, raised almost $10,000
to divide between three groups: The Central Oklahoma Humane Society,
which is working the tornado relief; OSU Animal Relief Fund, which is
providing veterinary care free of charge to injured animals; and
Pampered Pets Clinic Disaster Relief, which is providing specific
supplies based on need to smaller rescues and individuals.
The Blogger Disaster Response Network serves to reconnect lost pets with
their owners, and to give added support to shelters and rescues in this
time of need. 
BlogPaws and World Vets, with the help of Dr. Jessica Vogelsang,
joined forces in the fall of 2012 to create The Blogger Disaster
Response Network to help animals in need during times of disaster.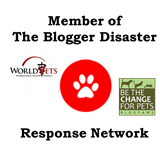 Additionally, BlogPaws Conference sponsor, Hill's Pet Nutrition, stepped
up the call to action by galvanizing its recently announced Disaster
Relief Network to feed displaced pets and assist pet parents within the
disaster zone. Read the full impact of Hill's Pet Nutrition's Disaster
Relief Network on the pets in Oklahoma at http://blogp.ws/HillsHelpsOK
World
Vets was formed in 2011 after the earthquake and tsunami hit the
Japanese coastline and left thousands of animals homeless and in danger.
In the days after that disaster, BlogPaws created the Paws for Japan
Blog Hop, a campaign to help spread the word about disaster relief. It
helped World Vets raise over $40,000 on short notice. Based on that
success, The Blogger Disaster Response Network was launched.
Bloggers
and micro-bloggers are encouraged to read more about The Blogger
Disaster Response Network at
http://blogp.ws/BDRNhm