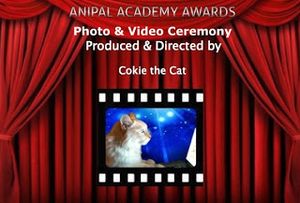 I met Cokie for the first time by working with him on Twitter through the Anipal Academy Awards. He presented the photo and video awards, and he rocked it. He was full of energy, quick with humor, and he wore pants. Somehow those pants made him really cool. It was months of working with Cokie before I accepted the fact that I was really talking to his Mom and it was ok to call her Kristin.
Kristin told Cokie's life stories from his Gotcha Day, to his tree incident, to his preference to sleeping in the bath tub, to his pants, to his talking, to his midnight walks around her home. His plush self was always in tow and although the fluffy Cokie stand-in is the only Cokie I've ever truly met, I feel like I've snuggled with him many times. Kristin possess the ability to bring Cokie's personality alive through phone calls and stories. Together Cokie and his family supported so many causes over the years. They donated money, time, energy, created friendships and always took time to support the anipal community. They are treasures.

Cokie's journey to the Rainbow Bridge was shared on Facebook, and while I had just moments before read an email that his breath was labored and there was worry, I sat shocked and heart broken when I saw this post. If that is how I felt, I can't even begin to fathom was Kristin and Cokie's Dad were feeling…what they are still feeling. You can read Kristin's post on Cokie's blog for a glimpse into their pain, but there are no words that accurately describe heartbreak.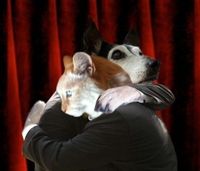 On the night of October 1st, Cokie was guided to the Rainbow Bridge by his best pal, @PepiSmartDog, while many of us followed along on Twitter through leaky eyes. Cokie is with so many pals now; I can't even begin to name the entourage that greeted him. That offers some comfort, but nothing dulls the pain of losing a best friend. A confidant. A snuggle buddy. A piece of your heart.
One way to share our love for Cokie and to show his parents just how many pals are thinking of him, is to light a candle for him. Please take a moment and light a candle for Cokie and his family. These virtual candles will burn for 36 hours. Be sure to use the group code: CTC – for Cokie The Cat.
Last, I like to share this quote because the last line really says it all:
"What we have once enjoyed
we can never lose.
All that we love deeply
becomes a part of us." ~ Helen Keller
Cokie will forever be a part of all of us, and in Kristin's and Cokie's Dad's hearts his spirit will reside until they all meet again…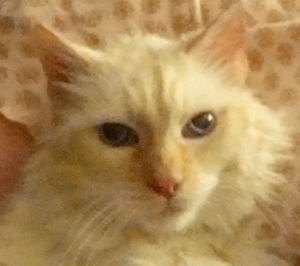 By Chloe DiVita on behalf of the whole BlogPaws Team