Post By Blog Manager, Robbi Hess
I'm not sure about your weather, but in Western New York it has been hot, hazy and humid and today is the "official start of summer." I wonder that that means the weather will be like the rest of the season! The temperatures have been hovering in the mid to upper 80s with the sweltering humidity.  Henrietta, the diva poodle, has been spending her time curled up on the futon in my office watching me toil away while she enjoys the cool air of the air conditioner.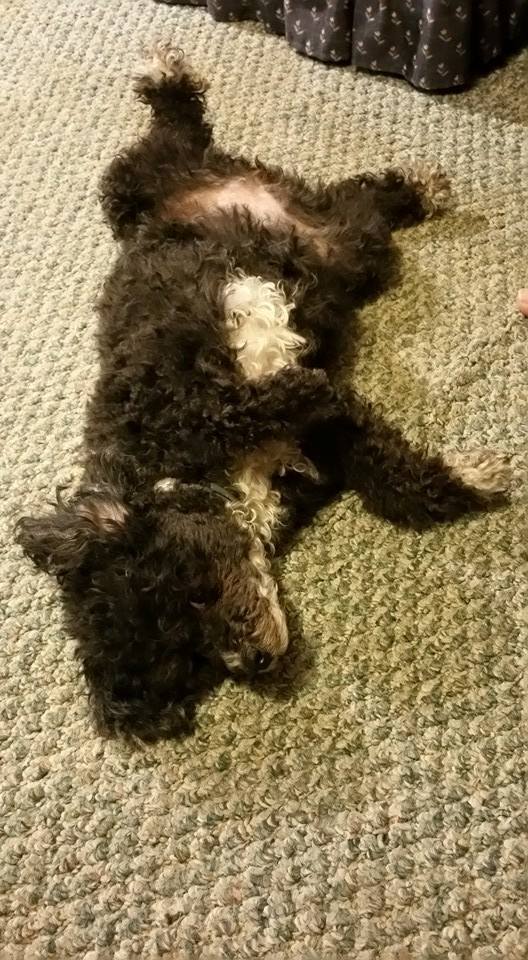 If you're going to be at any picnics or family gatherings today or any other day this summer, here are some safety tips for Memorial Day and beyond. Are you planning a backyard barbecue? Do you have a household that boasts more than one pet — like I do — then it's important to consider each pet and his or her unique needs. For example, in our house, Spenser loves the out of doors, Henrietta is more of a house plant and will go outside only if I am there with her and even then she won't relax and lay on the ground; she paces or has to sit on my lap. Our cats never get outside and we are always careful that anyone who comes to our house makes sure there are no cats by the door when they're going in or out of the house. The ferrets do love the out of doors and can now go out more often if they're in their new harnesses.
Enough about me, now onto tips you can use to keep your pets safe on Memorial Day and all summer long:
Don't feed your pet table scraps. They aren't healthy and can lead to obesity. Make sure your guests know that table scraps are off limits. Your pets should adhere to their usual dinner routines.
Alcoholic beverages are always off limits because they could easily lead to your pet being poisoned or requiring a trip to the emergency vet. Keep drinks up out of your pets' reach.
Clean, fresh water should always be available for your pets.
Resist the urge to feed your pets in the midst of the family gathering. Put their dishes off to the side, in a quiet out of the way space so there are no chances of dog bites because a guest decides to interrupt your pets' dinner time.
Don't let your pets by the grill. They may smell the cooking meats and be tempted to grab a burger off the hit grill and hurt themselves.
Keep your pets leashed even when you're in your backyard, unless you have a fenced in area for him or her to run. If your pets aren't accustomed to a houseful of people the noise and scents and general confusion of a houseful of people may spook him and he may run away.
"Indoor" pets should probably be put into a room away from the crowd and away from the opportunity to sneak out the door. Make sure they have food, water and a litter box if necessary.
Whether your guests bring a pet to the party is your call, but you need to make sure the introductions are done under close adult supervision and if they don't appear that they will get along, you may need to separate them for everyone's safety.
If your dog isn't accustomed to children or strangers, ask everyone to be cautious and to please stay out of your dog's face. Fluffy or Fido may be meek and mild mannered with you, but may not be with a stranger — especially a child who may be face-level height with him. Henrietta is not comfortable around strangers and really is not fond of children so we make sure the parents of young children stay away from her and we just tell them that "she is nervous and scared of kids" and everyone understands and gives her her space.
If your dog is getting stressed by the activity, offer a safe, quiet place to get away from it all. If she is crate trained she may be more comfortable in her crate.
Swimming pools are a lure for many dogs and if you're going to a party at a house that has a pool and your pet isn't accustomed to it be vigilant. If your dog jumps into the water, make sure someone is watching out for him so he doesn't get tired out and go under water.
What are your best pet safety tips?
(Photo Shutterstock: Cat in grass)