The founders of AllPaws, Darrell Lerner and Kimberly Bouton, have made it even easier for shelters and rescues to spread the word about their adoptable pets; they have created a Facebook tab that the organizations can install on their Facebook page.
The AllPaws Facebook tab, Darrell said is, "easy to install and completely free for any organization whose pets are listed on AllPaws.com." After the organization has installed the tab, anyone who visits the rescue or shelter's Facebook page will be able to view and search the pets that are available through that organization. They will also be able to view the pets' AllPaws profile right from the Facebook page.
AllPaws.com's management team prides itself on the large suite of tools and features the site offers and the way it is able to help shelters and rescues reach those individuals who are seeking the type of pet they have available. "Our mission at AllPaws is to help more pets get adopted and this is just one example of how we're leveraging technology to provide greater visibility for adoptable pets," Darrell and Kimberly shared.
Since its launch, AllPaws has helped countless pets find new homes and the technology they provide is gaining momentum in the animal welfare community because of its ease of use and the unique "dating site" style information it offers about the adoptable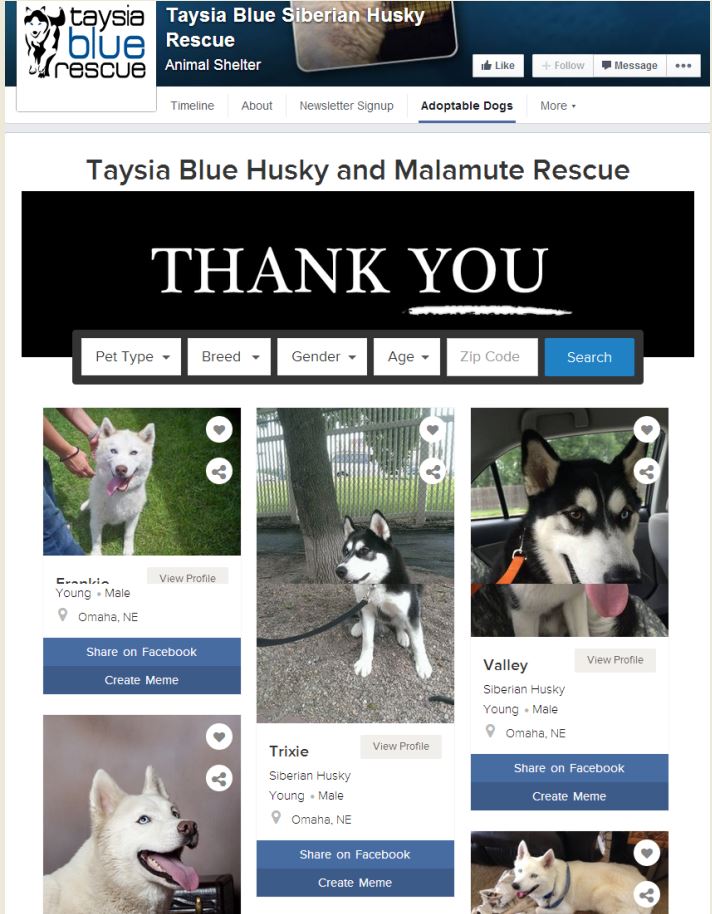 pets.  Jen, the marketing and technology coordinator at ROMP Italian Greyhound Rescue in Chicago, was quoted as saying, "AllPaws not only developed a platform for rescues and shelters to list adoptable pets but created technology that helps make the process more successful.The best part about AllPaws is their ability to listen to our needs and struggles as a rescue and develop a pet adoption site that helps us do our job better and more efficiently."
If you operate a rescue or shelter and want to install the Facebook tab you can do so by visiting the "tools" section on the top menu on the AllPaws.com site. To sign up for a free account, rescues or shelters can click here.
Here is an example of how Taysia Blue Husky and Malamute Rescue is using the AllPaws custom Facebook tab to make it easy for their visitors to view their dogs available for adoption. (Example above)