I do! Here's why:
First, I don't mean the same type of work that you do during the week. I certainly don't want all of us pet bloggers chained to our desks typing away our Saturdays and Sundays. (Or, you know, endlessly refreshing Facebook while you wait for that conference call to start… No? Just me?)
The type of work I mean is the work that sets you up for success for the week ahead! It's work that helps you avoid "the Mondays" and maybe even look forward to that fresh start to your week.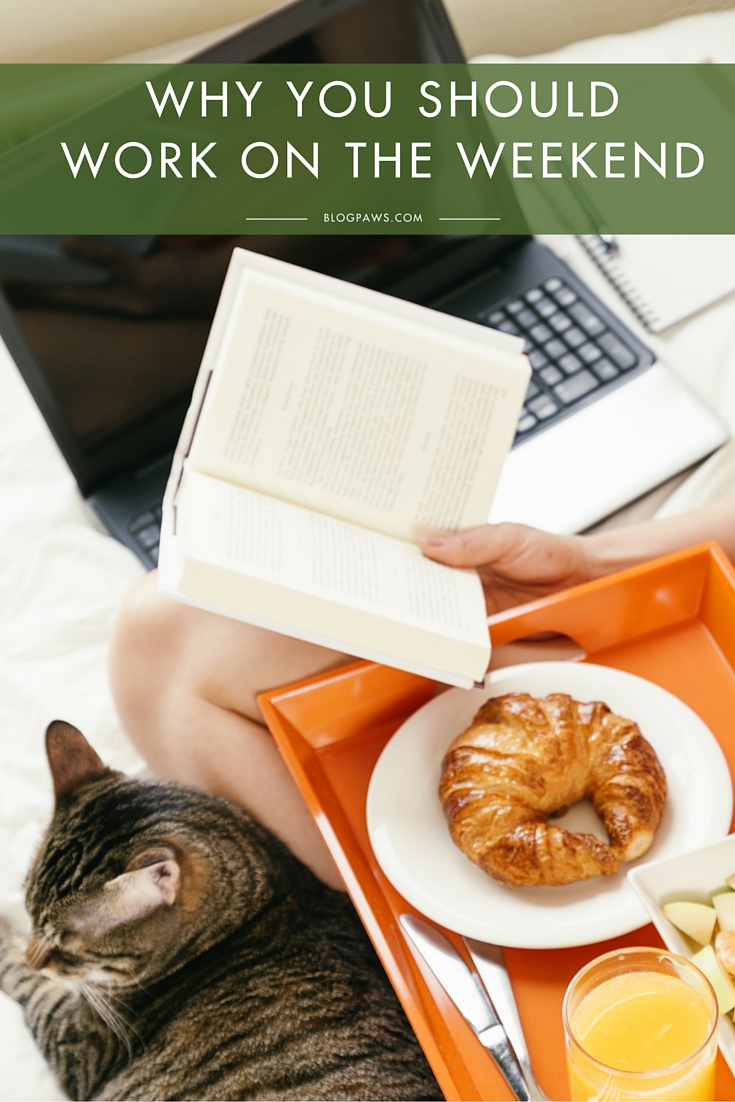 Let's get started… it is Saturday, after all!
Stockpile photos
Chances are you're already out and about on the weekend. Maybe you're trying your cat on a harness and line in your backyard or hitting the farmers' market with your dog or clicker training your bunny. However you spend your weekend, snap lots of photos as you go. Aim for at least 10 good pics: 5 for Facebook and 5 for Instagram. Then, whenever you have a dry spell or get caught up at work, you can pull from your weekend stash. Need some photo inspiration? Check out How to Tell a Story with Photography. 
Bonus tip: Watermark them as you go. Or, watermark in batches while you're doing weekend chores or watching TV. (Carol recommends iWatermark or Picmonkey!)
Catch up on reading
You know those articles you see all week in passing? Something interesting appears in your Facebook feed or an article is passed along, and when you click on it you see it's long and… tl;dr. Save those in an email draft to yourself, then spend your weekend mornings curled up with pets, caffeine, and your reading list. Truly, Saturday mornings under the covers with my Cooper, my coffee, and my iPad have become one of my favorite–and most productive–weekend rituals.
Experiment
There's so much that has to get done during the week that there's very little time for trying anything new. Use the weekend to experiment! Want to figure out Snapchat? Install it and test it out. Or figure out how to grow your Instagram account (with these weekend tips or Bernard's awesome case study!). If you're hanging at your kid's baseball game or lounging poolside, snap lots of photos (see tip #1) and try them out on whatever platform you choose.
Bonus tip: That extends to your blog, too! If you've been toying with a new widget or a launching a special feature, you have more time to play on the weekends, so give it a whirl!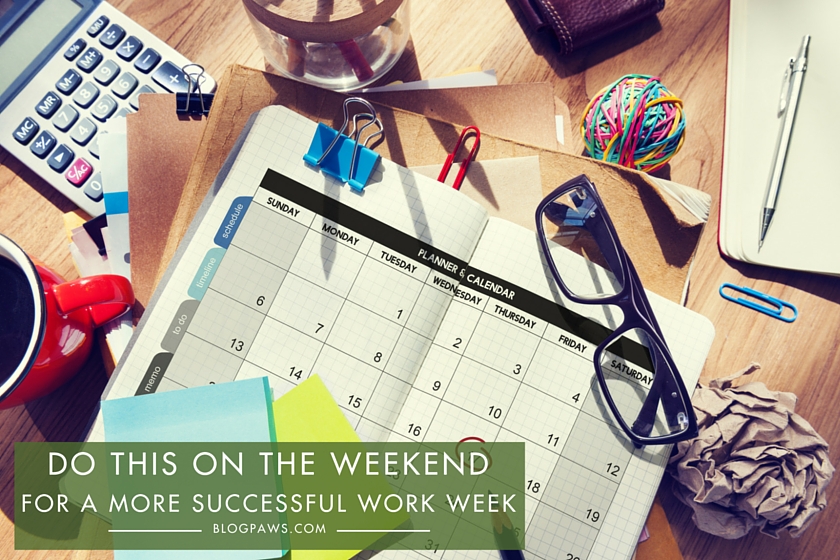 Sunday Success
AKA Sunday Done Day: This is the most important part of my weekend work and possibly my entire week! It probably deserves a full post (let me know if you're interested!), but here's the gist: On Sunday night, I sit down with my day planner, my project list, and my goals list. I close out the week behind by checking things off and migrating what wasn't finished. Then, I plan the week ahead. I put all appointments and deadlines in my calendar and slot the corresponding to dos on the right days. I balance my checkbook, pay bills, and update my income/expenses spreadsheet. Finally, I take a glance at my big goals and see what tasks I can schedule for the week to push me closer to achieving them. The entire process–with a good bit of focus–takes less than an hour, but it sets my entire week up for success.
None of those weekend work projects keep you from doing the fun stuff (or, more likely, the chores) that you like to get done on the weekend, all while helping you get ahead in your work and blog life!
Tell me: Do you work on the weekend? What types of tasks do you get done? And are any of these weekend projects resonating for you?
Maggie Marton serves as the BlogPaws senior editor. When not hiking with her two pit mixes, Emmett and Cooper, or playing with Newt the Cat, Maggie writes about them (and the pet industry) at ohmydogblog.com and maggiemarton.com. 
Images: santypan/Shutterstock.com and Rawpixel.com/Shutterstock.com