If you want your blog to grow, you need an actionable, goal-driven plan. Conducting an audit of your blog in a systematic way can help you evaluate where you've been and craft a plan for where you want to go.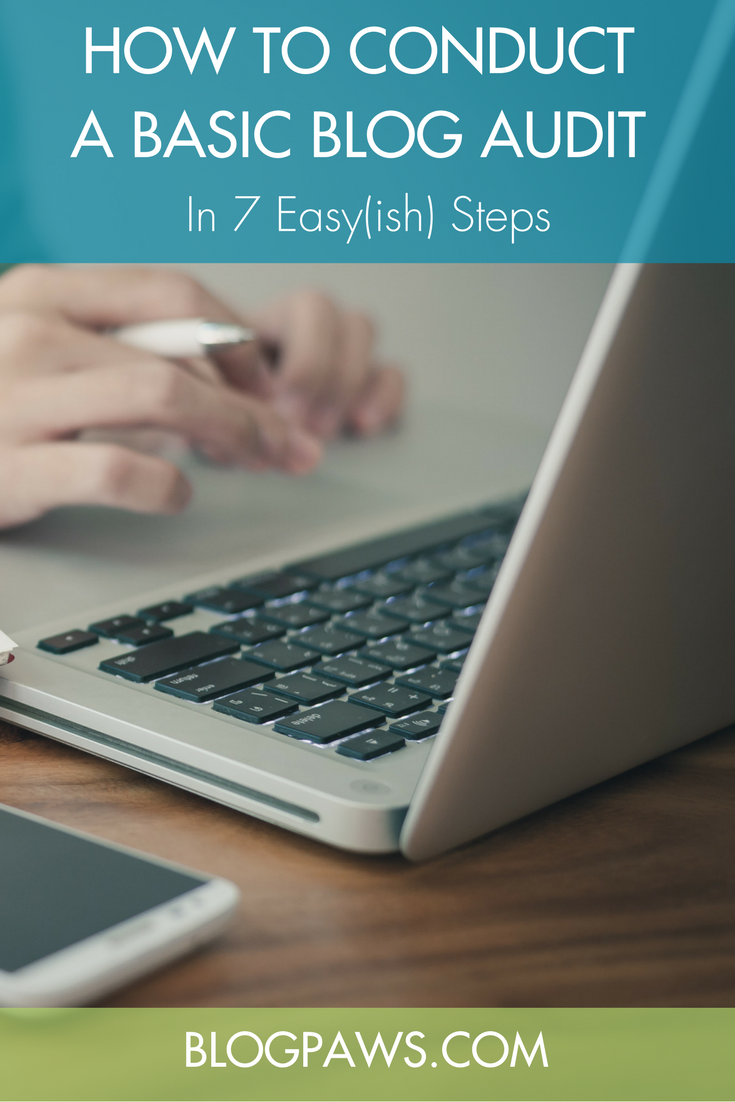 First, why conduct a blog audit?
A blog audit helps you figure out what's working… and what isn't. Then, you can refine your plans and goals to identify those areas that need nurturing to grow.
Another strong reason for conducting a blog audit is your own evolution. Look back at your earliest posts. Is your voice the same? Is your audience the same? How about your purpose, your mission? Chances are you've learned a lot since you clicked publish for the very first time, and with that learning comes change. That's a good thing. But, it might mean that some of your older work could stand a little sprucing. A blog audit helps you find and fix that work.
Finally, we all have limited resources, especially when it comes to our time. With a blog audit, you will determine how you spend your time and whether or not you're spending it effectively.
So, let's dig in, shall we?
How to Do a Basic Blog Audit in 7 Simple Steps
Set a goal. Do you want to review every single post on your site? Or conduct an overview? When do you want to have this project finished? Set a SMART goal for yourself to ensure you stay on track because this is a big–but worthwhile–undertaking.
Gather data. Open your Google Analytics dashboard. (Need a GA primer or refresher? Check out Resources to Teach Yourself Google Analytics first. It shouldn't take you long to get the scope!) Check out which posts are getting the most traffic and which ones are collecting dust. Are there specific types of posts that perform well for you? How about types that don't? You can go all-out with this step by exporting all your data into a spreadsheet, or you can toggle through to get a general overview. I suggest Google Sheets for this project so it's a live doc you can access from anywhere at any time.
Start at the bottom. There are two "bottoms" to choose from: In WordPress, click on All Posts, then click the Date column header to sort by oldest to newest. The second way is to sort by your most popular posts and work from the most to least popular. The first option is thorough and ensures you don't miss a beat. The second option helps if you need to work in small chunks.
Evaluate… every. single. post. This phase will take the longest, so don't try to do it all in one sitting! Start a Google Sheet or a simple notes file to start tracking the posts that need updates. Keep detailed notes. While you can make updates as you go (see point 5), it might be wiser to evaluate, track, and marinate. It's easy to get swept up in the clean-sweep, but some thought time might help you think of new and better ways to use some of your older content. Warning: This phase can be nostalgic. Be prepared for extra time ooohing and ahhhhing over your pets from years ago or stories you shared that spark an, "I forgot about that!"
Update away! Yes, you can update posts as you go through the evaluation stage. If you're someone who can work piecemeal, or if you don't have a ton of content to sort through, that might be your best bet. For me, I block and chunk my time, and I'd rather knock out a whole bunch of image updates in one sitting, fix broken links in another, edit for style in yet another, and so on. Use the detailed notes you took in step 4 to group the changes you need to make. What should you be updating? Consider these 8 questions:

Is the post authentic to you, your voice, and your audience?
Does the post end with a strong call to action?
Are there links within the post to other resources on your site?
Is the post optimized?
Are there any typos or grammar errors that need to be fixed?
Are there any broken links that need to be removed or replaced?
Is the formatting–including the appropriate tags–correct? (Check out Formatting Your Blog Content for SEO to learn more.)
Are the images crisp, clear, relevant, and sized for social sharing?

Leave or delete the rest. Not everything needs to be updated, of course. Hopefully, the majority of your work is still relevant and authentic. Those posts can simply be notes and left alone. Unfortunately, some posts aren't worth the time and effort to update, and if those posts aren't driving any traffic (go back to those Google Analytics to be sure), then deleting them might be best. But, tread carefully. Here's an in-depth look at how to properly delete pages from your site.
Celebrate your victory! Then, plan for the future. What patterns emerged during the audit? Let's say you discovered that your "Friday Fun" series just isn't getting the traffic you thought it would. Perhaps it's time to scrap that series and try something new. Or, maybe you learned that you have a dozen posts about a single health-related topic. How can you re-purpose or re-promote that content in the future? Can you package it into an info product? The bottom line: Don't let the audit be a last step! It should be a first step that helps you figure out how to move forward with your amazing content!
Finally, don't forget to share your newly-updated content across your social channels! You've probably gained lots of new readers over your time as a blogger who haven't had the opportunity to enjoy your past content yet. Once everything is dusted off and shiny, share away!
Have you ever conducted a blog audit? If so, how did you proceed and what did you find? If not, what's holding you back? How can we help you overcome your obstacles? 
Maggie Marton serves as the BlogPaws senior editor. When not hiking with her pit mix, Cooper, or playing with Newt the Cat, Maggie writes about them (and the pet industry) at ohmydogblog.com and maggiemarton.com.
Image: Silatip/Shutterstock.com