A few weeks ago I touched on the difference between paid media and earned media when working with agencies. I want to take some time to dig into this topic to help you better understand the inner workings of influencer marketing and your role as an influencer.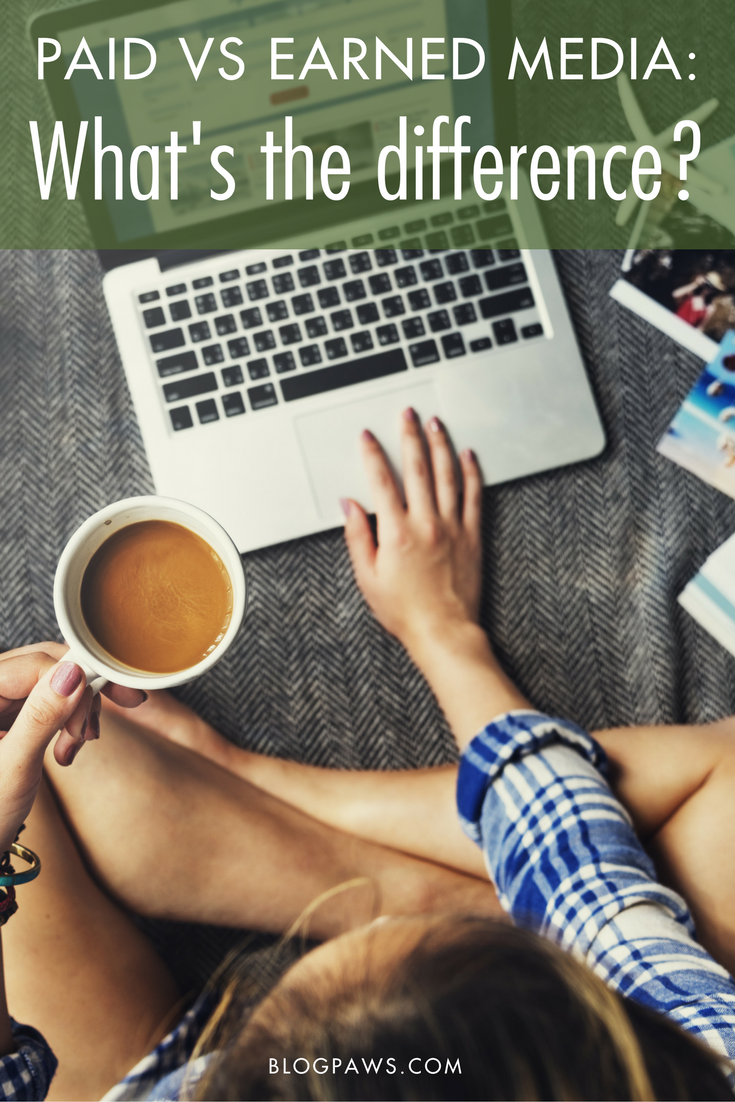 Paid Media
Paid media is any marketing that a company pays (cash, product, or a combination of both) for in order to promote their product through traditional means, or, in our case, through Influencer Marketing. There is a distinct call to action, usually to purchase the product, that the company hopes results in trial of the product or consideration at the store. This is a marketing expense, and while the company hopes their marketing dollars reach as many people as possible, they also know that the more people see their product, the more likely they are to be interested enough to make a purchase.
While sponsored social media posts are a relatively new segment of the paid media category, the thought behind this tactic is that the content is reaching a targeted audience where they "hang out" and so will (hopefully) take notice. Every additional eye that you can get this content in front of is a win for the brand.
Successful sponsored posts are those that are shareable by the brand to their followers because the posts keep with the brand's messaging. Successful sponsored content should lead to Earned Media for the brand, and it will determine if they want to work with you in the future or choose you for campaigns through Influencer Networks.
Earned Media
Earn media stems from the efforts you put behind the paid media promotions you work on. You create earned media on behalf of the brand when you get your readers, followers, and fans to follow the brand on social media. You get your readers interested in learning more about the company or product, and the brand now has a way to connect directly with this potential new customer.
Earned media is also about your readers, followers, and fans sharing your content with their friends and family. Compelling content grabs your readers' attention and entices them to share the content because they think it interest people they know.
The goal? Influencers who create a story and start a conversation with their followers.
The highest level of earned media is when your reader starts to share your content. Yes, comments on your blog post are great, but comments are part of the paid media effort because comments–unless done through a Facebook commenting plug-in–do not further the conversation with a wider audience. When the conversation takes place on social media, it encourages others to interact as well. By seeing the content and the engagement, more people are willing to join in and invite their friends to engage as well.
Earned media takes work. It is not a one-and-done deal. It is something that you have to nurture and build over time. It is also not a one-and-done share. Your job is to create a relationship between your followers and the brand. It is great when you have a long term relationship with a brand and can convey why you trust the brand enough to have created this relationship with them, but the goal is to get your readers to want to create that same relationship.

Why is earned media important?
Earned Media boosts a brand's voice in the marketplace. The pet industry, like other industries, is saturated with brands all competing for the attention of the consumer. Earned media increases the power and influence of their voice. Through the power of influencer marketing, and the earned media they receive from it, those positive mentions increase the brand's sentiment over their competitors.
What questions do YOU have about paid vs earned media? How can we best serve you when working on influencer marketing campaigns? Leave your Qs in the comments!
Felissa Elfenbein is the Director of Influencer Marketing for BlogPaws. During the day Felissa can be found creating proposals for new campaigns, on the phone with brands, working on VIP events for the conference, and Skyping with the Pet360 Media Sales Team. Felissa lives in the Northeast Georgia Mountains and has two senior Cavalier King Charles Spaniels better known as the Two Little Cavaliers.
Images: Rawpixel.com/Shutterstock.com