Most pet bloggers and small pet business owners understand that ranking on Google is an important step in building a business online, but the process of doing SEO research can feel overwhelming. With dozens of available SEO tools and a wide variety of SEO advice from self-proclaimed 'SEO Gurus' (that's often contradictory), where do you start?
The good news is that you don't need to invest in expensive tools or premium courses to start implementing SEO for your business. In fact, you can discover a lot of valuable information for free if you learn how to research SEO on Google Search.
Interested? Let's look at how to analyze basic Google search results with your content creation goals in mind.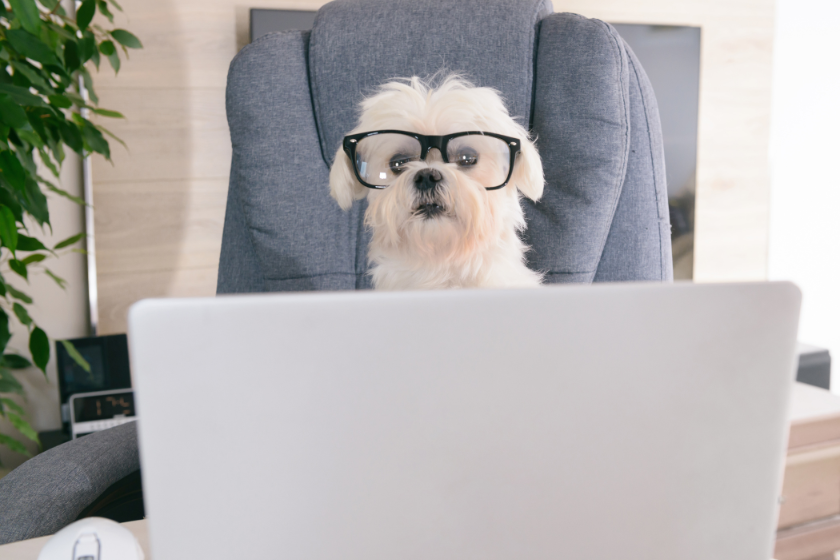 What Main Components Make Up a Google Search Result?
Before we get into detail about the ways you can leverage the information found in a Google search result, let's take a moment to discuss the different components you will be analyzing. These are the different parts of the search result page that you will see after entering a specific search query.
Paid Ads/Paid Search Results
At the top of many searches, you will find search results that have 'earned' their spot by being paid for. These are ads and labeled as such. While this isn't going to give you much insight into what Google wants to see for this search term, it does show what content people are willing to pay to have shown.
Looking at this example, if you research enrichment toys for dogs you can see that ADAPTIL is paying to include their Calming Diffuser. This is a good indication that the use of engagement toys to calm dogs may be a topic worth consideration.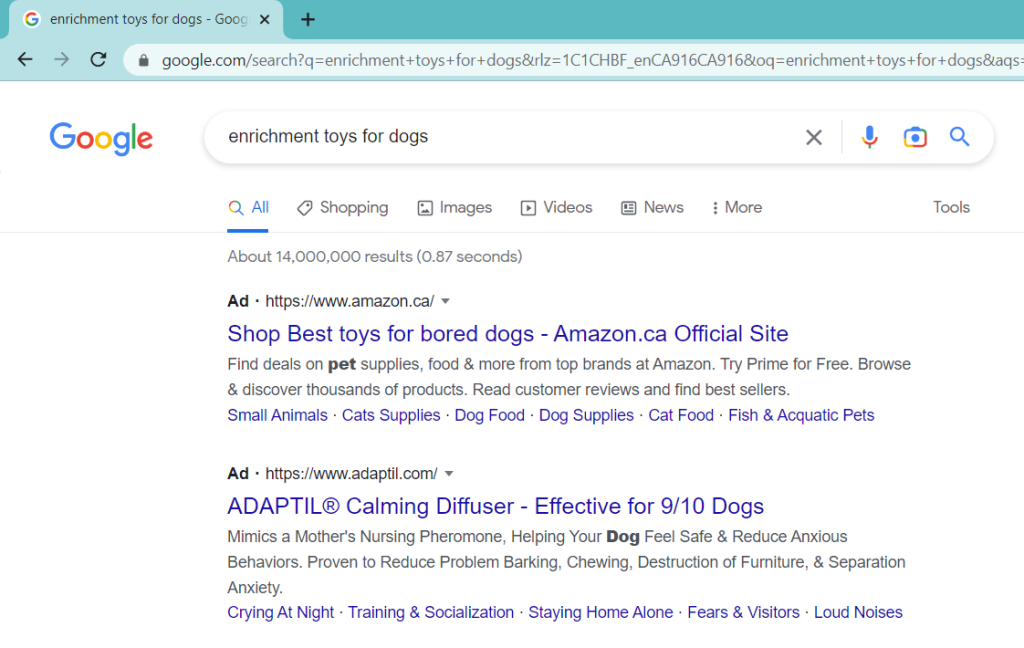 Organic Search Results
The organic search results are the pages that Google deems to be the most valuable for those that are searching your search query of choice. These are the results that you will need to outperform to rank in the top spot and therefore offer a lot of insight into what Google is looking for.
You will want to look carefully at the posts that are ranking at the top. Take the time to open the top sites, read through the content that they provide, and look at how they are structured. We will break down how to do search engine ranking analysis later in the article.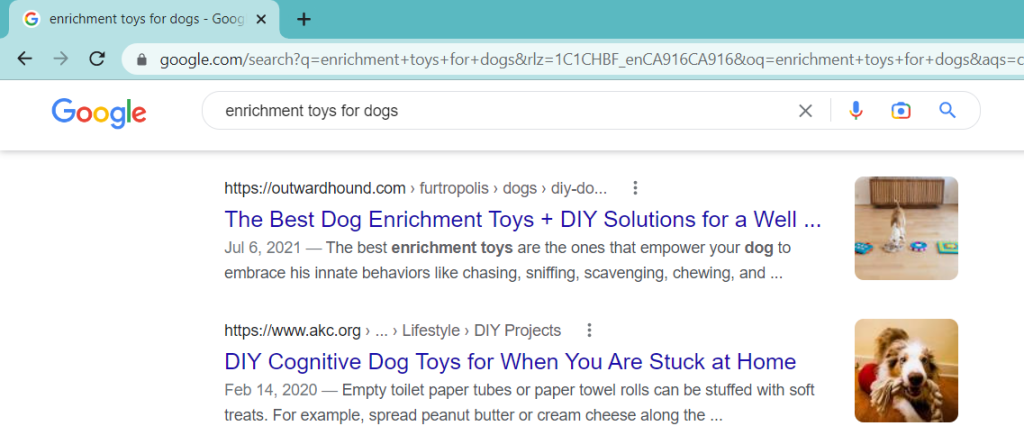 Snippets
Known as the coveted 'spot 0', snippets are search results that are highlighted at the top of the search results page, before the rest of the organic search results. They come in a few different formats including:
Paragraphs/Text
List
Table
Video/Picture
In this example of a text snippet, you can see how the snippet gives this result more attention on the search results page. This is a clear indication of what Google deems to be valuable information relating to that specific search query.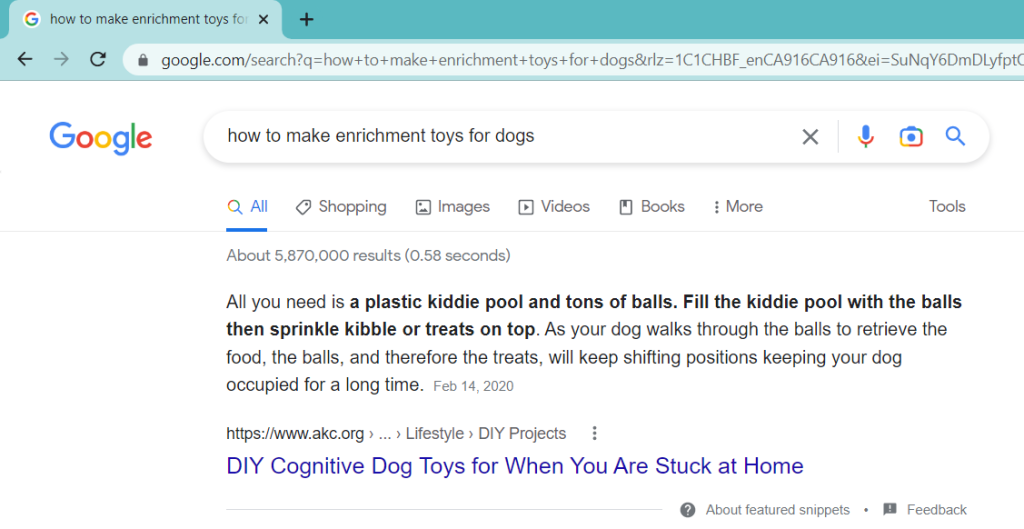 People Also Ask
If you continue to scroll down the page, you will come across a section labeled 'People also ask'. This includes a list of questions that directly relate to your search query and build upon the topic.
If you click on a question, you will be given a link to a website that provides an answer, and additional questions will show at the end of the list. This is a great way to get insight into what people may be searching for relating to your topic of choice.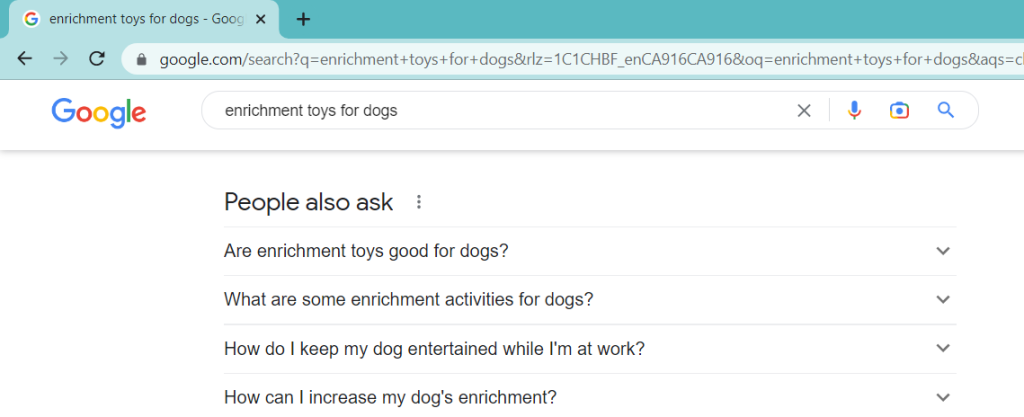 Related Searches
Similar to the 'People also ask', the 'Related searches' section will show you similar phrases and topics to your search query that people are searching. This could be a more specific version of your search query, like the one specifying "non food enrichment for dogs" in the example below, or it could be a similar topic like "DIY dog toys for power chewers".
This is a great source of secondary keywords, headings, or even a related article, depending on the amount of information that you have to share.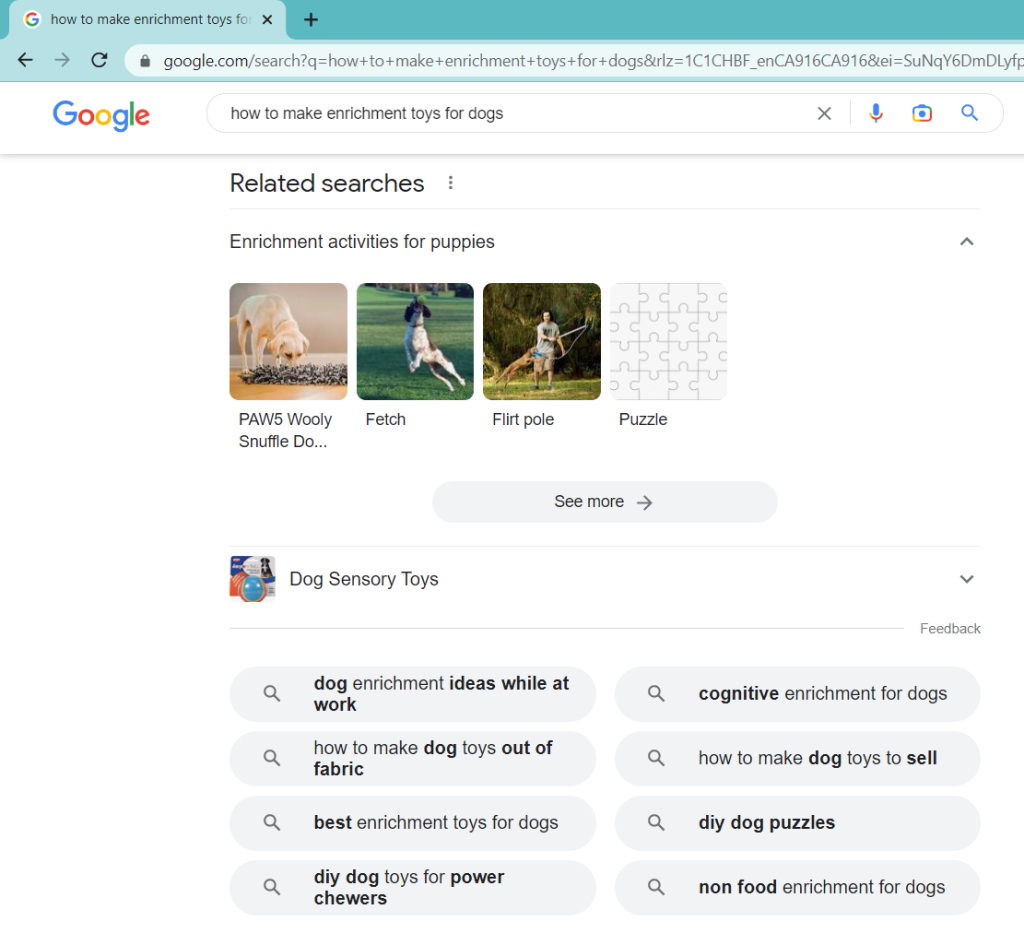 How to Check Your Website Ranking on Google
Before focusing your attention on what steps you can take to improve your SEO on Google search, you first need to have an idea of how your site is currently performing. This will create a baseline for you to use when analyzing whether your updates and improvements are working.
There are many tools, both free and paid, that can be used to check your Google ranking. The data they collect may not be the most accurate and up-to-date, but it does provide you with a good baseline.
But, you can also check website ranking on Google by searching for yourself.
To begin, you need to open an Incognito Browser also known as a Private Browser. This is a browser window that is isolated from any user data that Google has previously collected about you that could influence your search results.
The use of Private Browsing is also recommended when doing any Google keyword analysis.
Keep in mind that the results that you are seeing will still reflect your geographic area. Meaning if you are in the United States and searching a search query, you will see the results for potential website visitors in the United States. This is important if you have a website with its primary traffic coming from a different country than your own.
Scroll to the bottom of the first page, looking for your website. Is it there? If not, check page 2, page 3, etc. There is no 'wrong' answer at this point – just opportunities that you can use to propel your business forward as you focus on updating content to improve your SEO.
How Do I Research Keywords on Google?
Whether you're preparing to start a new piece of content or updating your content and SEO ranking keywords, conducting keyword research is an important part of the search engine optimization process. Unfortunately, it can also be time-consuming and many of the keyword tools available come with a hefty price tag.
The good news is that there are options to do your keyword research for free. This includes the ability to research keywords on Google, going straight to the source.
Without even digging into the different tools that Google provides, you can learn a lot just by analyzing the search results.
Enter the search query that you are interested in and look at the articles that are ranking in the top spot. There are a few important pieces of information that you can take from analyzing these results:
Is the query reasonable to target? Consider your site's authority and which sites are currently ranking. If the first page is completely made up of large companies and well-known organizations like the American Kennel Club, you likely aren't going to outrank them.
Is there a complete lack of relevant ranking content? This could mean one of two things – either the query isn't a term people are searching for, meaning no one is trying to rank for it, or it has been overlooked and you're catching it at the perfect time.
How are your top competitors ranking? Read through and assess their content to identify opportunities to create something with greater value.li> Is there a snippet? If so, is the type of snippet one that you could target? Can you better format your content to set it up?
When you check the Google ranking for keywords, you arm yourself with more accurate information than you could find using any keyword research tool. Why? Because it's coming straight from the source!
If you have the Keywords Everywhere extension on your browser (which can be installed free of charge on both Chrome and Firefox), you will have additional information available to you including keyword suggestions (related and long-tail), trend data, and specific information about each search result.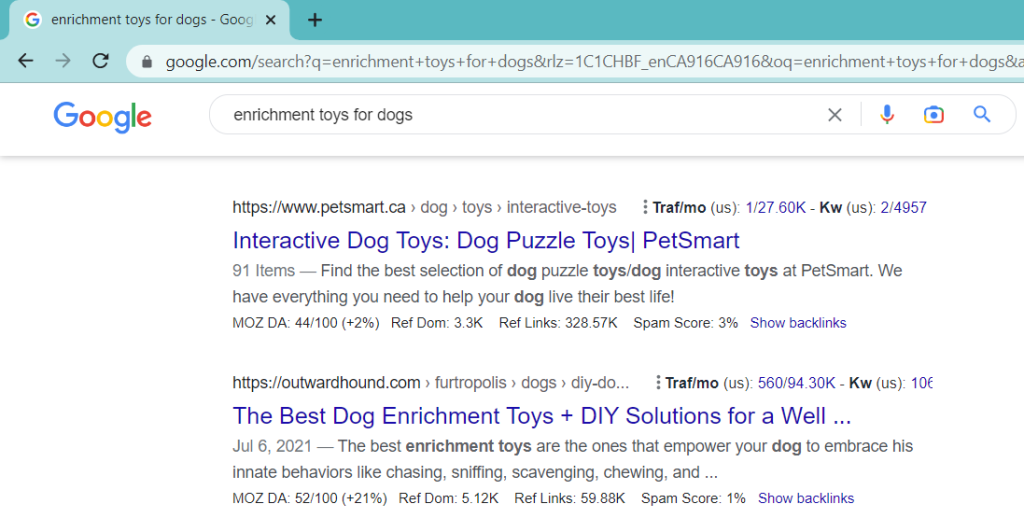 What Do the Top Search Engine Rankings Reveal About Search Intent?
One other valuable piece of information that you can learn from the Google search results page is the search intent that Google has associated with that search query. This could directly impact whether your content will rank or not.
For example, looking again at our example of "enrichment toys for dogs", the first page is full of products that can be purchased and reviews of popular dog enrichment toy options. This shows that Google has associated that specific query with shopping for enrichment toys and a post about making enrichment toys is less likely to rank.
However, if you search "homemade enrichment toys for dogs", the results differ greatly. That reveals several posts with instructions to make the toys at home. This would be the better of the two keywords to target for a DIY-focused piece of content.
5 Ways to Create Content to Outperform the Top-Ranking Results
Include New Information
Read through the content that is currently ranking. Is there a way that you can add value by adding additional information? Don't add information just to add information. But, if you identify an opportunity to expand upon the data that the readers are searching for, you can use this to make your content more valuable in the eyes of Google.
For example, if you're writing an article about a health condition in cats and a new medication is currently being used to address the symptoms, you can share this information with those that are searching. Focus on ways to add value or update data.
Consider a New Way to Approach a Topic
Are you reading through all the articles currently ranking for a search and realizing that there is a different way to approach the topic? Is there another side to a discussion that isn't covered in the posts that are currently ranking? By looking at a topic from a different angle, you can set your article apart from those that are already performing well. But, be careful, make sure the new approach is still adding real value to the conversation.
Go Into More Detail on Important Points
Is there one aspect of the topic that you believe to be important but isn't covered fully in the articles that are currently ranking? If so, this is a great opportunity for you to add value.
Take the time to dig into this important point, adding:
Updated data
Examples
Visual elements
Added information
Expert quotes
Keep in mind that the goal is to improve your ranking by offering more value both in the eyes of your readers as well as Google. Don't add information just to add information – make sure that it's helpful and relates to the topic you are covering.
Make Your Content More User Friendly
Are the articles that are currently ranking formatted in a way that maximizes the user experience? Check for the use of headings, lists, and charts/tables.
Additionally, make sure that the content is easy to digest. If you notice that the content currently ranking reads as a wall of text, you can set yourself apart by strategically including white space to make it easier to read.
Add a Visual Component
Do the top-performing articles lack photos and videos? Is there an opportunity for original visuals? There are some situations where original visuals can elevate your content. For example, Google has said that visual evidence of your experience with a product will help to prove the value of product reviews.

Do you currently research SEO on Google search? If so, what information do you usually look for on the search results page? If not, what information are you most excited to incorporate into your SEO efforts?

About the Author: Britt Kascjak is a freelance writer and content creator with a background in digital and social media marketing. In addition to being the BlogPaws Director of Content & SEO, she also runs her own personal blogs Shed Happens, The Kas Pack, and Lucifer the Rescue Pup. When she's not working, she can be found volunteering in the rescue space, camping, hiking, canoeing, or spending time with her 3 dogs and 2 cats.