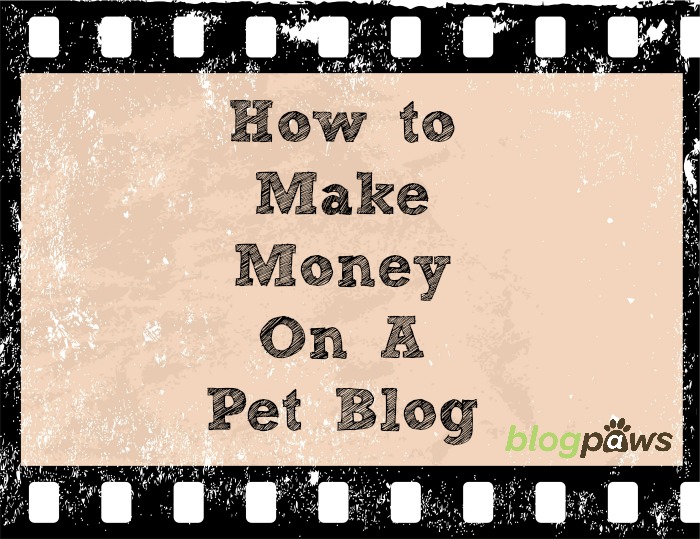 I want to make money pet blogging. Help!
This is one of the most frequently discussed topics on the BlogPaws blog, in the BlogPaws community, and to this day a topic I encounter several times a week.
How to Monetize With BlogPaws
In July, we dove into the topic of how to cash in with BlogPaws. Is it instant? No. Is it going to make you an overnight Rockefeller? Not likely. Does slow and steady but committed win the race? You bet.
Click here for the How to Monetize with BlogPaws details.
How to Monetize Your Pet Blog In General: On and Off Your Blog
Having spoken on panels related to this topic, being a fellow pet blogger, and being immersed in the pet industry on a daily basis, there things you can do both on and off your blog to monetize. Here's the scoop from BlogPaws staffers, present company included:
Blog on a regular basis. Does this mean every single day, several times a day? No, unless that's your goal and your desire. Regular means at least once a week, if not more, preferably the latter.
Create and grow your fan base across social media platforms. Determine where your fans are and how to best reach them and then really educated in how to rock those platforms.
Create an email blast that is targeted and is a return on your time and investment.
Don't corner yourself so far into a niche market that you have to turn down almost all campaigns that come your way. Pet blogging is niche enough, so to have to work doubly hard to achieve your goals serves no one.
Run CPM ads not CPC. CPM ads work with you by monetizing the traffic you are already driving to your Blog. CPC ads or Affiliate ads are great if you can drive enough traffic that a small portion of them will click and or click and purchase.
If you are spending time in community groups, make sure that it is use to advance your blog in any of the above categories. Spending countless hours on Facebook but not putting in any actual work is still not a money making activity. Using Facebook and other social media content to drive traffic, raise awareness, and defining yourself as a resource all can help achieve your goals.
Become a VA for another Blogger and/or become a Social Media Consultant for a brand.
Work for a company in a department that deals with Social Media Marketing and use the skills you learned as a Blogger to pay your bills.
Grow your Blog to 1 million Page Views a month and run a CPM ad network
Pet Sit / Pet Photography/ something in the pet area.
Learn and don't stop. Make the BlogPaws Community a daily stop.
Learn to increase your Page Views.
Focus your Blog but don't overly focus your blog.
Start saving now for the BlogPaws Conference in Nashville. Early bird pricing ends at the end of October.
Have a business plan for your blog to make all of the above happen.
Write a traditional book.
Write an e-book.
Speak at conferences.
Teach.
Ask yourself bottom line: Is the activity I am engaged with working to monetize my blog or is it something that sounds good, but in theory does nothing to help me achieve my goals?
Be inspired, stay organized, and tell us what the BlogPaws Community means to you: In honor of International Pet Blogging Month, you could win an iPad.
What are you doing to take steps now so that your pet blog is where you want it to be—and your monetization goals are met?