BlogPaws is celebrating International Pet Blogger Month throughout the month of September. Established in the summer of 2009, before anyone ever thought of bringing pet people together via social media, BlogPaws grew from a start of around 200 pet parents and brands, to the nearly 4,000 members in our community today. We continue to support all things pet, via our blogger outreach programs, our BlogPawsChats and BlogPawties on Twitter, and our national social media conference.
Our mission is to support pet bloggers, pet enthusiasts and people devoted to animals. BlogPaws works to promote the human-animal bond and share positive ways to use social media to further the health and welfare of animals everywhere. For those who have never been to a BlogPaws Conference, you are in for a real treat at the Nashville 2015 Conference. The blogger early bird pricing ends on October 31, 2014, so get in while the pricing is at its lowest: https://blogpaws.com/events/2015-conference/register/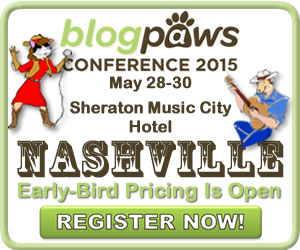 International Pet Blogger Month was founded by BlogPaws in order to recognize all pet bloggers, microbloggers, and lifestyle bloggers with a pet focus. This month is an extra special celebration in your honor, and you should wear the badge with pride. Here is our very special BlogPaws badge you are welcome to right click, save, and display on your blog or social media site: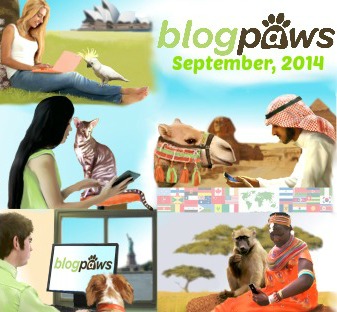 What can you watch for all month long? 
Pet Blogger Star of the Day all month long

Photo Contest in the Community for three prizes from Pet360

A special launch in the BlogPaws Community, so stay tuned

Pet Blogger Influencer Group perks, so join in if you haven't already

Google Hangouts: Dr. Katy Nelson on how to get the media to notice you: 09/04/14 at 8 pm EDT  and Steve Pelletier on September 25th at 8 pm with Tech Talk for Bloggers

ipad Giveaway, which starts right now!
Here's how to enter to win a brand new iPad from BlogPaws in honor of International Pet Blogger Month:
The contest is closed and the winner is Anna Coffin – congrats and thanks to all who entered. Read the winning entry and news announcement here:
http://community.blogpaws.com/group/blogtalk/forum/topics/winner-of-the-ipad-announced-essay-contest-winner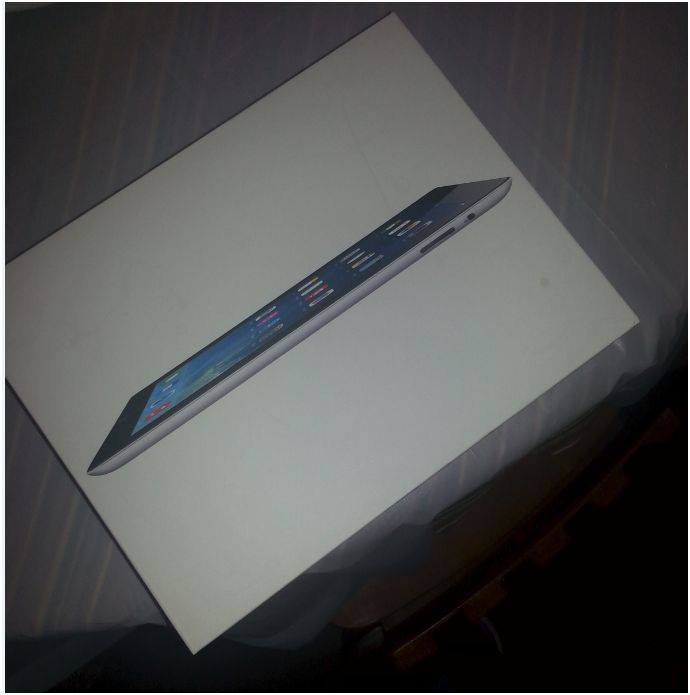 Criteria: You must be a member of the BlogPaws Community to participate. Membership is easy. Simply visit http://community.blogpaws.com and apply for membership.
Pet bloggers and microbloggers are welcome to join the free BlogPaws Community as are lifestyle bloggers with a pet focus.
Brands and PR agencies are not eligible to participate.
Complete rules can be found here: https://blogpaws.com/uncategorized/blogpaws-official-rules-and-regulations-for-blogpaws-contests/
What you need to do:
Visit the BlogPaws Community Blog Talk group for details: http://community.blogpaws.com/group/blogtalk/forum/topics/enter-to-win-an-ipad-from-blogpaws
Once you have completed your entry, email it to carol@blogpaws.com with ESSAY CONTEST in the subject line. You will receive a "RECEIVED" email confirmation within 48 hours.
Include your full name, address, and email along with your essay in the body of the email. DO NOT ATTACH the essay. Any essays that are attached will not be open and are disqualified.
You may only submit one entry.
One grand prize winner will be drawn at random from all entries received.  Contest opens now and ends at 11:59 pm EDT on 09/30/14. Winner will be named in early October.
So how are you celebrating International Pet Blogger Month?