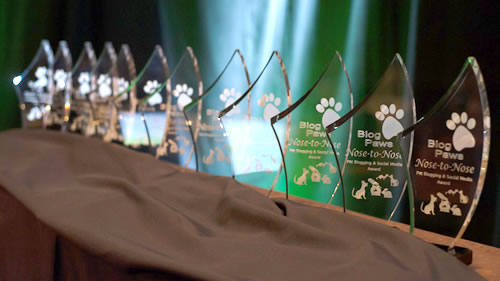 Do you have what it takes to be recognized, stand out from the crowd, and make your mark in an ever-growing pet blogging world?
No matter where you are in your blogging career, you can always learn more about this topic: How to Get Your Pet Blog Recognized — Tips from Nose-to-Nose Pet Blogging and Social Media Award Winners.
BlogPaws' execs, Chloe, Yvonne, and Tom
In May, the BlogPaws 2014 Pet Blogging and Social Media Award winners were announced in an exclusive red carpet ceremony, live-streamed from the host resort at Lake Las Vegas, Nevada. Winners were selected in 12 categories "Oscar style," by a panel of industry judges. The awards' presentation "pawty" was presented by Pet360, Inc.
Two of those winners joined in for our Google Hangout on Air on Thursday, July 3rd. In the event you missed the chat, we have the scoop, video, and tips from the pros.
The hangout features:
Learn more about the BlogPaws 2014 Pet Blogging and Social Media Award winners here.
What are the judges looking for when judging the awards: 5:10, Yvonne DiVita
How did you get successful; what tips do you recommend? 9:00, Alana Grelyak
How can I get the media to notice my blog? 14:21, Carol Bryant
What about local media and local events? 15:26, Yvonne DiVita
What did Alana do to get recognized in her town? 16:05, Alana Grelyak
How many times do you post per week? 18:40, Rachel DeJong
What about advertisers supporting your blog? 22:20, Alana and Yvonne
What social media channels should you be on? How much is too much? 25:18, Carol Bryant and everyone
A complete transcript will be made available in the near future, and in the meantime, please check out the video above and stay tuned for regular hangouts with team BlogPaws!
If you are looking for some other video fodder to fill your pet blogging needs, our BlogPaws YouTube channel is growing strong!