by: Carol Bryant
Going green is not only the right thing to do but also cool, hip, environmentally responsible, and BlogPaws is all over this.  By now, you may have heard that BlogPaws, Only Natural Pet, and the Pet Industry Sustainability Coalition (PISC) have partnered  to launch a zero-waste initiative at the 7th Annual BlogPaws Conference in Nashville, Tennessee this May.
Here's a basic primer on what you need to know, fun facts about why going eco-friendly is the right thing to do, and some ways on how you can get involved in preparation for the conference:
FACT: PISC was searching for a pilot zero-waste program and #BlogPaws is the first in pet industry! The Pet Industry Sustainability Coalition is a collaborative membership organization that works with pet industry leaders to improve their sustainability performance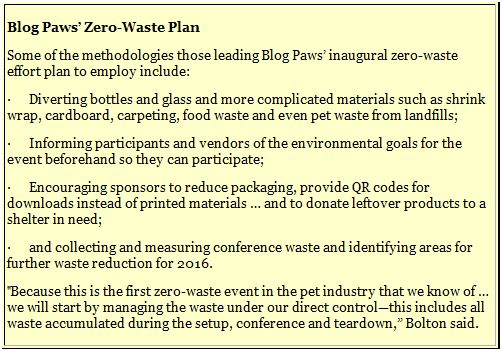 FACT: PISC wants to see larger pet trade shows borrow virtual page from BlogPaws zero-waste playbook once codified.
Pet360, Blog Paws' media parent, PISC and Only Natural Pet will be taking a two-pronged approach at the Nashville conference by reducing the environmental footprint of the conference while educating conferees about waste issues common to the pet industry.
Only Natural Pet practices what it preaches.
"We reuse shipping boxes, minimize product packaging, use renewable energy and participate in a zero-waste program at our office, warehouse and retail store," said Marty Grosjean, founder of the Boulder, Colo., manufacturer of natural pet supplies.
"Our sponsorship of the zero-waste portions of the BlogPaws event is an exciting opportunity to influence the mindset and behavior of hundreds of conference participants," Grosjean added.
PISC was  created with the goal to identify sustainability issues within the pet product industry and help to make partners a little more green.
Caitlyn Bolton, executive director of PISC in Longmont, Colorado, says, "One of the major benefits of starting with a smaller industry event is that we will get a firsthand account of the types of materials we need to manage at a pet industry event and the complications that arise."
What You Can Do to "Go Green" and Reduce Your Carbon Footprint (and Your Pet's Carbon Pawprint):
Check out your pet's bedding and toys: Steer clear of plastic and synthetic products. Instead look for products containing natural fibers such as organic cotton or hemp as well as products made from recycled goods.
Clean Up Pet Waste: Leaving pet waste on the ground increases public health risks by allowing harmful bacteria and nutrients to wash into the storm drain and eventually into local waterbodies.
Reusable Water Bowls: When traveling or just for a jaunt around the neighborhood, I carry a collapsable water bowl for my dog.
Switch from store-bought chemical cleaners to allergy-friendly, non-toxic substitutes: If your pet has environmental allergies, those can be triggered even indoors by the allergens you and your pet bring inside.
Since its inception in 2013, PISC's membership has expanded to more than 100 companies. The PISC  strives to be the leading organization for sustainable advancement in the pet industry. It promotes creative collaboration, prioritizing business-minded solutions for sincere environmental improvement.
What are you doing to become more eco-friendly?