Hey there. Hey you. Hi. Each of those are an introduction, but none are as effective as when you put in a person's name and say, "Hi Sharlene." Obviously, Sharlene is a placeholder for a person's first name, but the point is that creating personalization in email marketing will help you build relationships with your subscribers.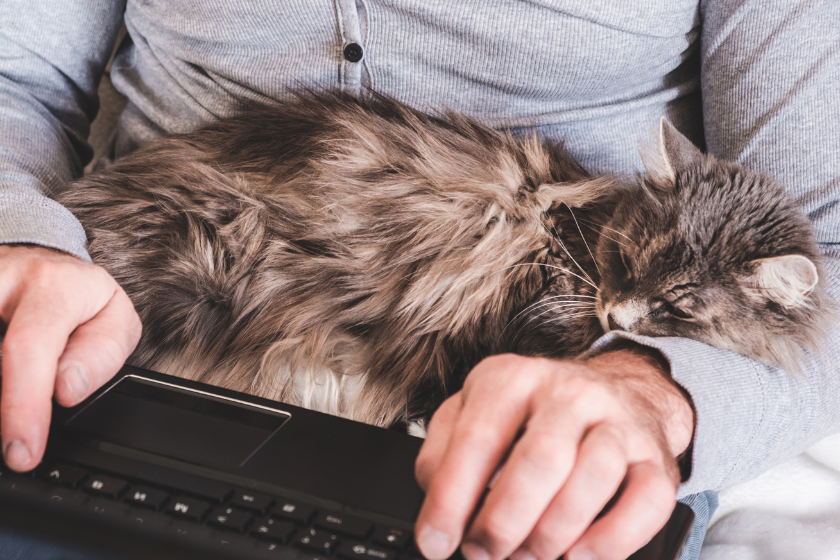 Did you know that emails that include a name in the subject line are opened 22.2% more than emails without?
That's pretty strong proof that personalization is important.
First, let's get more specific about what we mean when we tell pet industry professionals they should personalize their email marketing.
What is personalization in email marketing?
Most of us are familiar with personalization when it comes to products and services, so we can take what we know from that and apply it to our email marketing efforts to help us connect with our own subscribers.
We want our Netflix account to recommend shows that we might like based on what we've already watched. As kids, we wanted the gift shop to have a keychain with our name on it when we were on vacation. (Fun fact, Chloe was never there.) And, when we are given a gift that has some sort of inscription that shows the gift giver really knows us, we love it.
People have traditionally always liked feeling seen and when people know us – know our names, our likes, our dislikes – we feel seen.
When we apply this to email it means more than just a name, but a first name is a good place to start. It means you can say something other than, "Hey you."
Depending on your business, you may want to personalize your emails based on other factors. Here are data points you can consider collecting so that you can personalize your emails more:
Whether your subscribers have a certain species of pet – such as dogs, cats, horses, guinea pigs, etc., or a combination of those options.
Whether your subscribers attended a certain event, in person or virtually.
Whether your subscribers purchased a certain product, physical or digital.
Your subscriber's social accounts or website.
Your subscriber's location. Maybe not a full address, but even the state could be helpful for certain businesses.
These are just a few of the options to consider. Take a look at your business and ask yourself what could help you speak more personally to your subscribers.
What Are The Benefits for Personalizing Your Marketing Emails?
Since it will take some extra effort on both your part and your subscribers to gather extra information for personalization, it's important to know why you are asking for the information. It will always come down to relationship building.
Before asking for more information to help with your personalization abilities, ask yourself these two questions:
Can I use this information to create a more personal experience for my subscribers?
Will I use this information to create a more personal experience for my subscribers?
If the answer to either of those questions is no, then you probably do not need to collect the information. The less information you ask a person who is subscribing to your emails, the more likely they are to complete the subscription process.
We recommend that you collect a first name and an email address. Beyond that, it has to go through two questions above.
Once you know it will help you and you will use it, then you can ask for it. There is also a case to be made for using the information internally, but not necessarily for personalizing your email marketing. That's another topic, but those situations do arise.
With new information about your subscribers at your fingertips, you can start to write your emails with language that allows them to see that you know exactly who they are.
As an example, we created a campaign for a brand we were managing where we asked subscribers to share whether they had dogs, cats, or both. Based on that answer, we customized our welcome sequence to speak directly to their responses. The open rate on that campaign was over 60%!
Examples of How to Personalize Email Marketing
We've covered what personalization in email marketing is, how it can benefit your business, what questions to consider before collecting additional information from your subscribers, and now we've got some ideas for you to consider.
First, there are different ways of collecting information from subscribers. If you are a product or service company, you are automatically going to have more information about each person who purchases your product or services. That alone allows you to personalize your communications with them.
If you do not have something that you sell, then you might lean more on lead magnets to get people to opt-in to your email marketing. With lead magnets you want to collect as little information as possible from the subscriber so that they actually opt-in, but you can still track some things on the backend, like which lead magnets they wanted. That will give you some insight into who they are and help you personalize your emails.
Product or Service Businesses
Once a purchase is made, you will have your customer's name, address, email, and product purchase information. You may even have information about their pets if you sell products based on the size or breed of their pet. But now, what do you DO with that information?
Have you considered sending an automatic reminder email for any of these reasons:
To wish them a happy birthday.
To ask for a review or testimonial.
To offer a referral discount or commission.
To share more of the story about WHY you do what you do.
To celebrate a pet holiday that they would celebrate, like National Dog Day or Black Cat Appreciation Day.
Depending on your business, there are many ways to reach out to your subscribers based on information you have collected about them and see if you get them to engage further.
Again, email marketing is all about relationship building so think about what you would say if you were sitting down enjoying a cup of coffee or tea with them and then create your email.
Lead Magnets For ALL Businesses
Then there are lead magnets. If you are not using lead magnets in your business, we recommend you learn all about what lead magnets are and how to use them.
Lead magnets are a great way to grow your email list and build relationships with the people who are truly your people. The one thing to consider with lead magnets is that you do not want to ask for more information than is absolutely necessary. That means you aren't gathering much information to use in personalization.
Lead magnets still allow you to know a name of your subscribers and track the lead magnet that brought of them in, so that means you do have some information to work with. Consider sending these type of emails:
Asking for feedback on the "thing" they received when they subscribed. See what lead magnets are and how to use them.
Sharing the next level of information that would interest them because they were interested in the first lead magnet. For instance, the next level of information on this post would be to talk about segmentation in email marketing.
Asking if they are interested in something closely related to what they opted-in to. For example, we could ask anyone interested in personalization in email marketing if they are interested in learning more about email marketing terms
Share information about something you can deduce from the lead magnet they received. In other words, if you gave away a template to help a dog parent budget their dog related costs like Terri from Tail Wag Wisdom does, then sending an email with a new budget tip is probably something right up your subscriber's alley.

We can't say it enough, "email marketing is a relationship building tactic." When we are building relationships with people the first thing we need to know is their name. Start there and then think about everything we shared here to take your email marketing personalization to the next level.
We'd love to hear how you personalize your emails for your subscribers. Share with us in the comments!

About the Author: Chloe DiVita is an original BlogPaws Executive Team member. She's been in the pet industry since 2009 and loves leading the All Pet Collaborative, a membership group for small pet businesses, with Jessica Shipman. She also LOVES speaking and if you put her in front of a camera she'll talk until you tell her to stop. It comes in handy as Executive Producer for TEDxCambridge and Co-Founder of The Mike Drop Method public speaking training.