Sometimes we're so focused on creating new content that we overlook the need to organize content that we already have. Have you ever sat down to create something new and thought to yourself "have I covered this before?" or "this topic sounds really familiar"?
That's where a content organization tool like a content catalog comes in. A content catalog is crucial for not only organizing content, but also interlinking your own content, content idea generation, content planning, SEO growth, and working on a team.
Get ready. We're going to discuss what a content catalog is, break down all of the advantages it provides, and talk through how to create one.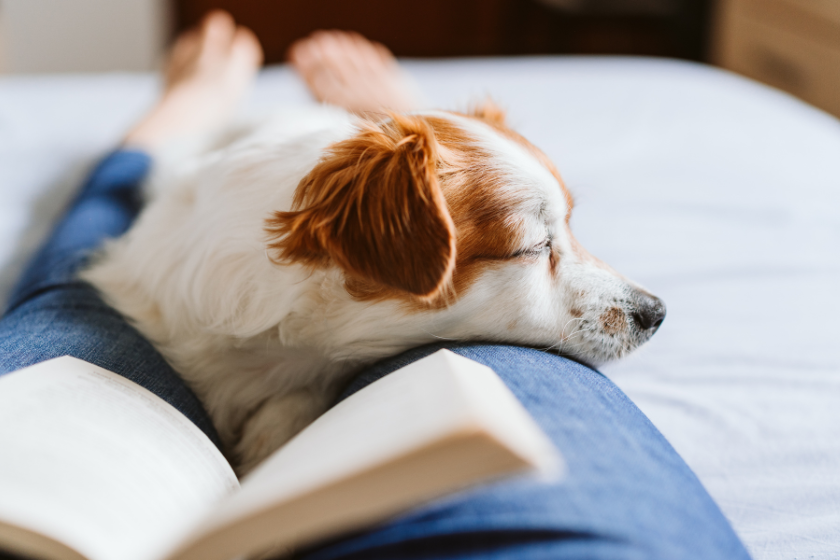 BlogPaws may receive commissions from affiliate links included in this article.
What Is a Content Catalog?
A content catalog is a collection or list of all your existing and planned content. Traditionally, it is used to monitor written content on a website for SEO growth, but could also be expanded to video creation, social media, or even email marketing. For the sake of today's article, we are going to focus on written content. You might also see a content catalog referenced as a content library.
A content catalog is a place you can reliably reference over and over again as you continue to create and optimize content. If you work on a team or with other collaborators, it is accessible to everyone.
A content catalog can take many formats including a text document or spreadsheet, but we recommend using Airtable. Airtable allows you to view the same information in many different ways – be it filtered, sorted, or grouped.
What Does a Content Catalog Include?
At a minimum, a content catalog should include the following information:
Article Title

Article URL

Author

Publish Date

Categories

Outbound Internal Links

Inbound Internal Links

Primary Keywords

Secondary Keywords
Beyond that, what your content catalog includes exactly will vary based on your business and niche, but here are some pieces of information to consider:
Status (in the publishing process)

Draft Due Date

Editor

Expert (quoted or referenced)

Brand Collaboration

Content Type (Article, Listicle, How To)

Cornerstone 

CTA

Campaign

External Links

Download Included?

Affiliate Link Included?

Last Edit Date

Pageviews

Assignment Brief URL

Notes
You may also find that you have a few extra pieces of information that you need to add to align with your content creation process. For example, we often try to find and include examples of what we're teaching in the work done by members of the All Pet Collaborative, so we have a column for that!
The Purpose of Content Organization Tools
Here at BlogPaws, we use a content catalog for all our blog content. We have a record for each existing article that can be found on our website as well as a section dedicated to what's coming down the pipeline. We started our content catalog as a way to keep our content organized and our team on the same page. Shortly after its creation, it became a tool that we all utilize on a regular basis.
The overall purpose of content organization tools like a content catalog is to help keep your content, your business, and your life organized. Staying organized has many benefits like saving time, reducing stress, and increasing communication, but a content catalog specifically helps in other ways like content ideation, planning, and interlinking. And all those things lead to better content, which inevitably means SEO growth!
Content Idea Generation
"I don't know what to write about" is something we hear pretty often in the BlogPaws Community and All Pet Collaborative. Sometimes you can find yourself in a rut without a new content idea popping into your head for days or even weeks at a time. 
While there are many ways to find inspiration, looking at what you've already covered and how it performed is always a great option. Having an all-inclusive list of your content is a great thing to reference when you're looking for this information. 
For example, if you wrote an article that performed well about why dogs get separation anxiety, then you might consider writing an article about how to identify separation anxiety or how to treat it. Or if you wrote an article about what to pack when road tripping with your cat, you might write a follow-up article on the benefits or risks of travel for cats.
Having a record of where your brand and your content have been, can help you determine where your content should go in the future.
Content Planning
Just like a content catalog can help with content ideation, it can also help with the content planning process. There are many project management tools that you can use to do this – and guess what! – Airtable is one of them!
By incorporating a few extra pieces of information into your content catalog you can make it dual purpose! If you're interested in planning ahead in your content catalog, consider adding a draft due date and status to each record.
Interlinking Your Own Content
Keeping track of how your website is interlinked with itself can be a daunting task, but it's also a very helpful piece of information to have when planning out search engine rank-worthy content.
It's recommended that each piece of content on your site is linked to and from another 2-3 pieces of content on your site. This helps show search engines like Google that your content is relevant to your niche and helps build your authority.
That's why we recommend including inbound and outbound internal links in your content catalog and building the map of your site out as you simultaneously build your site. 
Another added benefit to using Airtable is that you can link to other records in your table rather than just typing an article name, so then your articles truly are connected!
SEO Growth
Better content ideas, content planning, and content interlinking will work together to help boost your SEO growth. If increasing your authority and ranking ability is a business goal, then creating a content catalog should be one of the next steps you take!
Sure, you could search your website to find ideas for new content or articles to interlink, but if you're anything like us here at BlogPaws and you have a large backlog of existing content, it might be hard to find what you're looking for quickly. And even harder to see the big picture.
Working on a Team
We can't end this section on the benefits of a content catalog without mentioning the immense benefit of having all the information available simultaneously to any and all members of your team. It helps boost all good workplace things – fewer meetings, better communication, and more time to do other things, while also decreasing all those bad things – stress, confusion, and frustration.
Even if you don't have a team or work with any part-time contractors just yet, you will eventually as your business grows. And it never hurts to get yourself organized before you absolutely need to be.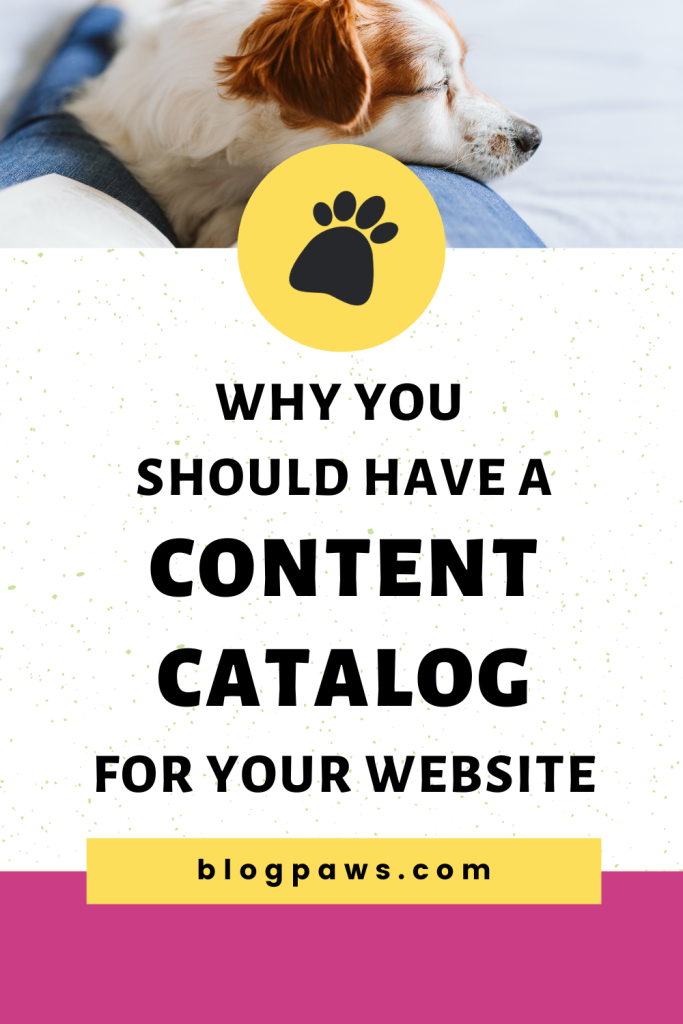 How to Create a Content Catalog
To create our content catalog, you'll first want to identify the tool you'll be using to host your catalog. I'll say it again (only because we REALLY believe it) – we highly recommend using Airtable. The basic plan is free to everyone and all you really need. But if Airtable isn't for you, you can also use Excel, Numbers, Google Sheets, or another spreadsheet program.
Then you'll want to identify all the columns or pieces of information that your content catalog will include. Reference the list above to find what's right for you and your niche and add anything you think might be missing.
Once you have the structure of your content catalog created, the next step is to populate it! If you have a newer site with fewer pieces of content, then this might be a process you feel comfortable doing manually. Going through your content manually is a good opportunity to remind yourself of what you've already covered and what might need to be further optimized or updated.
If you are like us with tons of content from years before, it's not too late to create a content catalog. For this situation, there are two strategies.
The first is to do it manually as you optimize or update old content, adding a new record for each piece of content you look at. Then as you create new content and find places to interlink, you add the new and interlinked articles as well. This is a slow process but gives you the motivation to optimize your existing content and allows you to re-familiarize yourself with your content.
The second option is to get a little help from a friend… and that friend is Google Analytics (or another analytics tool). Within Google Analytics, you can download a spreadsheet of your all-time visited webpages by going to Reports > Behavior > Site Content > All Pages and changing the date range to a year or more depending on the age of your site. To download the file, click Export as Google Sheet, Excel, or CSV.
You will need to do a bit of cleanup on this file to remove duplicate URLs with slightly different query strings, but once it's clean and ready to go, you can import it into your content catalog. Just make sure your columns match!
Content is still King (or Queen as we like to say), but keeping your content organized will allow your content to continue its rule and search engine ranking more effectively. It will provide you with more opportunities for SEO growth and prevent you from getting stuck without new content ideas.
Do you have a content catalog? If yes, tell us about it and what information you find useful! If not, have I convinced you to build one yet?
About the Author: Jessica Shipman is the COO / CMO of BlogPaws. She has been in the pet industry since 2013, when she accidentally became a content creator and launched Beagles & Bargains. Since then, she has loved leading the All Pet Collaborative, a membership group for small pet business owners, with Chloe DiVita and engaging in the BlogPaws Community. When she's not planning content or researching SEO keywords, you can find Jessica loving on her two dogs, Luna and Ralph, and putting her Ivy League Engineering Degree to work as a sought-after web developer.