*Updated: October 17th, 2022
As a content creator, aka a solopreneur, you are always on the lookout for ways to do more, faster, and this list of online tools to help pet-focused content creators is a great place to start.
"Don't work harder, work smarter." Allen F. Morgenstern said way back in the 1930s. Whether we fully support that thought is a topic for another time, but it is relevant to finding tools that can help you simplify your work.
We're with you. We get it. We're always looking for ways to streamline, automate, and just make things simpler. This is where online tools for business owners and content creators shine! They help you get your work done in the most efficient way possible.
Just be sure that in your quest to make things simpler, you don't accidentally create a process that isn't replicable. If it can't be easily repeated, then it's definitely not simple.
We tackled this subject back on May 27th in the BlogPaws Community Facebook group during one of our educational livestreams. This list includes the tools we discussed and a few new ones we've learned about. If you are a member, you can watch the replay here.
BlogPaws Community welcomes pet-focused professionals interested in learning and networking for their businesses. This includes pet bloggers and influencers, pet small businesses, veterinarians, and pet-focused nonprofits. Is that you? Come join us!
Whether you're looking for marketing tools, design tools, or something to help keep your business operations organized, we have you covered! Here is a list of online tools worth checking out including some awesome free online business tools for those on a budget.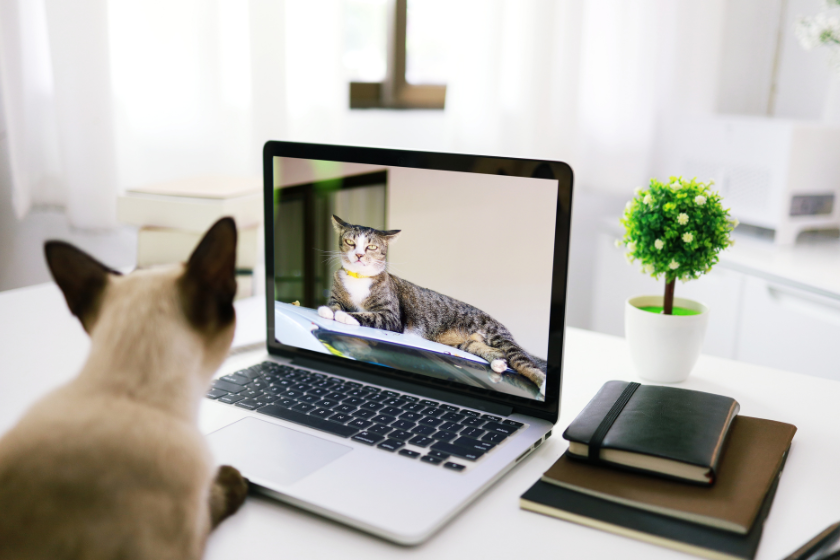 Online Tools To Help Your Online Pet Business
Organizational Tools:
Airtable – Free and paid versions. Great for managing projects. We use it for content management, event management, membership group management, and more. Other options: Trello, Monday, Asana
Slack – Free and paid versions. It's a messaging app on steroids. Great for communications that get lost in emails. Other options: Skype, WhatsApp
Google Drive – Free to start, and then there are fees to add additional storage. We use this as the hub for all our documents.
Google Docs / Sheets – Easy collaboration on documents. Other options: Dropbox, Google Photos
Google Forms – A free way to collect information. We use Google forms, and there are some design elements available. Other options: Wufoo Forms, SurveyMonkey
Google Workspace (formerly G Suite) – This is a suite of products you pay for. It's great for teams. Other options: Microsoft Teams
Image & Design Tools:
Canva – Free to start and you can upgrade to pro giving you more tools and more access to their images and graphics. If you run a 501c3 you can apply to use the pro version for free! We love Canva. Most of the assets we share are created in Canva.
Wordswag – This is an iPhone app that allows you to put text over images and do some minor editing. It's quick and great in a pinch.
Html color grabber – Free online tool that helps when you need a specific color code, but aren't sure what it is.
LunaPic – Free desktop photo editor. We like it best when we need to remove the background of a photo quickly. Canva pro allows you to do this, too, but this is a great free alternative.
Paint.net – Another free photo editing tool. This one is for PC only, and since I'm on a Mac, I can't even link to it. (Edited to add the link for PC users)
Adobe Photoshop – subscription only and a bit more advanced. If you are familiar with layering in photos, worth it. If not, go with Canva.
Adobe Lightroom – subscription only, and you can get subscriptions for more than one Adobe product. Lightroom allows you have presets on colors and other editing tools for photos.
PicMonkey – Free and paid versions. Most editing abilities will require paying for the service.
Instagram native tools – Instagram has editing abilities built-in, so if you just aren't sure where to start, get to know the native tools right in the app.
Stock Photo Options
Scopio / StockUnlimited / Shutterstock / DepositPhotos – all are by subscription or have costs associated with downloading images.*
Pexels / Pixabay / Unsplash – These are free and often have more strict licensing terms.*
*Be sure to always check licensing terms for any stock photos you use.
Video & Editing Tools:
iMovie – This is free on Mac and iPhone. It's basic, but works.
Adobe Rush – Adobe Premiere's "little sister" per our designer. It does require an Adobe subscription.
FilmoraGo – We hear great things about this one, but have not used it ourselves. It's mainly for editing YouTube videos.
YouTube Music – There are endless options here!
Instagram Reels / Boomerang – Again, you can just use the basic native tools within an app, like Instagram.
Skype – We use Skype when recording our more produced videos because it integrates with Ecamm. We're not huge fans of it, but it is several apps in one: messaging, video conferencing, video recording, and more.
Ecamm Call Recorder – This is an integration that allows you to record several video streams into separate files. It's what we use to have a mix of one of us and both of us on-screen during our produced videos. We should note that Ecamm also has a livestream app. We have not used it, nor know anyone who has.
Livestreaming Tools:
Zoom  – The paid version allows you to livestream. It requires using a custom configuration. We use Zoom sometimes.
Streamyard – The free version allows you to stream to a limited number of places and has Streamyard branding on the livestream. The paid version gives you options to go to more places, including custom places (like Facebook Events), and gives you the ability to create your own branding and other fun features. We use Streamyard most often.
Restream.io – This is another platform that allows you to livestream to several different places. We don't use it, but we know others who do and like it.
ManyChat – If you are interested in trying out a chatbot during your livestreams, this is a good one to start with. It has a lot of free features.
Social Media Tools:
Buffer – We use the free plan and it does what we need. There are paid versions that allow for more connections and other features.
Planoly – Great for planning out your Instagram grid. It has a free version, too.
Tailwind – This is great for those who want to manage both Instagram and Pinterest. Tailwind is known for its Pinterest integration and recently introduced Tailwind Create, allowing you to design pins right in the app.
Bit.ly – Mostly free. If you want a custom bit.ly you will have to pay, but this is a great link-shortening tool.
Union Metrics – This is a listening and reporting tool. It's more for businesses running campaigns or tracking mentions.
Preview – This is an Instagram planner tool that is very popular. It allows you to schedule posts while seeing how they will look not only as an individual post but also in your feed as a whole.
Facebook Creator Studio – Facebook is always trying to create tools to help. Creator Studio is available to anyone with a Facebook page and allows you to plan out and schedule your content to pages and to groups.
Scheduling:
Calendly – We like the ease of this online scheduling tool. Its free version can usually provide what you need. We use both free and paid
Zoom – Zoom both connects with Calendly to automatically create a room to meet in, and is a great tool to host meetings. We use the paid version, but the free one allows for up to 40-minute meetings.
Other:
Otter.ai – Great tool for those who need transcription services. It has a free version and a paid version. Another option is Rev.com, but that can get pricey at $1/minute.
Upwork – Upwork can be a great place to find contract workers to handle small jobs for you, like editing. Always do a test before committing to work with anyone!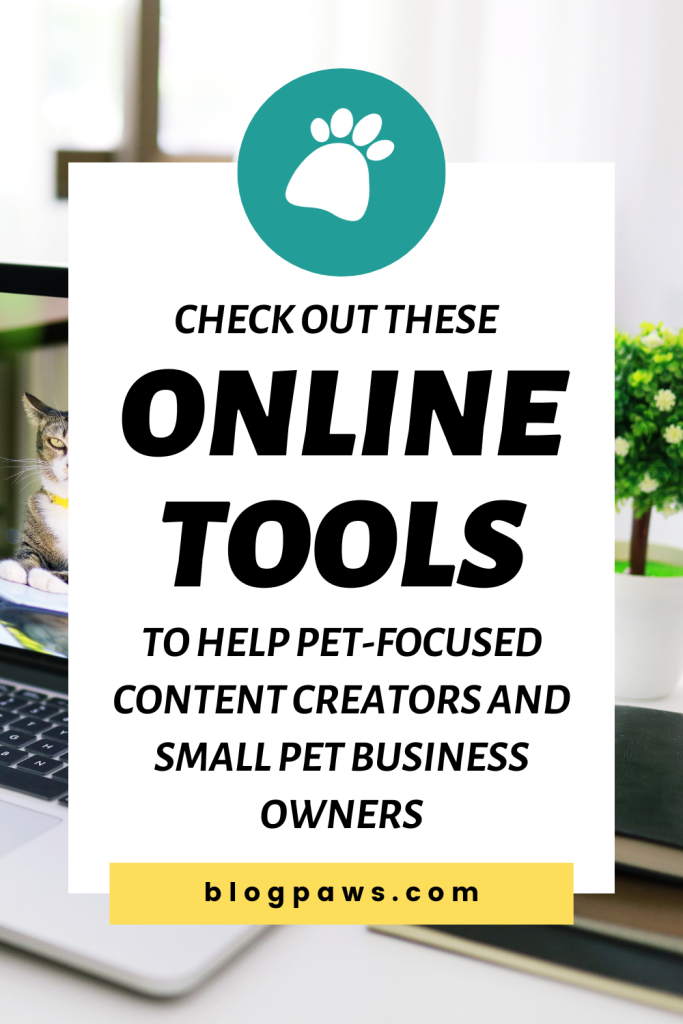 Simplify Your Process With Online Tools for Pet-focused Content Creators and Small Pet Business Owners
Whatever tools you decide to try, don't forget the goal with any new tool is to simplify your process. If a new tool ends up adding to your workday, it's not a keeper. And not every tool is meant for every business.
Know what would help you work more efficiently and then look for online tools that do that. But test them. Make sure they actually accomplish your goal before committing to them.
To do this, you will need to have a clear idea of what area of your business you want to focus on. Online marketing tools for small business offer scheduling, reporting, and other marketing-driven functionality but they aren't going to help if your primary struggle is your graphic design. Social media tools can help you plan and schedule your social platforms but they aren't useful when doing keyword research for blog creation.
Don't forget to think outside of your personal business tasks and look at options that can help to improve the way you connect with others. Online collaboration tools for business owners and content creators play an important role in communicating with potential clients as well as other business owners in your effort to support one another.
Online software, or SaaS as it's known: Service as a Software, is a growing industry. More and more tools come out each day. From app updates to new apps to reimagining old apps. There are many more tools to help pet-focused content creators than just those listed here.
We want to know what we missed. What tools are you using and how do they help you with your online pet business?
About the Author: Chloe DiVita is an original BlogPaws Executive Team member. She's been in the pet industry since 2009 and loves leading the All Pet Collaborative, a membership group for small pet businesses, with Jessica Shipman. She also LOVES speaking and if you put her in front of a camera she'll talk until you tell her to stop. It comes in handy as Executive Producer for TEDxCambridge and Co-Founder of The Mike Drop Method public speaking training.