If you are like many other small business owners, your end-of-year to-do list seems never-ending. You might even be better at adding things to it rather than crossing them off. Or, if you're like me, you add things to it so that you can cross them off. You're not alone. When December rolls around, we all begin to prepare for the new year ahead.
Preparing for the new year is such a vague concept, though. Does that mean you should get all your business planning done for the new year now? Is there a business planning guide to walk you through the steps you are supposed to take? Can you just create a social media marketing plan and be done?
We're confident Google's 1,230,000,000+ search results contain many answers for you. We are going to talk about why you should focus on plans for your business in the new year, how to find some balance between personal and professional obligations through the holiday season, and share our 7 tips to help you actually accomplish both.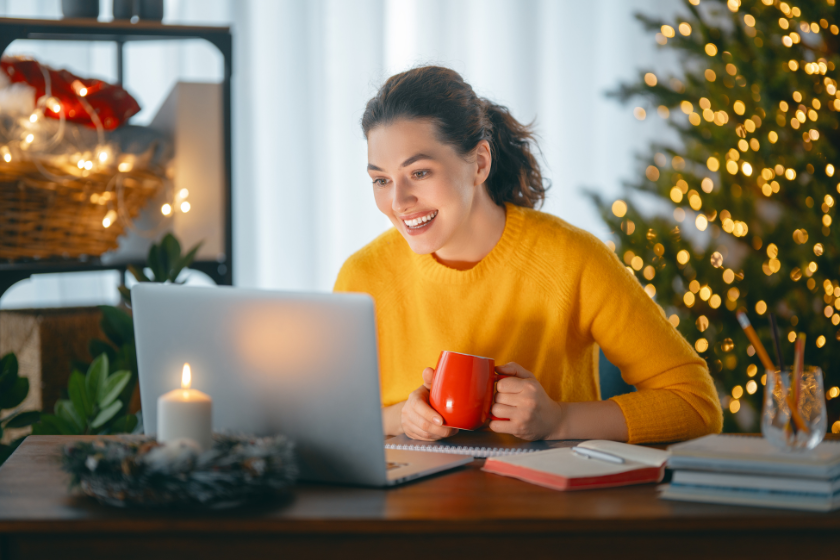 Why You Should Focus on Business Planning for the New Year
It's not a surprise when the new year comes around. It happens every year, after all. However, not everyone takes advantage of what researchers call the fresh start effect to really get focused on business planning.
The fresh start effect "says that people are better at tackling their goals when they start on so-called temporal landmarks (i.e. start of the new year, the first of the month, beginning/end of the week)."
In order to start implementing your business plans on January 1 (or January 2 because you should take the 1st off), you need to have done your business planning for the new year before that date. January 2 should be the day you start implementing your new plans. That means December is a great time to focus on business planning for the following year.  
December tends to be a time when many people slow down. The holiday season arrives, families congregate, people celebrate, and hopefully, you find you have a little less to actually get done and more time to make business plans. Take advantage of this trend, but don't burn yourself out. Always monitor your well-being and let that lead you.
How to Find the Balance Between Your Work and Personal Life During the Holiday Season
While your work life might be slowing down during the holiday season, chances are your personal life is ramping up. So how do you find the balance between work-life and personal-life? That's important; to give yourself the time and space to be an active participant in both. 
The short answer is to be intentional with both work and personal life.
Take a look at your calendar and make sure all your personal events, including shopping time (even if it's behind your computer), are accounted for. Then, plan your work time around that, and be sure to allow plenty of time for something to take longer than you think it might. It will feel much more manageable if you find yourself with a few free minutes than if you find yourself racing to the next thing.
Each week and each day that you have planned, take a look at your calendar and orient yourself to what needs to be done. This intention helps you feel in control of your day and your week. We are much more productive when we feel like we are in control.
If you find yourself racing around anyway, take a break. It's essential to do your best to avoid burnout. At the first chance you have a free 30 minutes, sit down and rearrange your calendar. Re-set your intentions with the new knowledge you have about how long things will take. It's okay to do this more than once!
The goal is to feel better about what you want to accomplish daily, regardless of the split between personal and work life.
7 Tips for Using the Holiday Break to Prepare for the New Year
The biggest mistake people make when thinking about how to prepare for the new year during the holiday break is starting the list before taking the time to focus. We recently held a Goal Setting Challenge where we emailed participants for 5 days with ways to approach goal setting before we had them actually create any goals. You can grab that challenge here. 
To prepare for the new year effectively, try doing these things (and yes, many of them are covered in the challenge):
Clear your mind.

Don't jump into business planning mode with an overactive mind focused on other things.

Know how you work best. Are you a morning person? An afternoon person? A night person? A must-have coffee person? Do your best to schedule work time when you will be most productive.

Use time blocking. Don't just plan to work around your personal events. Actually schedule time for work and call it what it is. Maybe you need an hour to ideate on what you want to do. Perhaps you need two. Schedule your work time with specific things to accomplish.

Get organized. Sure, organize your desk and your space, but don't stop there. Organize your inbox. Organize your files. Organize your desktop – which we have a great template for inside the challenge!

Hold yourself accountable. It's pretty easy to push things off when you only have to answer to yourself. Share with someone (other than a spouse or partner) what you plan to do and when. Ask them to ask you about it. We also recommend writing a letter to yourself that you open at a later date. 

Use SMART goal setting when you are ready to plan out your goals. Goals need to be a part of a plan, and they need to be measurable and purposeful.

SMART goals

will help you get there.

Plan out 30/60/90 days and then schedule a check-in on your calendar. A key part of business planning and goal setting is monitoring your progress.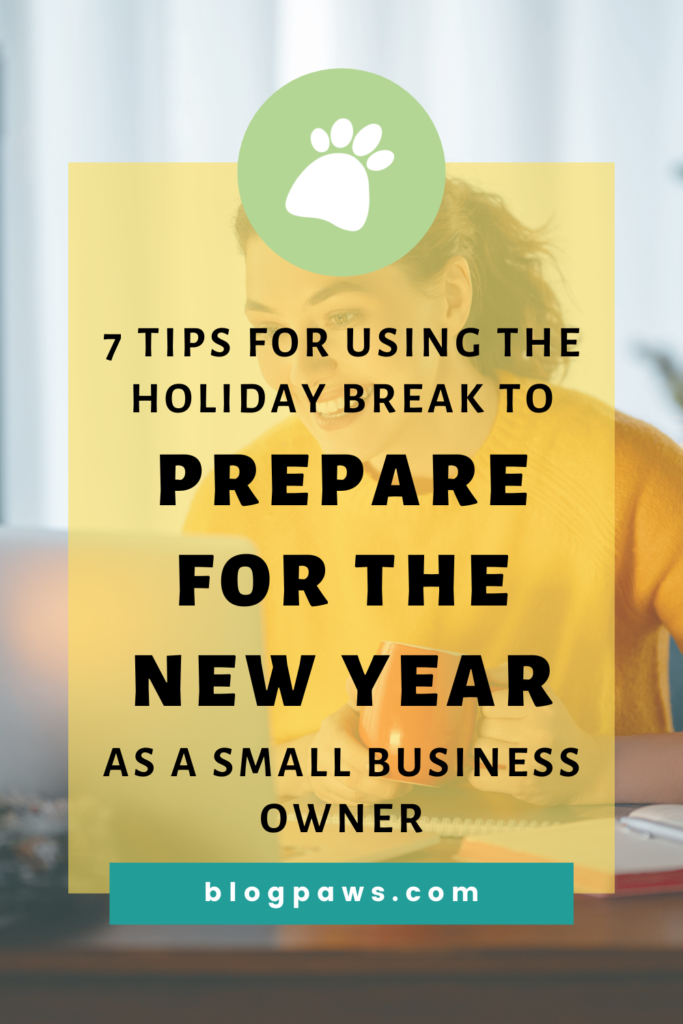 Following these 7 tips will help you focus on work and feel like you can show up personally for any events happening during the holiday season. 
How will you use the holiday break to focus on your business planning as a small business owner? Share with us in the comments below.
About the Author: Chloe DiVita is an original BlogPaws Executive Team member. She's been in the pet industry since 2009 and loves leading the PetBiz Collaborative, a membership group for small pet businesses, with Jessica Shipman. She also LOVES speaking and if you put her in front of a camera she'll talk until you tell her to stop. It comes in handy as Executive Producer for TEDxCambridge and Co-Founder of The Mike Drop Method public speaking training.