The magic week is here: BlogPaws is descending on Nashville with 500 of our pet-loving, pet industry, wag-inducing, purr-tastic pals. The brands who support the conference help make this 3-day affair possible. Peel back the green curtain and take a look behind the scenes, as we explore part V of "Brands Who Go Beyond." If you are coming to the conference in Nashville this week, stop by and use these as talking points. If you are unable to attend, read through this list and the links below to get to know the brands and get on their radar: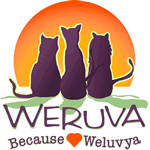 Weruva
At Weruva, they are avid believers and supporters of rescue and adoptions. It was with this in mind which led the Weruva folks to the Mayor's Alliance for NYCs Animals. In creating a sponsorship with the Alliance, they have made strides in supporting and promoting animal rescue awareness in the NYC metro area. With every MYC Metro purchase of Weruva products, you will now be personally involved in helping homeless animals find their forever homes. Follow Weruva on Twitter.
Dog for Dog
Can you imagine a world where you buy a bag of dog food and the company gives a bag of dog food to a canine in need? That's what Dog for Dog is all about! Here's how it works: You buy a bag of our food or treats, and we give another equal bag to a dog in need. We can't do it alone! We are working crazy hours, no one has slept in weeks and we need your support, please help us! Follow Dog for Dog on Twitter.

The Mountain
As the proud sponsor of the BlogPaws 2015 Conference limited edition t-shirt, The Mountain® products are Oekotex 100% certified (one of the highest qualifications worldwide). This guarantees their shirts are free of  chemicals harmful to your body. The Mountain uses only environmentally friendly water-based inks and Dyes.
This is their way of insuring all of their manufacturing processes fully protect earth, air and water. Their Dye Oxidation System (DOS), has been online since January 3, 2011. It purifies our manufacturing process waste water by removing color and additives without the addition of chemical. Because this process does not rely on the use of chemicals,  it does not create dead water that has been stripped of its' oxygen. Rather, it does the opposite in that the final product is enriched with oxygen which works harmoniously with the micro-organisms that are used in their local city water treatment facility. Follow The Mountain on Twitter.
Catch up on the entire series here:
Get on the Radar of BlogPaws Brands
Things You Don't Know About Brands