In the world of content marketing, few things get as much attention (both good and bad) as search engine optimization. While most bloggers and small business owners recognize the value of optimizing their content for search performance, the cost of many SEO tools can be prohibitive.
Luckily, there are also many great opportunities to do SEO audits and keyword research for free!
One such opportunity is the use of Google Search Console for keyword research. Not only is it a budget-friendly solution, but you are accessing the information straight from the source. After all, data shows that Google currently has 90.63% of the search engine market share. In terms of building organic search traffic, they are your golden ticket.  
To help you get started, we will break down what Google Search Console is, what information it can provide you, and how to leverage this data to boost your SEO efforts.
Let's get started…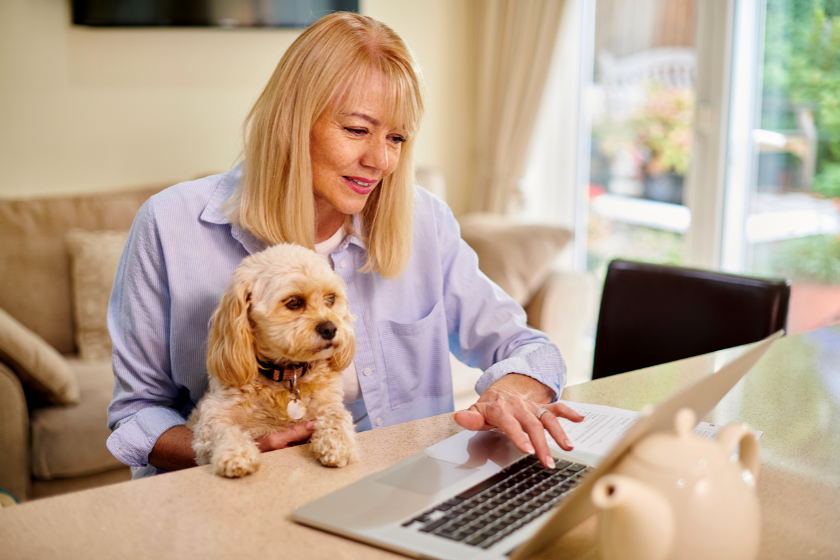 What is Google Search Console?
You may be wondering, what is Google Search Console anyway? As you probably guessed from the name, this is a tool that has been made available by search engine giant Google (Alphabet Inc.).
The free service was developed to provide content creators access to data about your website's presence and performance in Google's search results, including referring domains, mobile site performance markers, highest-traffic queries, and search performance.
Is Google Search Console Free?
Yes! One of the best things about using this service is that all Google Search Console reporting is free to access and download. This makes it an invaluable resource for those trying to improve their search performance on a budget, including bloggers, solopreneurs, and other small business owners.
But its usefulness doesn't stop there. With the accuracy of the information provided, given it is coming directly from Google and not a third party trying to access Google's data, it is used by most marketing professionals and SEO strategists daily. 
Google Search Console vs. Google Analytics
If you have installed and already use Google Analytics in your business, you may wonder why you need another Google-related service for your current workflow. The short answer is that the two tools were created to focus on different aspects of data collection and website traffic/performance analysis.
Google Analytics is a higher-level analytics tracker that provides marketers and small business owners with valuable information about who is visiting your website, where they are coming from (organic search, social media, etc.), and what actions they take while on your site.
This is where you will access in-depth data about your website visitors, such as a demographic breakdown and an understanding of which devices they are using. This will help you better understand who you are reaching, whether they fit your target audience, and how you can improve your website to provide clearer messaging and a better user experience.
On the other hand, Google Search Console offers information specific to your website's performance in Google search results. You will not find any information about traffic coming from social media or in-depth user behavior data. However, it does provide a more focused insight into your search performance, ranking keywords, and ranking factors that Google considers (like mobile usability).
As a quick note, these are not the only tools provided by Google that you can use in your marketing efforts. Other valuable resources to consider include Google Search Trends and even the Google Search platform itself!
How to Install Google Search Console
The first time you visit Google Search Console, you must set up your website. This ensures that you are, in fact, the owner of the website and, therefore, have the right to access the information that Google has collected pertaining to your site.
To begin, make sure that you are signed into your Google account. If you have both personal and business accounts, you want to ensure that you are signed into the account directly related to the website, as it will be linked to that account for future visits.
Visit the Google Search Console website and click "Add a Property."
In the window that opens, you will be asked to select your property – Domain or URL Prefix.
Each option offers both benefits and challenges. Domain is more challenging to set up, but it will provide data relating to your entire site. The URL Prefix is easier to set up and verify but will not include any information pertaining to subdomains you may be using.
For most bloggers and small business owners, the URL Prefix is sufficient unless you are using subdomains.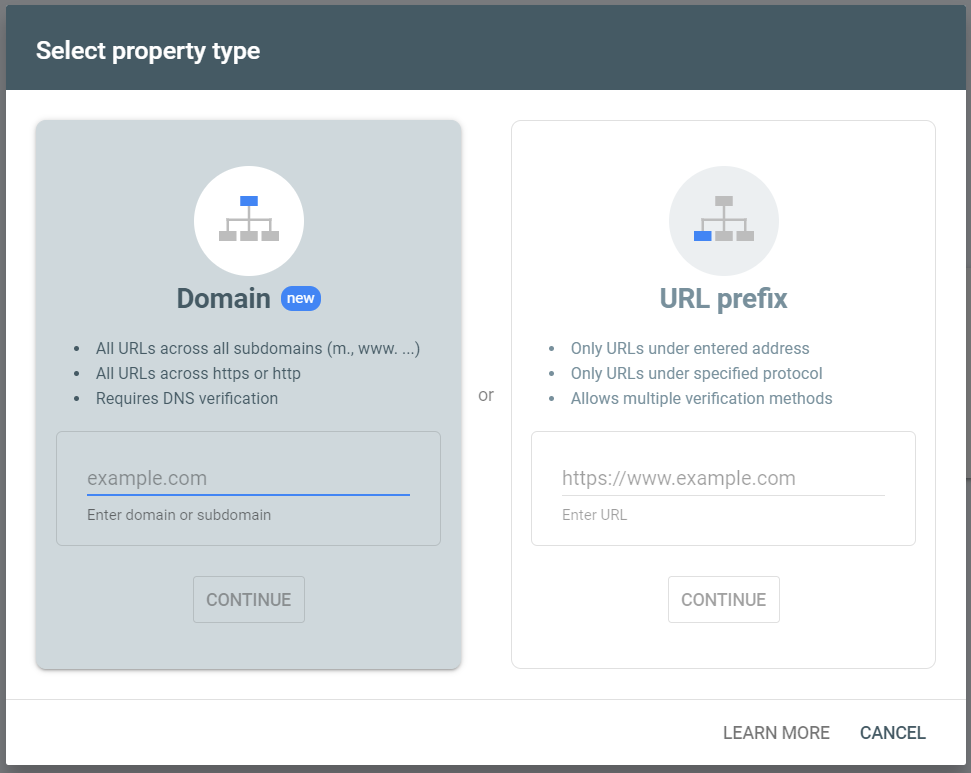 If you see traffic from your URL (website.com) and www. your URL (www.website.com), they will each need to be added to Google Search Console when using URL Prefix. The same pertains to HTTP vs. HTTPS, although we hope everyone has switched to HTTPS on their sites for security purposes.
After entering your information, a new window will open with options for verifying your site. The example below is from the URL Prefix verification, which can be done using your Google Analytics account, a Google Tag Manager account, or even just uploading an HTML file to your website.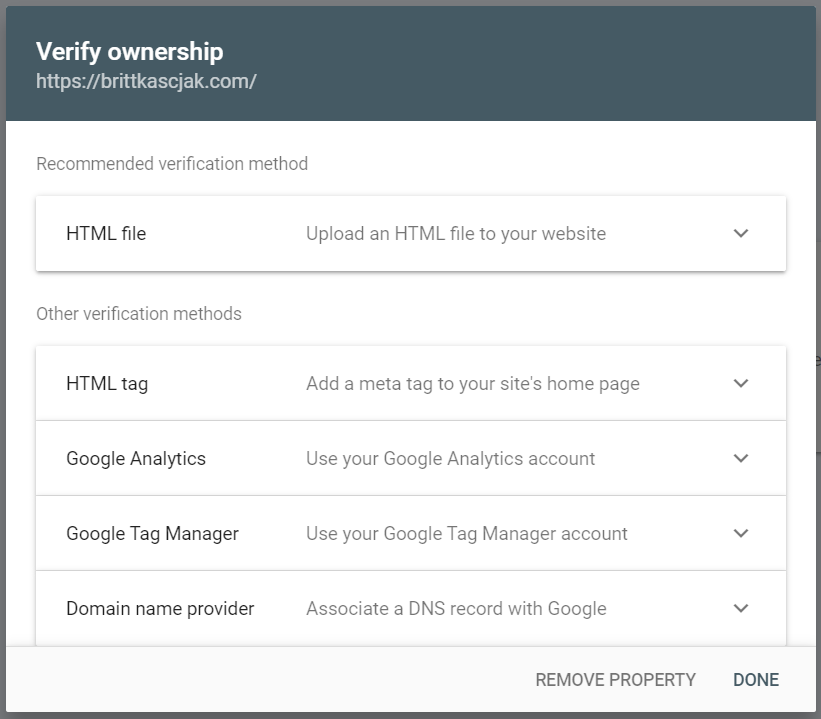 After completing the verification, you will receive a message stating that ownership has been verified and will be given access to the Google Search Console dashboard. 
How to Use Google Search Console for Keyword Research and SEO
Now that your website is set up and ownership verified, you can start leveraging the wealth of Google Search Console SEO and keyword performance research available through this tool. This means learning where to access pertinent information as well as how to use this information in an actionable way.
There is no single way to use a tool like this for SEO. In fact, with so much information to explore, there are several ways this can be used in your business, including running an SEO audit on your website's current search performance, identifying technical SEO updates that can be made to improve Google's opinion of your website, monitoring and analyzing link building efforts (both internally and externally), and identify content gaps to inspire further content creation.
If that seems like a lot, that's because it is! But don't worry, you don't have to tackle every one of these aspects of your SEO and content marketing at once. Instead, we recommend selecting one to familiarize yourself with at a time.
Google Search Console Keyword Performance Insights
For anyone new to using Google Search Console for keyword research or just starting to get serious about their search engine optimization efforts, a quick audit of your current keyword performance is an excellent starting point. This is one area where Google Search Console really shines.
To access this information, look in the left menu bar for "Performance" and then click "Search Results."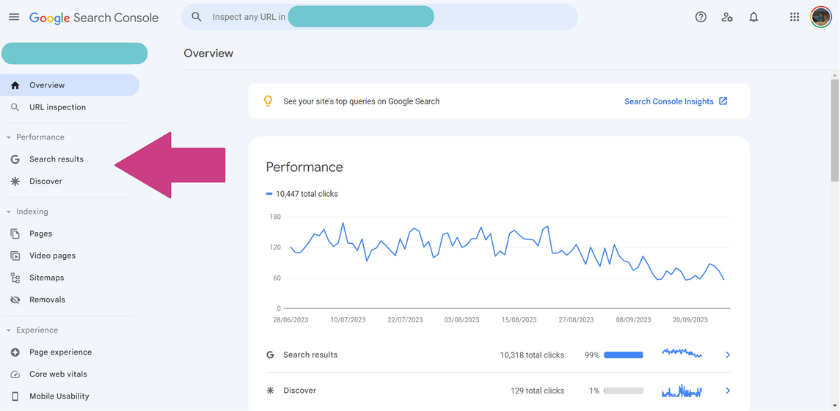 This is where you will find a wealth of information about which keywords your website ranks for, their position, the click-through rate (CTR) for each term, your average position and CTR, total organic search clicks, and more.
Scroll down on your performance report until you see the "Queries" tab. This is a list of all keywords people have used on the Google search engine that included your website in the results. However, this does NOT mean they successfully drove a click to your website. Look closely at the "Clicks" and "Impressions" for each term. This will help you identify if those who are seeing your website in the search results are actually clicking through to your content or not.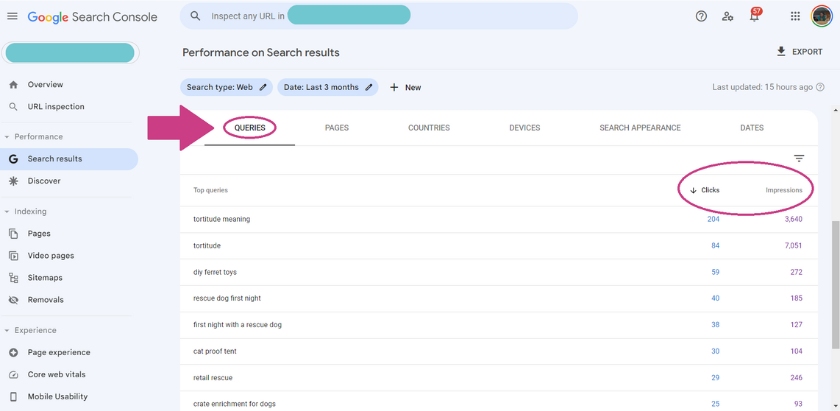 If a search query has high impressions and a very low click rate, it could mean you are ranking but not very high for that term. Therefore, they aren't getting to your website on the list before finding the answer they seek. It could also mean that you need to improve your title, feature image, and meta description, as this is the only information they will see on the search results page most times.
View and Analyze Search Results by Pages
You can also view this information specific to pages by clicking the Pages tab. This will show you the total number of impressions or clicks for any search query to the specified page.
By analyzing this information, you can create a list of opportunities to improve your search performance. This is a great way to identify which content to focus on updating first if you have a large website with a lot of older content to review. 
TIP: If you click on one page in the list, it will add that page as a filter to the data. This means you can then click back to the Query tab and see only the keywords directly associated with that blog post or product page.  
Identify Keyword Opportunities Through Content Gaps
Using that same report, jump to the final page of your results, where you will find keywords with 0 clicks. These are often keywords that an article has ranked for and is either ranking very poorly at this point or the phrase isn't one that you were targeting with the article and doesn't fulfill the search intent of that query.
For example, if you are writing a post about the best tent for summer camping with dogs and it ranks for "keeping a tent clean in summer," the reader isn't going to find the information they were searching for. This often happens if you reference a topic in passing that is closely tied to the article focus, and all other SEO-related elements are in place for a high-performing page. In this example, the post was about tents and summer camping but not specifically digging into cleaning.
If you find a situation like this, the report tells you that this is a term people are searching for, or it wouldn't have any impressions. Therefore, it could be a great opportunity to build out more niche-specific content by filling that gap in your existing content. 
Export Your Keyword Report for Easier Analysis
Do you prefer "marking up" your reports to help you better sort and analyze the information? Great news – Google Search Console allows you to export your complete search performance insights to Google Sheets, Excel, or CSV.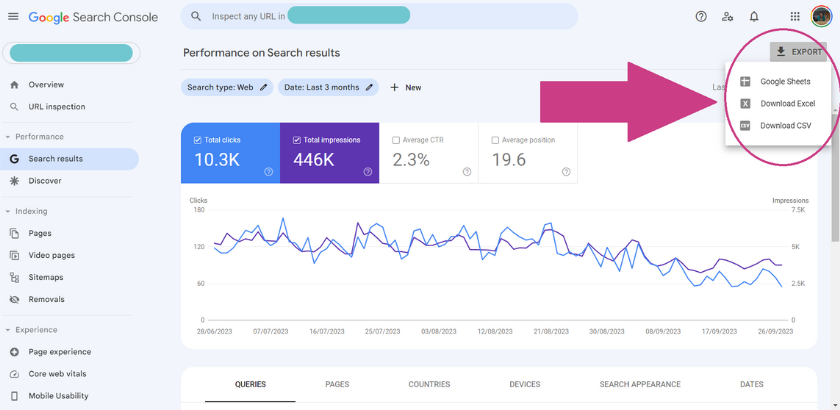 You can then filter data out, use color coding for organization, and add additional columns to add more information in your planning process. For example, you may wish to highlight queries you want to update content to rank higher in one color and queries inspiring new content in another. This is great for those who work better with visual elements to follow. 
Assess Technical SEO Elements 
One topic relating to SEO that should not be overlooked is the technical elements of your website that can impact your search results. For example, Google has been clear that they value site speed and search performance. Therefore, if your website is loading very slowly, it will tell Google that your website is not one that they want to deliver in the search results.
This information can be found in your Google Search Console Insights under "Experience" in the left sidebar.
The "Page experience" section will provide you with an overview of several elements that could impact the user experience on your website, sorted into mobile and desktop. This includes the core web vitals, mobile usability, and whether you use HTTPS. Both Core Web Vitals and Mobile Usability offer a more in-depth report about their factors and whether Google has identified any issues that should be addressed.
These reports will break down each element into Poor, Needs Improvement, and Good. For example, in this report, you see that Google has identified 139 pages on this website that have been flagged as "Needs Improvement."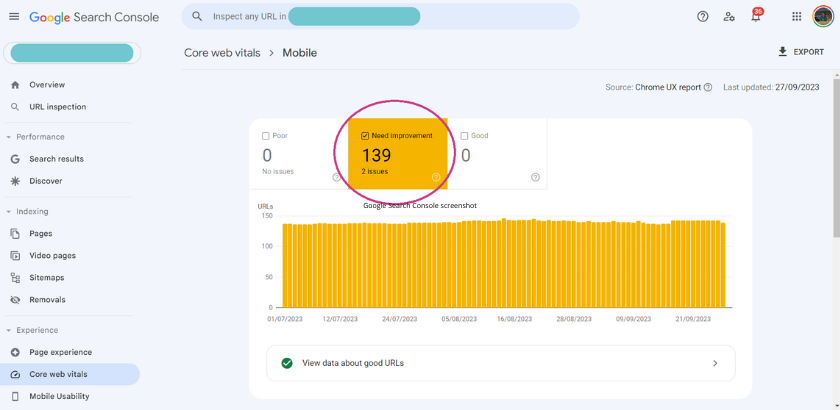 The report will then go on to explain the issues that they have identified. Scroll down to find a section titled "Why URLs aren't considered good," where Google lists any identified issues. In this screenshot, you will see that Google's concern relates to site speed on mobile. More specifically, the cumulative layout shift (CLS) and the largest contentful paint (LCP).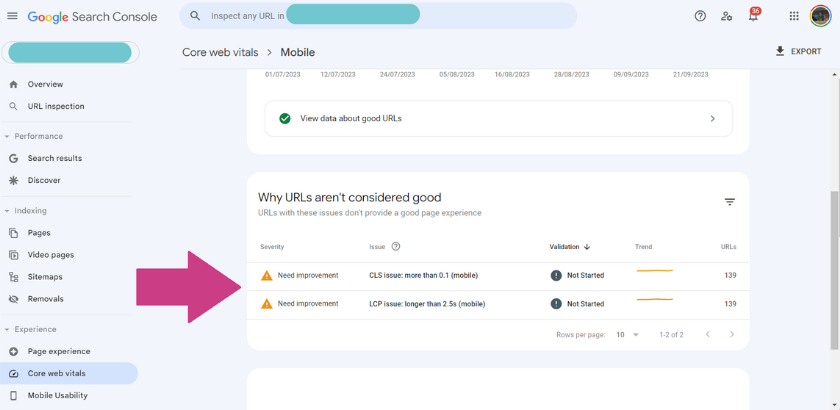 Click on any issue in the list to open up a specific page dedicated to that concern. This will allow you to see whether the number of affected pages has increased or decreased over time. It also provides you with the first detected date. If you click where it states "Learn More," it will take you to a detailed article from Google that breaks down the issue, why Google prioritizes it, and suggestions for correcting the most common related problems. 
If you are overwhelmed by the technical side or confused by this report, consider contacting a specialist to assist (such as booking an appointment with Jessica).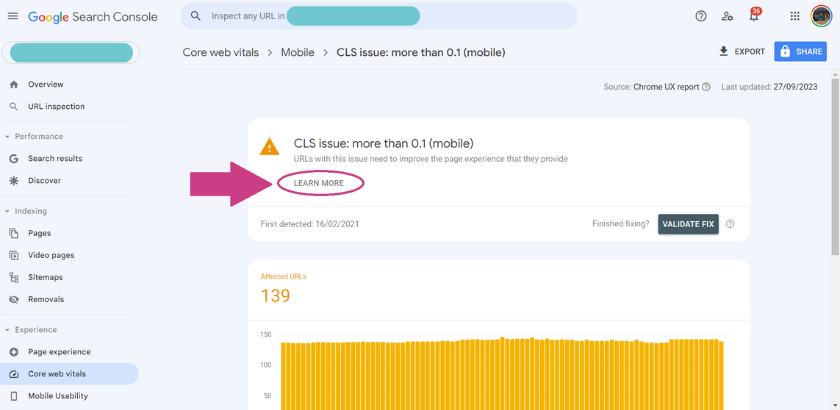 After making adjustments to your website, you can click the "Validate Fix" button to inform Google that you have made the necessary corrections. Google will then track and monitor the data related to that concern for up to 28 days to ensure that the fix has been effective before moving the URL from "Poor" or "Needs Improvement" to "Good." So, don't be alarmed if you don't see an instant change in your reports.
Final Thoughts: Google Search Console Keyword Research & SEO Insights
If this is your first time exploring this tool, we hope that our Google Search Console tutorial provides you with an easy-to-follow starting point to begin leveraging this opportunity for your small pet business. Begin by choosing one element of your search engine optimization efforts and spend time in the system exploring the data available. Focusing your attention on only one piece of the puzzle at a time can help reduce the risk of becoming overwhelmed.
Using the data available through Google Search Console, you can correct technical SEO errors, identify content gaps and opportunities, and find opportunities to update existing content and improve its performance in Google's search results.
Don't forget that SEO is an element of digital marketing that is never "finished." There is no end point or final goal to achieve. Instead, we are working a little at a time to move in the right direction. Even the smallest step forward is a win and should be celebrated!
Are you currently using Google Search Console in your marketing efforts? If so, what is your favorite feature of this tool? What are you most excited to try in the future? Let us know in the comments!
About the Author: Britt Kascjak is a freelance writer and content creator with a background in digital and social media marketing. In addition to being the BlogPaws Director of Content & SEO, she also runs her own personal blogs Shed Happens, The Kas Pack, and Lucifer the Rescue Pup. When she's not working, she can be found volunteering in the rescue space, camping, hiking, canoeing, or spending time with her 3 dogs and 2 cats.