Running a small pet business meaning sending emails. Sometimes a LOT of emails. In order to maximize the impact your emails have it's important to consider adding different types of emails to your email marketing plan.
Most small pet businesses we work with have figured out the email newsletter part, or send an update of the latest piece of content, but what about all the other ways? Are you leveraging the moment a person subscribes to truly introduce yourself and your business to that person? It's the best time to do so because they have literally asked you to email them!
Or for businesses selling products, are you utilizing abandoned cart emails? According to Shopify, nearly 88% of carts are abandoned and using abandoned cart emails can earn back 3%-14% of lost sales!
If you are just getting started with email and curious which email marketing tool is right for your pet business, we shared a couple free options over in this post. Give it a read.
Bottom line: these 12 emails to consider adding to your email marketing plan in 2021 can help your business stay top of mind and build connection with your audience. Try finding just one to start incorporating into your plan and see how it goes!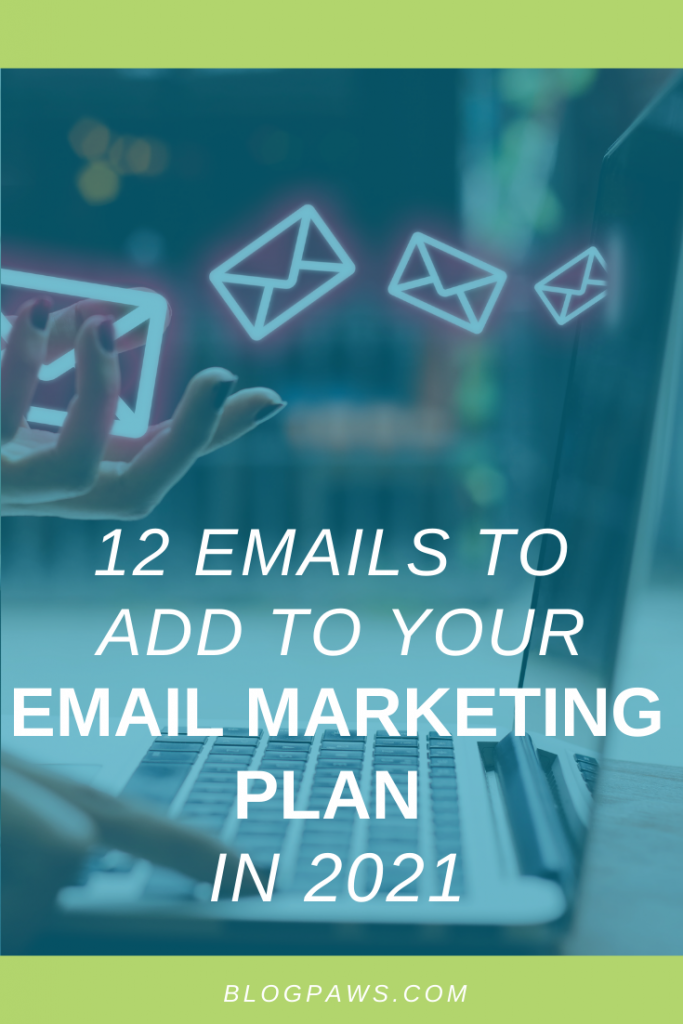 12 Types of Emails to Consider
Welcome Emails – an email sent to a new list subscriber that clearly states what you can offer them and a clear path to a CTA on how they can take advantage of it. Important to show how your brand differs and stands out through your content, but don't lose sight of providing clear, actionable steps.
Newsletter Emails – a recurring email that allows you to build a relationship with your contacts and keeps them up to date on your business and industry news. In many cases, includes recaps, summaries, and links to recently released content. Is also key to reinforcing your company's values, beliefs, and mission. Can increase visibility for your products or services while providing value beyond what you directly sell.
Curated Content Emails – an email that serves as a collection of content specifically targeted to the reader based on past activity or other information you may know about them. Can include links, summaries, and even teasers of the content. Can include new content, but is a great way to recycle older content.
Confirmation Emails – a transactional email that confirms an action was taken. Often associated with sign ups and purchases.
Teaser Emails – an email that comes before the Announcement Email (see below) and just provides a tidbit of information to pique the reader's interest. Should also encourage the reader to keep an eye out for the Announcement Email to come with more info.
Announcement Emails – an email that celebrates and provides detailed information about an upcoming launch of a product or service. Including testimonials from beta users can also be helpful to encourage purchasing decisions.
Milestone Emails – an email that celebrates a victory – large or small – and helps make your reader feel special. Often includes a message of thanks or lessons learned. Connecting the celebration back to your reader is key.
Special Offer Emails – an email including details on a sale, discount, coupon, giveaway, or other special deal. A great way to reward VIP customers who are on your email list. Can often be paired with another type of email.
Progress Emails – a recurring email sent to current customers that details events, changes, successes, and more over a set amount of time – often a month – and also provides selling proof of your product or service.
Abandoned Cart Emails – an email reminder to potential customers that leave their shopping carts without checking out. Customers who Add to Cart generally have a higher conversion rate, so this is a great email for closing the deal.
Review Request Emails – an email that encourages a customer to leave feedback about their previous purchase. Can be privately submitted or through a public review forum.
Survey Emails – an email that invites a conversation with your subscribers by asking for feedback and insights around specific topics.
Email continues to be important in staying connected to your customers and followers. If you want to be on our professionals email list, you can subscribe here. If you're not ready, that's okay.
We also invite pet professionals interested in learning and networking about their businesses to our free BlogPaws Community Facebook Group. This includes pet bloggers and influencers, pet small businesses, veterinarians, and pet focused nonprofits. Is that you? Come join us!
What other emails do you send? Did you add something new to your email marketing plan in 2021? Tell us in the comments and let's up our email game together!
Jessica Shipman is a BlogPaws Executive Team member and Co-Founder of All Pet Voices, BlogPaws' sister company. She's been a pet blogger and influencer in the pet industry since 2013 and loves manatees, almost as much as her two dogs, Luna and Ralph. She leads the All Pet Collaborative, a membership group for small pet businesses, with All Pet Voices Co-founder Chloe DiVita, and still puts her B.S. from Cornell University College of Engineering to work as a sought after web developer.