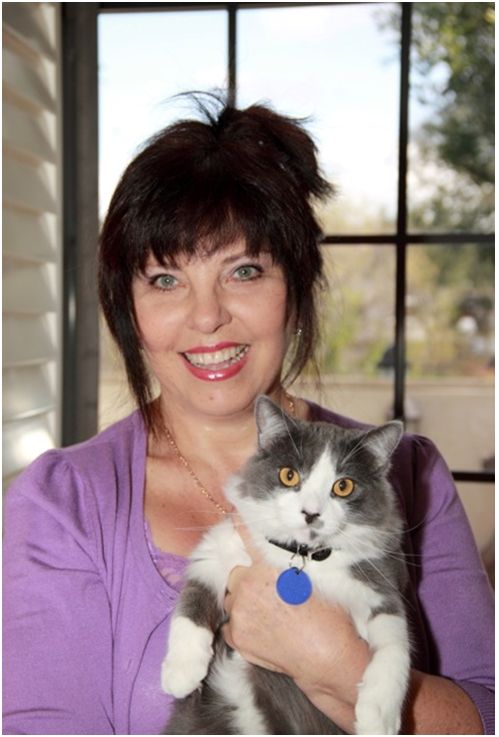 When I came to America I didn't have a single contact in the industry. I am going to share certain things that I did to build contacts to illustrate how if I – someone who doesn't even speak "American English" – can build a big platform, anyone can do it. It takes planning and perseverance. It's a big market out there – I am going to impart how to take advantage of it and make money out of it!
The above quote is courtesy of Sandy Robins, who is also a BlogPaws 2014 Conference speaker. Are you trying to build a career in the pet industry with your pet blog? Robins has something to say about that.
Sandy Robins is an awarding-winning multimedia pet lifestyle expert, author and spokesperson. She is the 2013 recipient of the Excellence in Journalism and Outstanding Contributions to the Pet Industry Award presented by the American Pet Products Association to individuals in the media who have the power to influence millions of people and use this to positively promote the joys and benefits of pet ownership.
On Life's Decisions
Growing up, I wanted to be a veterinarian. The only veterinary school I had access to in South Africa at the time was Onderstepoort in Pretoria the capital, which, although world-recognized, students study in Afrikaans which was a second language for me. So when the time came to go to college, I soon realized that I would never manage to study in a language other than English and switched to my second love communications. It paid off
On How She Did It
To cut a long story short, it opened doors to interviewing world-renowned figures in the pet world and learn from them. Along the way I also studied landscape gardening and interior design. When I came to America in the year 2000,  I discovered this new niche market of pet lifestyle just taking off and that is where I set my target site. I found everything I had learned and studied all came to together on this platform with the ultimate goal of enhancing the human /animal bond. Social media has certainly helped to get the message out there quicker and taught me to make the messages I am sending concise so people can absorb. Everything happens so quickly today and people have the attention span of a flea. You have to cater for this.
On What She is Doing
Right now, my focus is the publication of my new book THE ORIGINAL CAT BIBLE that will be on bookshelves in July. It covers the Old Testament – tracing the history of cats back 10 000. In fact re-writing a lot of that history is terms of the latest research. And it covers the Mew Testament everything from traveling with cats, how to handle behavioral issues and even cats and social media.
On Pet Bloggers as Industry Influencers
Pet bloggers can most certainly be influencers in the industry and many of them have huge sway. The ones that are really successful heavily lean on what "old school journalists" was taught – thorough research and to write with integrity. Its about using your platform for the greater good, not boosting your ego.
On the Future of Social Media
Social media is the new media and the fact that some newspapers no longer employ photographers but rely on bloggers in a clue of where this is going. Also newspapers are downsizing and closing – another clue. It's a sign of the times. We are all so busy, we don't have time for anything – and we need our news and information to be tailored accordingly.
About the Pets in Her Life
I have two cats Fudge and Ziggy. Fudge is from South Africa and is now 16. I brought three cats with me when we moved as a family. Cali and Muffin have since passed away. Ziggy was an orphaned kitten adopted to be a friend for Fudge ( when Cali passed away in 2009) and they are inseparable! But I grew up with dogs and now I am aunty to all the dogs in my neighborhood – they all comes rushing up when they see me. We don't have dogs because that is what my cats decree…

About Sandy's BlogPaws Session
Monetizing Ideas for Profit: How to take a single idea and re-package and re-purpose it for different platforms from digital and print to video. The workshop will spell out how to find ideas and how to expand your marketplace.
Sandy is a regular contributor to many popular sites such as Today.com and AOL's PawNation and national publications from Consumers Digest to pet centric magazines such as Dog Fancy, Modern Dog, Cat Fancy, and industry leaders Pet Age magazine. She blogs for Modern Dog, for Sergeants PetCare's Pet Health Central blog and recently launched a new personal blog called Reigning Cats and Dogs. Her next cat book, The Original Cat Bible will be on bookshelves summer 2014. Connect with Sandy on
BlogPaws the Conference takes place May 8-10 on Lake Las Vegas. Join us – limited tickets available.