The excitement is building at BlogPaws, especially with the recent announcement of the Nose-To-Nose Pet Blogging & Social Media Award finalists being announced. Much of the thrill that the BlogPaws' team experiences is that we have no idea who the winners are! We find out when you find out at the Conference in May! It's like those other
award ceremonies where the winners are secret until the envelope is opened!
Forty-eight finalists, in 12 categories, were chosen as the best of the best in the pet blogging world.
We know that our judges didn't have an easy time choosing the finalists from among the hundreds of stellar entrants we had. In fact, here are a few comments that we heard from the judges:
"A couple of these folks I'm following now – some I gave 10's across the board because they were just unreal."
"Thank you for the wonderful experience and exposure to such creative and passionate talent."
"I had a blast going through these….. Thanks for much for the privilege of judging."
"It's fun. Great to be made aware of some blogs I had not been familiar with."
We cannot wait to see who wins and we are certain it was a tough decision for the judges to make!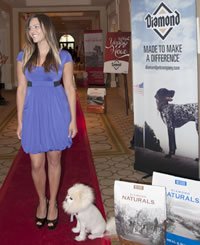 Our past winners receive the coveted Nose-to-Nose award and also donations of food or money are made to the shelter of their choice. It is a way to recognize the blogger for the incredible work they do and benefit pets in need — which is what we are all about!
Check out the 2014 winners and information from our past BlogPaws' Conferences and Awards Ceremonies.
If you haven't registered for the BlogPaws 2015 Conference you can do so today (we sell out, and you don't want to miss out) this also means you will be in the audience for the red carpet gala when the winners are announced!
The finalists and the winners are also supported throughout the year by BlogPaws and we also show them how to garner local attention for their efforts!