2014 BlogPaws Nose-to-Nose Award Winners!
What a night of glitz, glory, and gifting!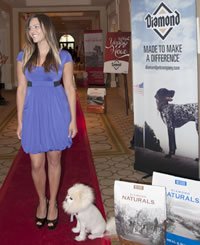 From the glam and glitter of the Red Carpet photo ops and Yappy Hour, sponsored by Diamond Pet Food, to the drama of the Nose-to-Nose Pet Blogging & Social Media Award ceremony (note: indexed video below) presented by Pet360, to the emotions of donating the K9 dog body armor … well, it was quite a night and an amazing wrapup to our BlogPaws Conference 2014.
Thanks again to our Platinum Sponsor Only Natural Pet for providing 400 pounds of dog or cat food to be donated the EACH winner's pet welfare organization of choice! And also to Silver Sponsor AAHA (American Animal Hospital Association) for loaning us their CEO, Dr. Michael Cavanaugh to add his hilarious "Most Interesting Man" shtick as emcee.
Scroll down to see the 2014 winners!
(winners' index to the video timeline included)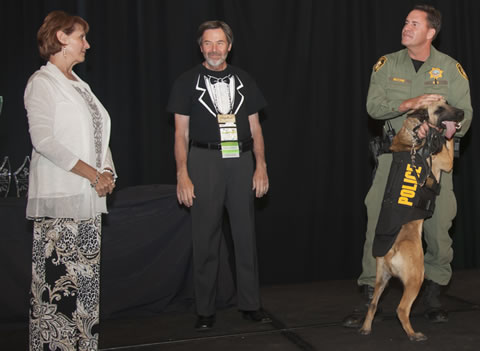 This is a trimmed version of the live streamed video.
If you want to check out a specific award, here are the winners, along with where to look for their presentation on the video timeline:
Best Cat Blog – GloGirly, Debbie Glovatsky – 23:18
Best Pet Cause Blog – Fire Safety Rocks, Dayna Hilton – 25:15
Best Pet Blog Design – GloGirly, Debbie Glovatsky – 26:11
Best Dog Blog – The Intrepid Pup, Tracy Baetz – 27:43
Best Pet Humor Blog – Cat vs. Human, Yasmine Surovec – 30:24
Best Pet Microblog – Deaf Dogs Rock, Christina Lee – 31:41
Best New Pet Blog – Traveling Cats, Vanessa Morgan – 33:41
Best Other Pet Blog – Speedy the Cheeky House Bunny, Rachel De Jong – 34:42
Best Pet Blog Photo – Pawsitively Texas, Alva Logsdon – 37:12
Best Pet Blog Post – Life with Dogs and Cats, Susan Willet – 38:10
Best Pet Blog Video – Cat-CATastrophes: The Inheritance, Alana Grelyak – 40:42
Best Use of Social Media by a 501c3 – Morris Animal Foundation, Tina Martinez – 42:57
For the donations wrap up:
Check presentation to ROUS Foundation – 48:00
Pet Oxygen Masks for LV Fire – 51:00
K9 Dog Body Armor for LVPD – 51:50
Note: the index to this video on our YouTube channel has clickable links to the above times within the video.