Maybe! If there is such a thing as "too much fun", well then we ALL had it at the 1st Annual #BlogPawty! We paraded through the BlogPaws Village Square and headed to the Banquet Hall's Atrium, which was decorated to the nine's by @TinyPearlCat! After giving away a few prizes we began our Pawards ceremony, and we continued giving away prizes through the whole pawty – including THREE free conference registrations to lucky winners @BoSoxAmy, @Toby_Pup and @PetieTheCat!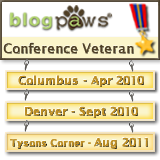 We started our Pawards ceremony by recognizing the many dedicated attendees who have come to all of our conferences to date. We honored them with a special badge they can display on their blog proudly! Those attendees are Laura Bennett @EmbracePetIns, John Bigley and Paris Permenter @DogTipper, Vicki Boatright @bztat, Neil Brogan @Nigelbugger, Carol Bryant @fidofriendly, Sharon Castellanos @grouchypuppy, Donna DeClemente @ddeclemente, Joan DeMartin @boccibeefs, Felissa Elfenbein @Felissahadas, Michele Hollow @michelechollow, Nikki Jeske @designcoyote, Carol Lindsay @fergusthedog, Maggie Marton @maggiemarton, Karen Nichols @mousebreathzine, Ashley Niels @rescueanimals, Laura Posey @lauraposey, Penny Sansevieri @Bookgal, Brenda Tassava @bktassava, Jessica Vogelsang @pawcurious, Dorian Wagner @yourdailycute and Mary Engle and Darlene Bryant! Thank you 3 time attendees!!
We also honored the attendees who have not only been to all 3 conferences, but are already registered for the 4th! Those attendees also received a special badge for their blog. They are Mary Archer @richmondpets, Vicki Cook @BunnyJeanCook, Janiss Garza @sparklecat, Jane Harrell @petfinder, JaneA Kelley @pawsandeffect, Michelle Maskaly @toby_pup, Joanne McGonagle @thetiniesttiger, Molly Mednikow @AmazonCares, Diane Silver @CosmoHavanese and Jaime Smith @thoughtsfurpaws! Paws up to all of those attendees!

Our staff did a wonderful job serving our pawtiers with yummy drinks and noms, playing fun music and keeping out the spammers! Thank you to all of them! 
Host: Kristin Dewey @CokieTheCat

Barktender: Michele Brown @PepiSmartDog

Barktender: Theresa O'Connell @Tildatoo

DJ: Wanda Kruse @ParkerSKat

DJ: Pattie Kleinke @CathyKeisha

Pawleece: Heather @BrutusTheDane

Pawleece: Jade Kelsey @mizCleo
Pawleece: Georgia Manley @SnoopDoggDoxie
Four paws up for our wonderful staff! In honor of their hard work BlogPaws is making a $250 donation to Pets For Patriots who was very excited to hear that news! Pets for Patriots exists "to transform the lives of our veterans by helping them save an at-risk shelter dog or cat." Their mission states that with "your support, we can end animal homelessness in the U.S. and enrich the lives of the men and women who serve, and have served our country." BlogPaws definitely supports that!
Our Pawards ceremony went on to acknowledge all the wonderful people who have assisted BlogPaws in one way or another. It's important to us that they know how much they are appreciated!
Our Paws on the Ground Pack, who helped promote our 2011 conference and assisted on the ground at the conference: Katharine McMahon @marktingbykath, Celeste Lindell @average_jane, Doreen Disbro @DoggiesandStuff, Caren Gittleman @catchatcaren, Maggie Marton @MaggieMarton, Karen Nichols @mousebreathzine, Lisa Taron @ThePetBookLady and Robbi Hess @RobbiHess. Thank you Paws on the Ground!
BlogPaws recognized the following people for their attendance or pawticipation in our conferences in the following ways:
BlogPaws 2011 Conference Video Pawards went to AmandaJane @RoscoesRemedies and Paris & John @DogTipper.
Furthest trek for an attendee went to Lynn Haigh @frugaldougal for traveling all the way to Denver in 2010 from the UK! She was at the Columbus conference too, which was another long trek.
Attendee with the most pets at a conference went to Teri Thorsteinson @CurlzandSwirlz for bringing her 3 cats – one Sphynx and two Cornish Rexes!
And of course our wonderful event planners were recognized for the amazing work at all our conferences. We really couldn't do it without them! Destinations by Design @dbdevents – you ROCK!
The last set of Pawards went to the behind the scenes people who dedicate their time to BlogPaws. These individuals work with us on an on-going basis and keep intricate parts of BlogPaws alive and well:
For creating BlogPaws' Wordless Wednesday blog hop each week, Felissa Elfenbein @Felissahadas.
For leading the first BlogPaws pack in NYC, Jane Harrell @petfinder.
For organizing and creating clever contests Donna DeClemente, @donnacdeclemente.
For attending to the newsletter and always getting our community the scoop on all the poop, Linda Messina @GotMutt.
For managing the blog and our guest bloggers, Robbi Hess @RobbiHess.
For keeping up on those features on the blog homepage, and for knowing the code to do it, Stephanie Minck @SnotfaceCritter.
The final two Pawards given out during the 1st Annual #BlogPawty were unique Pawards. First, we recognized our most active community member for as long as we can remember, Dawn Milkovich @PetProductRevue. Second, we gave a high paw to one of our Co-Founders for keeping it all together while moving all over the country! Caroline Golon @romeothecat, thanks for always being on top of things no matter where in the world you were!
Wow, that is a lot of Pawards and a lot of great people in the BlogPaws Community!
We hope everyone had as good a time as we did and we can't wait to do it again! Wonder who will get the most pets at a conference Paward for BlogPaws 2012? Or the furthest traveled? We may even come up with other recognition Pawards for the next #BlogPawty. Guess you will have to stay tuned!