BlogPaws has members of its community that love and are pet parents to three-legged dogs and they (as well as the rest of us) are sure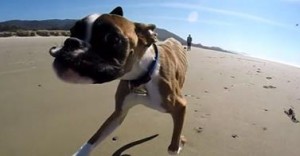 to smile at this inspiring two legged dog. The dog, Duncan Lou Who has become an internet sensation when he hit the beach for the first time in March.
An article about Duncan reads, in part, "According to Panda Paws Rescue of Vancouver, Washington, Duncan is a 9-month-old Boxer "who was born abnormal." Due to a birth defect, his back legs were amputated. A custom wheelchair was built for the dog, but he did not like using it properly and the device ended up causing more stress on his body. The registered nonprofit rescue decided to simply let Duncan roam free, and he has been happy ever since."
You can read about him here.