by: Carol Bryant
Did you ever consider what it really means to be a pet blogger? A "blog," according to Merriam-Webster is "a Web site that contains an online personal journal with reflections, comments, and often hyperlinks provided by the writer." There are millions of bloggers online, but what specifically defines the characteristic of a pet blogger?
We posed this question to BlogPaws' staff and the answers thus far have run the gamut. So we'll reveal our replies to "you know you're a pet blogger when" if you do the same in the comments section. We're certainly a special "breed" of writers, but what makes us so? Well, you know you're a pet blogger when…
Yvonne DiVita, BlogPaws' Co-Founder says:
You would rather talk pet-talk with
pet-people than have a conversation with those 'other' people.
You run out to the store to buy meatballs for
the dogs, because you give them meatballs at dinner every night and they
shouldn't have to go without even one night, right?
You see your best friend's daughter out
shopping and when she says, "Oh, did you know Katie made honor roll?" you
answer, "Is Katie the Doberman or the Sheltie?"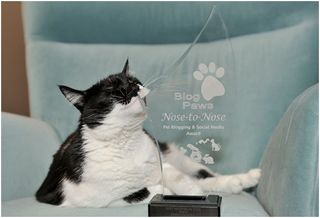 Tom Collins, BlogPaws' Co-Founder, says:
You tilt your head and give a quizzical
look at anyone who asks why you'd post online (words, pics, and videos) about
your pets.
You've slipped and called your online human
friends by their pets' names, cuz that's how they post in their blogs, comment
on yours, sign emails, etc.
Carol Bryant, BlogPaws' PR Manager, says:
You feel bad for your friends without pets.
You ask your friends and family if their pet is on Facebook and what their Twitter name is.
"Wordpress, Typepad, or Blogger" are uttered aloud more you ever thought humanly possible.
You get an iPhone so you can videotape product reviews.
You follow your dog around like Paparazzi at the Academy Awards.
You start planning for the BlogPaws Conference a year in advance.
Kristin Dewey, BlogPaws' Special Projects Manager, says:
You text MOL to your boss.
You stop strangers to take photos of their dogs.
You take photos and videos of your pet every single day.
Your pet has more friends than you do.
Your pet gets more Christmas cards than you do.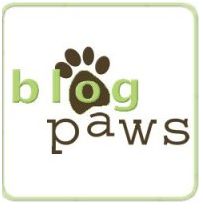 So do tell, pet bloggers and micro-bloggers, you know you are a pet blogger when _________.