Submitted by Christina Lee (picture from http://thedeafdog.blogspot.com/)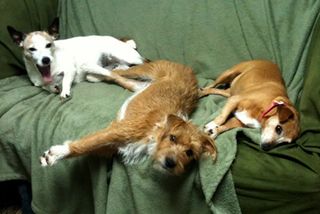 Submitted by Doggitude
The rules are super simple: Show us your pets! Leave a link directly to your Wordless Wednesday Post Visit other blogs and say hello (don't forget! This is the part that is the most fun!)
Remember to leave a comment to let everyone know you stopped by for a visit. Share the link up with your readers so they can join the community and link up as well. You can grab the code and place it on your blog or you can refer your readers right back to the Wordless Wednesday post of the week.
If you would like your pet's picture featured as our Wordless Wednesday picture of the week, please join the BlogPaws Community Center. Pictures you post there have a chance of making it to our Wordless Wednesday. You can post as many pictures as you want in our community – we encourage it! We never get tired of looking at all your pet pictures!
PS. Please make sure to upload full size pictures that are good quality so they can be used for the Wordless Wednesday post.