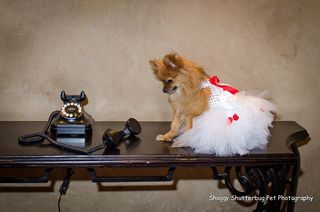 "Hello, BlogPaws, is that you?"
"Uh, hello, are there still hotel rooms and BlogPaws registration passes available?"
Sophia Loren seems to be wondering, and we know the answer! There are BlogPaws Conference passes available and there are very limited numbers of host hotel rooms left, so book early — aka ASAP — if you plan to stay at the host hotel.
Sophia Loren is the cutie pie of new BlogPaws community member, Anne Maria Tafoya.  Anne Marie and Sophia will be at the BlogPaws Conference in May!

It is also time for BlogPaws
Wordless Wednesday blog hop! As we countdown to BlogPaws 2013 Conference (which takes place in mid May – woot! ) – we encourage you to make new
connections, find followers, join in the blog hop, and grow your blog.
Visit and leave comments on other blogs to make some new buddies and maybe some new followers.
You can add the BlogPaws Blog Hop button to your post and/or to your blog sidebar, either by cutting and pasting the image or using the HTML code below.
Need help? Here it is: How to Join a Blog Hop – BlogPaws Tutorial