By Tom Collins
How cool is this?
From the things I found while looking for something else department, this is a widget that will pull in photos from your Flickr or Picasa account. If you haven't already, move your cursor around the images …
And it's FREE, a wondrous gift to the web from self-described "designer, geek, entrepreneur and WordPress enthusiast" Roy Tanck. He calls this one "Flickr Widget" and he's also created a version you could use to display images from your own server, called Photo Widget. For large commercial uses, Roy does accept donations on the Photo Widget page.
The Flickr Widget tool is amazingly simple to use. You just need the RSS feed address from your Flickr photo stream.
On your photostream page, scroll to the bottom, right-click on the orange RSS symbol, and "Copy Link Location." That will put your feed URL on your computer's clipboard.
Then, on Roy's widget generator tool, paste the URL into the space provided.
It should look something like this: http://api.flickr.com/services/feeds/photos_public.gne?id=69726874@N08&lang=en-us&format=rss_200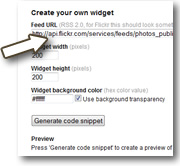 You then set the size and background color you want to fit with your blog's sidebar.
Click the "Generate Code Snippet" button.
And Roy's amazing tool creates both the code and a preview of exactly what your widget will look like!
Have fun!