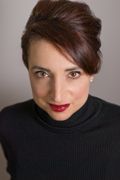 Dorothéa Bozicolona-Volpe is a Social Media
Strategist and is bringing an interest in Pinterest to the BlogPaws 2013 Conference. Using Pinterest for fun versus having an effective social media strategy in place to use Pinterest for business are two completely different things.
Dorothéa says, "My love affair with technology bled into social media years ago. Now I
assist people and brands in building their audiences across the digital
landscape by integrating social media & digital strategies,
strategic partnerships and marketing technologies into their business." Here's the scoop:
BlogPaws: Howdy, and thanks for joining us. What are you planning to teach at BlogPaws this May?
Dorothéa: This session will convey the main points and concerns of utilizing
PINTEREST for business. The presentation will communicate best practices and
successful strategies from real life case studies. 
BlogPaws: Pinterest has really become a force. What will attendees of your session gain?
Dorothéa: A better understanding of Pinterest with key takeaways on how to
utilize it properly for business. 
BlogPaws: What are you most excited about as a first-timer to BlogPaws?
Dorothéa: This is my first time and I do not have any expectations other than
to have fun! 
BlogPaws: What is something fun you can share about yourself that folks might be surprised to learn?
Dorothéa: I am an avid skateboarder.
BlogPaws: What is one website you visit daily (other than BlogPaws.com)?
Dorothéa: Fab.com
BlogPaws: Let's give our audience a chance to follow you. Where can you be found online?
Facebook.com/dorothea.bozicolonavolpe
Gplus.to/SocialEspionage
Pinterest.com/socialespionage
Linkedin.com/in/socialanddigitalmediamaven
@SocialEspionage
BlogPaws: Any favorite bloggers or websites you totally never miss?
Dorothéa:Toby Bloomberg the Marketing Diva (bloombergmarketing.com)
Ready to take your blog to the next level or learn how to
get started? BlogPaws 2013 Registration is in full swing. Join us May 16-18 in
Tyson's Corner, Virginia. BlogPaws is a pet-friendly 3-day life changing
conference! Register for BlogPaws 2013 here.
P.S. You will have access to a variety of "tracks,"
including 101 for Beginners, 201 for Intermediate level, and even a Pro Level
for seasoned bloggers who want to take their blogging and goals to the next
level. An exclusive 4th track will cover a variety of topics from
Law to Lifestyle to Be the Change for Animals