By BlogPaws Team

UPDATE: The post and comments below serve as a warning about the dangers of being too quick to click "publish" before reaching out to the people involved, gathering more information, and just plain cooling off. We screwed up in several ways. Thankfully, equally public apologies have been exchanged (ours; Mel's) and, certainly from our end, some valuable lessons learned. And one other beautiful thing to emerge from the hurt and anger is this post by Pamela Webster over at Something Wagging This Way Comes: Lessons in Grace – The Idealists vs the Realists.
Yesterday, the BlogPaws team, Caroline, Yvonne, and Tom discovered we had been attacked in a blog post by Mel Freer for accepting Michael Ayalon as one of the speakers at BlogPaws 2011 last month. After re-checking some facts and sleeping on it, we'd like to correct a number of assertions in Mel's post and offer a suggestion or two on responsible blogging. So if you haven't already, you may want to start by clicking over and reading Mel's post from today and the earlier one she refers to (including both comment streams).
"Deja vu all over again"
To set the stage for the lessons part, one of the first thoughts Tom had after reading Mel's posts was, "This must be how Tim O'Reilly felt."
Back in 2006, Tim O'Reilly, CEO of O'Reilly Media, came back from vacation to a firestorm of criticism over a cease and desist letter the lawyers for a partner company had sent claiming ownership (with O'Reilly) of the name "Web 2.0 Conference." The blogosphere erupted into anger that any one company would claim rights to a phrase used by bloggers everywhere, all the time. O'Reilly responded with surprise that the anger and accusations were flying fast and furious – with little or no fact-checking.
Do bloggers want to be taken seriously?
O'Reilly opened his response with:
"I used to bristle when members of the mainstream press wagged their fingers at the unprofessionalism of bloggers. I looked around at all the bloggers who are, to my mind, practicing great journalism, and wrote off the MSM criticism as fear of the new medium. But now I'm not so sure. The flap about the Web 2.0 Conference trademark has shaken my faith in the collective intelligence of the blogosphere. Of all the hundreds of people who commented on this issue, only a few touched base to do a bit of fact checking."
That's how we feel today. We didn't learn of Mel's post from a heads-up email from her, raising a concern about our conduct or asking for our perspective. We didn't hear about it from any of the folks who had then posted comments on the attack, apparently accepting the one-sided discussion of the situation as "the truth."
Instead, I happened to notice a tweet announcing the post and Mel's "disappointment" with #BlogPaws (notice she did not use @BlogPaws to direct the tweet to us, but the hashtag to call everyone else's attention to it).
So the first lesson I hope we can take from this would be, check your facts before you click publish. In particular, check with the people you are accusing. If you're reading a post that points fingers at someone you know, give them a chance to respond before accepting one person's "truth."
To do less, harms the efforts of all bloggers to be taken seriously.
For those who've engaged in this discussion and know us personally, but didn't bother to contact us, well, to paraphrase Mel, we're feeling a little let down and disappointed, too.
The Facts (as Best We've Been Able to Ascertain)
Let's start with perhaps the hardest issue: the assertion that a speaker at BlogPaws supports puppy mills. Untrue, to the best of our knowledge.  
BlogPaws seeks to be as inclusive as possible. We're an educational conference designed to teach bloggers how to be better bloggers. We love all pets, we support shelters and rescues, and we don't discriminate against breeders. Many of our members have purebred dogs and cats. They are no less important to us than those who have "mutts." At least one commenter of Mel's post was against breeding of any kind, but the point is, responsible breeding is safe, acceptable, and provides the opportunity to adopt for a set personality or purpose — such as allergies, small home space, agility, or more. Responsible breeding is not the issue.
Let's address Mel's accusations, one at a time:
1. She (and some of her commenters) repeatedly asserted that we "knew" Michael Ayalon designed websites for puppy mills. Why? Because she said so, of course. And because she had spoken to BlogPaws' Founder, Caroline Golon, a year ago. She asserts that Caroline did nothing then, and welcomed this 'puppy mill supporter' with open arms to our conference … for the $$$.
Facts: We were aware of the allegations promoted by Mel last spring that he designed websites for "puppy mills" and Caroline, who has worked with Michael Ayalon on her own pet shelter/rescue fundraising blog, asked him a number of pointed questions about it at the time. Rather than paraphrase and so we can get the facts into the same post, here's what  Caroline emailed us:
"My work with Michael has been focused on the extensive volunteer work he does for shelters and rescues so I was surprised to hear of the allegations that he was building web sites for puppy mills. So I called him and I asked him about his client list.
As a proponent for shelter pets, this is an issue near and dear to my heart.
He assured me that he does not do work for puppy mills. That he does develop sites for breeders, but only those that he knows or have been referred to him by someone he knows. And he does not do work for anyone whose facilities he does not visit in person. And that he would never, ever support puppy mills.

He told me he turns down business if he doesn't feel comfortable with their facility, is unable to visit it, or otherwise suspects unsavory practices.

The original blog post alleged that he developed the site for one particular organization that Michael says he has never even heard of, much less created a web site for them. I checked and did not personally see anything that shows a link to Michael and this organization.

Obviously, BlogPaws would never knowingly embrace a person who promotes puppy mills and it's heartbreaking to not be given the benefit of the doubt by the community we work so hard to support."
And, speakers do not pay us to speak. We're not sure where Mel thinks we make money on the conference, but none of our speakers contribute to the budget of putting on an educational event for our bloggers.
2. Mel shares some links that purport to prove her point. Here, here, and here (WARNING: turn your speakers off before you click to avoid the annoying music). Those last two links go to Kingdom Pups, a site Michael says he has never heard of or worked with. There's nothing that we can see to show that he has.
Facts: The first site, PuppyPetite.com, does offer puppies for sale and contains lots of pictures of cute, healthy looking puppies. But there is nothing on any of those pages that indicates a "puppy mill" operation, as far as we can see. PuppyPetite.com specifically states that they will not ship their puppies and you must pick them up in person.
Be honest: Has Mel offered anything but her assumptions to support her assertion that Michael has worked with Kingdom Pups (whoever they are) or that PuppyPetite is a puppy mill? Not as far as we can see.
Michael tells us he's actually visited the breeder clients he works with. Has Mel? Have you?
3. Mel rips into Michael for "duping" the (apparently gullible, in her mind) folks at the ASPCA and Petside for recognizing the good work he does, supporting shelters and rescue groups. She also claims that ASPCA has seen the light and removed him from a list, which she once again links to.
Facts: Aside from the fact that Mel does not seem to question that Michael actually does the things he's been recognized for, she seems to have mixed up her facts, yet again.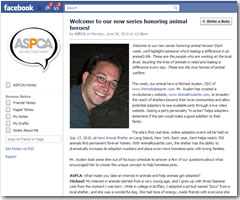 I'm not sure about the press release description of ASPCA's Animal Heroes recognition as an "award," but as of a few minutes ago, the recognition post is still live on the ASPCA Facebook notes page. Here's a screenshot:
It says: "Welcome to our new series honoring animal heroes! … This week, our animal hero is Michael Ayalon …" It includes a lengthy interview of Michael.
Which makes Mel's assertion that he's been removed from an entirely different ASPCA awards list on their website pretty puzzling. I don't see any mention at all on that list of their Facebook Animal Heroes. Do you?
The Results
That's how Michael Ayalon came to be a speaker at BlogPaws 2011. We checked into things as best we could and did not find anything to substantiate the allegations Mel continues to push.
As she acknowledged in her post last, he has good information to share. While I did not get to attend his session, the feedback forms and some blog posts since the event indicate those who did were very pleased with his presentation. For example: ASPCA's Shelter's Edge Blog – We Were There: BlogPaws 2011; Tails of a Puppaccino – BlogPaws: Top Five Highlights (#2 and #1)
BlogPaws will continue to bring expert speakers to our conferences. If anyone has a problem with a speaker — they are posted months ahead of schedule and we welcome your input and thoughts.