by: Carol Bryant
Sustainability.
When I first heard this word as it relates to the pet industry, my knee jerk
reaction was simply "how does this apply to me, a pet blogger" and then "why
should I care?"
We're all busy
these days, but sustainability does apply to all of us, especially as it
relates to the transparency and resolve of pet industry companies, whether
small or large, to remain sustainable as we progress forward.
Consider
this: A 2012 study by MIT revealed that 70% of business respondents have
placed sustainability permanently on their agendas and 30% of businesses cannot
maintain a competitive advantage in the marketplace without incorporating
sustainability.
Simply stated, if something is sustainable, it is being harvested or
resources are being used in such a capacity so that they are not depleted or
permanently damaged. In other words, best practices from an ecological
perspective. 
I had the pleasure of attending the Pet Industry Sustainability Coalition
(PISC) meeting
at the Global Pet Expo in Orlando, Florida, earlier this year.  Here is what pet bloggers and microbloggers
should know and how this impacts you:

When
asked to weigh the factors that influence brand loyalty, consumers identified 'being socially
responsible' as the most important factor, even when compared
with lower price.
The goal of PISC is to create
a playground for manufacturers, distributors and retailers to collaboratively
navigate a clear pathway toward improved environmental performance in the pet
industry.
In
addition to Planet Dog, other founding PISC Members include:  Cardinal Pet
Care; Natural Capitalism; Only Natural Pet and "I and Love and You" and WestPaw
Design.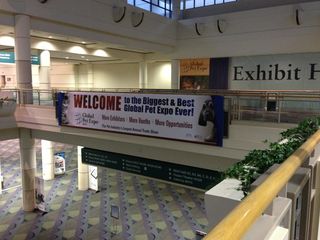 What I found
most enlightening from a pet blogger perspective is that because PISC is
mission, not profit-driven, it celebrates an open membership model that
encourages all companies, regardless of their size or financial investment to
join. 
If you like
writing about and/or supporting companies and their products that are committed
to being eco-friendly and with a "going green" mantra, then the PISC is a dream
come true for you.  Think chemicals,
packaging, transportation, and the life cycle of a product on every level:
These are the elements in which PISC is involved.
Sustainability
and being eco-friendly with a consciousness toward an enviro-friendly way of
doing business is a hot topic for many pet bloggers and microbloggers. PISC is
a resource for finding out which companies are on board and the strides that
are being taken so that the pet industry can maintain and sustain itself as we
leap toward the future.
One of the best
interviews I've read about PISC and its founder comes from Carol Frank, who interviewed
founder, Chris Bentley. Read the entire interview for a complete look at
who and what PISC is and why everyone in the pet industry should learn more.