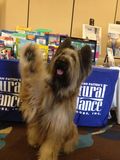 by: Carol Bryant
Some of us do it for profit; others do it for fun and profit; while another group does it for fun and to network. No matter that case: We all have a pet blog or microblog for one reason or another. Think you are alone your pet blogging efforts? Not even close. There are thousands and thousands of pet bloggers, and many of them have become an influential voice to pet parents.
Behold the power of the pet blogger, and this all
started with BlogPaws for me. I know others feel the same way. We love our pets and we share products that pet parents, in turn, purchase. We share news and info. Our words are the
ones of influence. Pet parents trust us. So the question is…..

WHY do you blog and what is your blog's purpose? Feel free to share your blog's link in the comments, too. This will help all of us showcase our links and network as well.