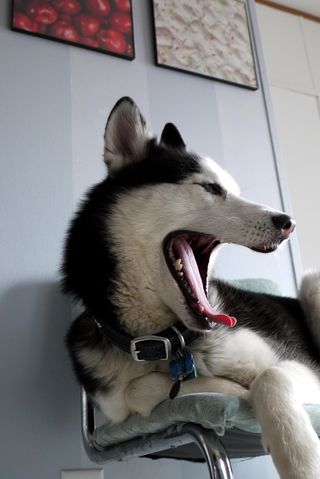 by: Carol Bryant
TGIW: Thank goodness it's the weekend, and time for a look back on the week that was, BlogPaws style. If you are a pet blogger or microblogger, here's a recap of some of the news we shared this week in the BlogPaws community, on our blog, and oh do we have a big news surprise for you. Read on…
By the Numbers
Pet bloggers can and do make a difference. How many of you feel that
way? Better yet, how many of you have a helluva hard time trying to
explain that to friends, co-workers, family, and folks who aren't in the
pet blogging community? Here's the rest of the post dealing with this and
a real-life example of a success story. Give it a peek and then chime
in. Do you think numbers are important to pet bloggers?
Are You on Social Media Overload?
Does the following sound familiar?  Your autoresponder is
talking to my autoresponder that then retweets my timed Facebook post? Though it seems a bit ridiculous, the time is now and the above
is happening somewhere at this very moment. How many of these processes are you automating and how many
are you actually engaging with IRL (in real time): Avoid Pet Blogger Overload

Being Responsible for Your Pet
Have your children been begging for a new puppy, kitten or other small
housepet? How can you tell if your children are ready for the
responsiblity of pet ownership? If you don't have children but are
considering getting a pet of your own, how do you know that you're ready
for the responsibility? Robbi Hess breaks it down and dishes with us.
(a) Enter your talented pet into the Pet360
Tricks for Treats Contest! The winner has 10,000 meals donated to
shelters on their behalf, as well as a $1000 Prize Pack for you! Only a
few more days to submit! – Pet360 Contest
(b) BlogPaws is in high gear with our October Photo Contest including prizes: Exclusive to all BlogPaws Community members.
This month, in honor of BlogPaws Presents: Adopt A Pet Month for
October, we want to see your pet in their finest Halloween costumes
and/or fall or autumn scene. Two photos maximum per person.
It's easy to enter and easy to win: VIsit BlogPaws October Photo Contest to Enter  – two photos per member and good luck!
We promised you a big surprise, and we weren't kidding! You know that BlogPaws is growing, and very soon we'll have a brand new,
shiny website, so be on the lookout for that in the coming weeks! You
won't want to miss the goodies, surprises, additions, and features that
will help us to help you with your pet blogging, monetization, networking, and educational goals!

Blog Hop Tutorial
Want to join in a BlogPaws blog hop – such as the one we have every Wednesday for "Wordless Wednesday?" If you've ever had questions or need help, then we have a solution for you: Here's a step-by-step tutorial to walk you through: