Guest post by BlogPaws Community Member Jenny Lewis
Web accessibility for your blog is the practice of making web content accessible to the disabled, an act that pet bloggers need to address. Our purpose is to share a love of animals, and the knowledge, entertainment, and products we provide. The internet has revolutionized how the world communicates information. We often take for granted that the Internet is so easily available as we access content on our electronic devices. Because the web is vital in today's society, we must do all we can to make our pet blogs web accessible.
Why is it important? There is a huge market out there of individuals who have service, therapy and companion animals who assist, and are loved by, the disabled. Tens of thousands of service animals have disabled pet parents who would benefit from accessing the information and entertainment that we post on our blogs every day, yet our blog content could be lost to them if it is not accessible. The ADA – Americans with Disabilities Act requires government websites be web accessible. Public websites could soon be required to do the same. Why wait for a mandate? We want our content to be accessible to everyone already, we just need a little guidance.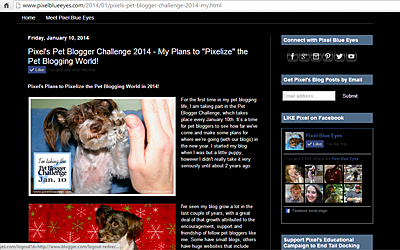 Is this blog web accessible?
Who needs web accessible content? People with disabilities ranging from blindness, low vision, hearing impairment, lack of fine motor control, and limited range of motion, including those who must use assistive devices to function, use the internet on a regular basis, yet not all websites are accessible to them. Having a web site or blog that is not accessible is like having a store front with no amenities for the disabled. Technically, they can't even get in the door to access all we have to offer.
Here are a few examples of issues a disabled person could encounter on our blogs:
A blind person, who uses a screen reader, such as freeware "NVDA" (Non Visual Desktop Access), to read a web page, needs to have easily 'readable' text and content, or they could get "lost" as the page is being read, get frustrated and leave. Images, for example, need to have text alternatives so blind users can "hear" what the image has in it, especially if text is included inside the image.

2. A person who relies on a keyboard to access a web page, must be able to "tab" to each link or field on your blog. You want them to be able to select every link available, and you definitely want them to be able to access the email field to sign up for your blog. 

A person with low vision has a hard time distinguishing between colors or seeing low contrast. Access to clearly readable text in a font that is easy to read and not too small is crucial. They also need to see a clear difference between the background and color of text that is on it.  Light grey text on a white background, might render the page unreadable, thus causing you to lose a potentially faithful fan.
There's a lot to learn about making your blog web accessible, so in part two of this series, we'll share some basic, easy steps to make our blogs more accessible to ALL pet parents.
Bio: Jenny Lewis: web accessibility consultant by day; pet blogger/photographer by night.  Visit Pixel Blue Eyes, Her Tails of Adventure, where Pixel shares her world.
For more information, please visit the following resources:
1. Web AIM (Web Accessibility in Mind) http://webaim.org/
2. http://www.practicalecommerce.com/articles/58946-U-S-Proposes-ADA-Compliance-for-Ecommerce-Websites
3. http://dailytekk.com/2012/02/24/why-web-accessibility-matters-and-how-it-can-benefit-your-business-or-website/
4. Facts on Pets in America http://www.americanhumane.org/assets/pdfs/pets-fact-sheet.pdf