by Yvonne DiVita
Our dogs are a bit confused today. It looks threatening outside – rain is predicted, so we haven't made any moves to do the morning walk, yet. I just opened the back door to look out and heard the unmistakeable chink of many dog tags being slammed together. All three dogs came up from the office below, at a run, eager to get out that door. The sound of their dog tags is like music – the lyrics are loud and clear: "Out in the yard, out in the yard!" It won't satisfy them all day, but for now, it will have to do.
The momentary distraction of letting the dogs out (who let the dogs out? I let the dogs out!) nudged me to revisit the BlogPaws blogroll. I assume most of you have a blogroll, also. I assume you list blogs you're fond of or blogs you 'approve' because their content is relevant to you and your readers. Have you visited your blogroll recently? I hadn't. 
BlogPaws receives many emails asking to be added to the Blogroll. We are not adding new folks right now, however. We're in flux. What does that mean? It means we're working on a blog-site redesign and we don't want to add new folks to the blogroll until we launch the new site. Do be patient with us!
That said, I did decide to take a look at the current blogroll here at BlogPaws. Here are a few blogs I clicked into today – in no particular order and for no reason other than … I visited them and I liked them.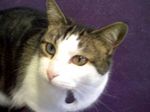 Perfectly Parker – cute!  The about page says: "I am a perfectly wonderful little housekitty that likes to share my daily adventures. I live with a wonderful family that includes three kitty-sibs and a dog (he's not so bad for a canine). I love HAM!!!, my Daddy, sunspots, naps, fake furry mice, catnip, snuggles, my enclosed deck and you!" Click over and say hi! And don't forget to visit the Awards page! 
Dog Jaunt – informative! This blog tells you in its header what it's about: "Dog Jaunt is a travel blog for people who want to take their small dog along with them on trips of any length. Starring Chloe, our young Cavalier King Charles Spaniel." I recommend visiting their Taking Your Dog on a Plane link.
Curlz and Swirlz – adorable! Ok, we all know who this is. If you were at BlogPaws, you got to meet Teri –
especially if you were hanging out in the Catification Lounge. I took a bit of time at this blog because there is a fantastic slide show about this year's BlogPaws conference. Since I missed a lot of the conference, being busy running here and there and back again, I love watching videos and slide shows that share the experiences our folks had at the conference. This one will have you smiling, laughing and signing up to receive regular updates of this blog. Enjoy! (BEST picture ever – who doesn't love this pink wig? And, we saw it at BlogPaws, too!)